You Had Me at Hola: A Novel (Primas of Power #1) (Paperback)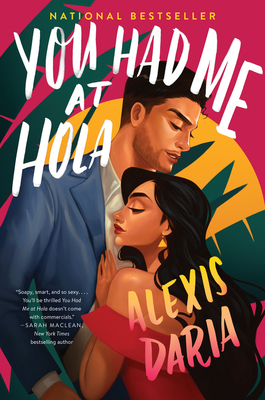 Other Books in Series
This is book number 1 in the Primas of Power series.
Staff Reviews
---
In You Had Me at Hola, Jasmine, a soap star ingenue determined to make Leading Lady ChoicesTM, collides with Ashton, an established telenovela star hoping to cross over into the mainstream on the set of their latest show. Both are allergic to paparazzi drama with good reason, but their shared on-set sizzle proves undeniable. Throw in some fun scenes with an intimacy coordinator (like a stunt coordinator but for kissy scenes), a full cast of lovable supporting characters, and snappy dialogue, and you have a delightful beach read with heat and heart!
August 2020 Indie Next List
---
"I don't have enough superlatives to do this book justice. Everything is spot on, from the chemistry between the main characters to the telenovela drama to the meddling but supportive cousins. I love all the Spanish, the backstage glimpses into the making of a TV show (especially the inclusion of the intimacy coordinator), and the way the telenovela tropes, like a secret child, are woven into the grounded romance. Now I just hope Michelle and Ava get their own books soon!"
— Cecilia Cackley, East City Bookshop, Washington, DC
Description
---
National Bestseller
"I could not get enough of Jasmine and Ashton! I adored Jasmine--her ambition, her confidence, her attacks of self-doubt, and especially her hilarious, snarky, and loving cousins. She and Ashton have such a steamy, swoony, love story that I didn't want the book to end!"--Jasmine Guillory, New York Times bestselling author
RITA® Award Winning author Alexis Daria brings readers an unforgettable, hilarious rom-com set in the drama-filled world of telenovelas—perfect for fans of Jane the Virgin and The Kiss Quotient. You Had Me at Hola is a New York Times Editor's Choice Pick, an O Magazine Best Romance Pick and on many more Best Of lists!
Leading Ladies do not end up on tabloid covers. 
After a messy public breakup, soap opera darling Jasmine Lin Rodriguez finds her face splashed across the tabloids. When she returns to her hometown of New York City to film the starring role in a bilingual romantic comedy for the number one streaming service in the country, Jasmine figures her new "Leading Lady Plan" should be easy enough to follow—until a casting shake-up pairs her with telenovela hunk Ashton Suárez. 
Leading Ladies don't need a man to be happy. 
After his last telenovela character was killed off, Ashton is worried his career is dead as well. Joining this new cast as a last-minute addition will give him the chance to show off his acting chops to American audiences and ping the radar of Hollywood casting agents. To make it work, he'll need to generate smoking-hot on-screen chemistry with Jasmine. Easier said than done, especially when a disastrous first impression smothers the embers of whatever sexual heat they might have had. 
Leading Ladies do not rebound with their new costars. 
With their careers on the line, Jasmine and Ashton agree to rehearse in private. But rehearsal leads to kissing, and kissing leads to a behind-the-scenes romance worthy of a soap opera. While their on-screen performance improves, the media spotlight on Jasmine soon threatens to destroy her new image and expose Ashton's most closely guarded secret.
About the Author
---
Alexis Daria writes stories about successful Latinx characters and their (occasionally messy) familias. Her debut Take the Lead won the 2018 RITA® Award for "Best First Book" and You Had Me at Hola is a national bestseller, Target Diverse Book Club Pick, and New York Times Editor's Choice Pick. Alexis is a lifelong New Yorker who loves Broadway musicals and pizza.  
Praise For…
---
"The buildup here is exquisite. Jasmine and Ashton slowly grow closer until the reader is aching for them to just go for it already. A solid 7.5 on the angst scale, and an absolutely pitch-perfect summer escape." — New York Times Book Review
"I could not get enough of Jasmine and Ashton! I adored Jasmine -- her ambition, her confidence, her attacks of self doubt, and especially her hilarious, snarky, and loving cousins. She and Ashton have such a steamy, swoony, love story that I didn't want the book to end!" — Jasmine Guillory, New York Times bestselling author
"I was completely smitten with Daria's "Primas of Power…You Had Me at Hola reject[s] the idea that women can only exist as each other's competition, and propose that, on the contrary, a happy ending is always sweeter if you have your friends to celebrate with; that's the kind of feminism I want in all my romance." — Washington Post
"Hola is a triumph of Latinx joy and feminist agency. It thoughtfully explores gender roles and diversity in entertainment and the greater Latinx community, and challenges the Hollywood status quo." — NPR.org
"Soapy, smart and so sexy...with vibrant characters and electric chemistry comparable to the telenovelas that inspired it, you'll be thrilled You Had Me At Hola doesn't come with commercials!" — Sarah MacLean, New York Times bestselling author
"There's a defiant joy in these pages: a proud proclamation of not only finding, but celebrating your voice and honoring the rare spaces that welcome that. You Had Me at Hola is just such a space – a vibrant, bold jolt of romantic electricity." — Entertainment Weekly
"Jasmine and Ashton are sure to be your favorite new literary couple, thanks to their sizzling chemistry and will-they-or-won't-they tension in this swoonworthy rom-com we're totally expecting Netflix to bring to our screens in the near future." — E! Online
"Sexy, compelling, and complex—a terrific romance from a rising star of the genre."  — Kirkus Reviews (starred review)
"Daria delivers a sexy showbiz love affair in this steamy rom-com... Daria breathes effortless life into a cast of messy, loving, talented, and downright hilarious characters readers will adore. A sense of Latinx culture and pride exudes from every page, elevating an already entertaining story. Romance fans won't want to miss this." — Publishers Weekly
"RITA Award-winning Daria has created extremely smart and appealing characters, and the scenes of their shooting the show are delicious fun. Fans of Susan Elizabeth Philips will enjoy the humor and chemistry Daria whips up." — Booklist
"Between exploring classic rom-com tropes and themes on representation in the Latinx community, Daria's book makes for that perfect summer romance." — The Hollywood Reporter
"You Had Me at Hola is a multi-layered sexy, poignant, and fun story set against the glamorous and dramatic world of telenovelas. Filled with lovable characters, relatable family dynamics and the nuances of identity, Alexis Daria's novel is full of heart. Romance readers will fall head over heels!" — Chanel Cleeton, New York Times bestselling author
"Clever, heartfelt, and five fire-emojis sexy, You Had Me at Hola is a must-read! Daria excels at the craft of writing larger-than-life characters with believable fears and relatable desires; the result is a captivating romance that readers won't soon forget."  — Mia Sosa, USA Today bestselling author
"From the beginning to "El Fin", Daria's Hola pulls readers into a vibrant world where our beloved Latinx culture thrives and charming, charismatic characters woo you…once again she's penned a show-stopper novel that leaves you breathless and craving more."  — Priscilla Oliveras, USA Today Bestselling Author
"You Had Me at Hola is a gorgeous escape, a book you think "just one more chapter" to yourself and then before you know it, you've devoured the entire thing!  Hot, joyful, and real, Hola is packed with unforgettable leads, celebrity fun, and swoons upon swoons (upon swoons!!)" —  USA Today Bestselling Author Sierra Simone
"Laugh out loud funny and heart-meltingly genuine, You Had Me at Hola delivers a couple you can't help but root for and a happily ever after to believe in."  — Tracey Livesay, award-winning author
"Like a delicious slow burn, this love story happens in the best way--despacito!"
— Zoraida Córdova, award-winning author of Labyrinth Lost
"Alexis writes our people like I've always wanted to see them in romance. You Had Me at Hola is full of joyful, swoony moments that will have you rooting for Jasmine and Ashton's HEA." — Adriana Herrera, award-winning author of American Love Story
"I couldn't help but fall in love with this book."  —  Natalia Sylvester, author of Everyone Knows You Go Home and Running
"A sharp, sexy delight, You Had Me at Hola gives the telenovela premise–– and Latinx leads––all the nuance and heart they deserve." — Nina Moreno, author of Don't Date Rosa Santos
"A perfect escapist read about real-world falling in love."   — Angelina M. Lopez, author of Lush Money
"A funny, swoony page-turner topped with all the drama of a telenovela. Rom-com at its finest!" — Valerie Tejeda, author and journalist
"This is a perfect end-of-summer love story." — CNN.com