Hundred Years of Happiness (Hardcover)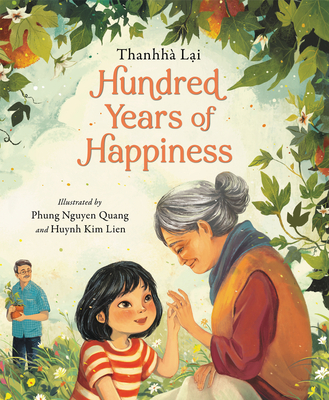 Description
---
A stunning picture book debut, showcasing the love between grandparents and grandchildren, the challenges of memory loss, and the joy that sweet reminders of a faraway home can bring, from award-winning, bestselling author Thanhhà Lại.
This sweet and emotional picture book will resonate with readers who love A Big Mooncake for Little Star, Ladder to the Moon, and Thank You, Omu!
An's grandmother Bà sometimes gets trapped in her cloudy memories. An and her grandfather, Ông, come up with a plan to bring her back to a happy moment: they grow gấc fruits so they can make xôi gấc, Bà's favorite dish from her wedding in Việt Nam many years ago.
An and Ông work together in the garden, nurturing the gấc seeds. They must be patient and wait for the seeds to grow, flower, and turn into fruit. When the xôi gấc is finally ready, An is hopeful that her grandmother will remember her wedding wish with Ông: hundred years of happiness.
Striking and vivid illustrations bring this tender story of a loving, intergenerational Vietnamese family to life.
About the Author
---
Thanhhà Lai  is the #1 New York Times bestselling author of Inside Out & Back Again, her debut novel in verse, which won both a National Book Award and a Newbery Honor, and the acclaimed Listen, Slowly and Butterfly Yellow, both of which were named to numerous best book of the year lists. She was born in Viêt Nam and now lives in New York with her family. To learn more about Thanhhà and her charity, Viet Kids Inc., visit www.thanhhalai.com.
Praise For…
---
"The illustrations are soft and lovely, connecting the family's journey to the growth of the lush green vines. The bittersweet sorrow of watching a loved one deal with memory loss is palpable in the lyrical text but ultimately the story celebrates every moment of joy.... A tribute to the sweetness of multigenerational connections, and a celebration of Vietnamese cultural traditions and cuisine." — School Library Journal (starred review)
"The vivid and emotional illustrations bring to life the tender relationship between An and her grandparents. This tale of hard work to achieve a brief moment of hope, woven in with the story of the life cycle of gấc vines, will be a special one for young readers, inviting them to meditate on the arc of the life—and the deliciousness of sticky rice." — Booklist
PRAISE FOR Butterfly Yellow: "In this radiant pearl of a book, Lại shows that we human beings are singing the very same song: a song of grace and redemption, a song of courage, a song of hope." — New York Times Book Review
★ "Every sentence is infused with warmth, and Lại shows readers that countless moments of grace exist even in the darkest times. Masterfully conjures grace, beauty, and humor out of the tragic wake of the Vietnam War." — Kirkus Reviews (starred review)
★ "Lại's imagery awakens the senses. Most powerful is the deep throb of regret and the thinnest wisps of hopefulness that Lại conveys throughout. They touch the soul." — Booklist (starred review)
★ "Remarkable. Told with ample grace, Lại's finely drawn narrative and resilient characters offer a memorable, deeply felt view of the Vietnam War's impact." — Publishers Weekly (starred review)
★ "Lại writes with charm and spark, and she is especially original in her conveyance of Hằng's limited English. Hằng remains resilient and purposeful, characteristics that make her compelling and even heroic. Ultimately, this is a bittersweet yet hopeful story of letting go and finding new ways to come together." — Bulletin of the Center for Children's Books (starred review)
"Butterfly Yellow is so vivid and specific in its details, but truly, the power of this book is in its depiction of that universal hope of being able to find a new place to feel safe after everything has been torn apart. If it creates empathy for that struggle in the heart of even one reader, then it is doing the best work that can be done right now. Timely, brutal, and full of love for life, Butterfly Yellow is a book for the times we're living in." — NPR
"One strength of the novel is the subtle character development. Another is Lại's use of language. Those who hear Hằng's remarkable tale can additionally think about contemporary connections to immigrant experiences, feelings of being an outsider, and the detours one's life may take." — The Horn Book
"Dedicated 'In memory of the thousands of refugees at the bottom of the sea,' Lại personalizes history with compelling characters, lively interactions and, most importantly, engrossing storytelling." — Shelf Awareness
"Thanhha Lai's Butterfly Yellow artfully blends comedy and tragedy in a deeply moving story about refugees, siblings, and youthful dreams. For someone who wants to know more about the Vietnamese refugee experience—or how to be a cowboy—this taut novel is a great place to start." — Viet Thanh Nguyen, Pulitzer Prize-winning author of The Sympathizer
"Lại is a master of storytelling, and this tale will have you wanting to hug close every character even while you cheer for them to fly." — Elizabeth Acevedo, New York Times bestselling and National Book Award winning author of The Poet X
"Butterfly Yellow is a beautiful, poetic story of unlikely friendship and grit and determination. Hằng is an unforgettable character. And Thanhhà Lại is one of the finest writers of our time." — Matt de la Peña, New York Times and Newbery Medal winning author of The Last Stop on Market Street
PRAISE FOR Inside Out and Back Again: "An enlightening, poignant and unexpectedly funny novel in verse is rooted in the author's childhood experiences. In her not-to-be-missed debut, Lai evokes a distinct time and place and presents a complex, realistic heroine whom readers will recognize, even if they haven't found themselves in a strange new country." — Kirkus Reviews (starred review)
"Based in Lai's personal experience, this first novel captures a child–refugee's struggle with rare honesty. Written in accessible, short free–verse poems, Hà's immediate narrative describes her mistakes—both humorous and heartbreaking; and readers will be moved by Hà's sorrow as they recognize the anguish of being the outcast." — Booklist (starred review)
"The taut portrayal of Hà's emotional life is especially poignant as she cycles from feeling smart in Vietnam to struggling in the States, and finally regains academic and social confidence. An incisive portrait of human resilience." — Publishers Weekly (starred review)
"Ha's voice is full of humor and hope." — School Library Journal (starred review)
"Open this book, read it slowly to savor the delicious language. This is a book that asks the reader to be careful, to pay attention, to sigh at the end." — Kathi Appelt, bestselling author of Newbery Honor Book The Underneath
"In this poignant, funny, and unforgettable novel, Thanhha Lai shares in verse how her family escaped Vietnam before the fall of Saigon. American and Vietnamese characters alike leap to life through the voice and eyes of a ten–year–old girl—a protagonist so strong, loving, and vivid I longed to hand her a wedge of freshly cut papaya. This tenderly told tale transports readers to the time immediately after the Vietnam War and also opens hearts to newcomers displaced by war today." — Mitali Perkins, author of Bamboo People
"Lai's spare language captures the sensory disorientation of changing cultures as well as a refugee's complex emotions and kaleidoscopic loyalties." — The Horn Book
"In this free-verse narrative, Lai is sparing in her details, painting big pictures with few words and evoking abundant visuals." — Bulletin of the Center for Children's Books
PRAISE FOR Listen, Slowly: "This book is at once funny, thoughtful, and stunningly engaging. I loved, loved, loved it! Can't wait for my own daughter—and every reader who is lucky enough to get their hands on it—to step inside Mai's two, very different, worlds." — Jacqueline Woodson, author of the National Book Award-winning Brown Girl Dreaming
"Lai inserts Ba's lyrical voice selectively into Mai's story. These heart-stopping passages further shift Mai's position from outsider to insider, to, finally, truly bicultural, just as 'Listen, Slowly' invites readers to see Vietnam from the inside out—and back again." — New York Times Book Review
"This valentine of a novel may jumpstart questions in young readers about the people and places of their families' past." — Washington Post
"Through prose so evocative we can feel the heat caressing Mai's skin as she lands, Lai transports the reader from suburban California to modern-day Vietnam." — Los Angeles Times
"Lai does a superb job of creating a memorable setting and populating it with fully developed, complex characters. Gracefully written, Listen, Slowly is a sometimes humorous, always thought-provoking coming-of-age story." — Booklist (starred review)
"The sights, smells, and tastes of Vietnam's cities and villages come alive on the page, without overwhelming a story filled with a summers-worth of touching and hilarious moments, grand adventure, and lazy afternoons. With a contemporary time setting, this compelling novel shows the lingering effects of war through generations and how the secrets our parents keep can shape us." — School Library Journal (starred review)
"As she did in her National Book Award-winning Inside Out & Back Again, Lai offers a memorable heroine and cultural journey—ones that are clever near-opposites of those in that book, as Lai trades verse for prose and an immigrant's story for one of a girl fully immersed in American culture. The story capably stands on its own, yet considered alongside Inside Out, it's all the more rewarding." — Publishers Weekly (starred review)
"This is a love story on many levels, between granddaughter and grandmother, grandmother and grandfather, and for the homeland one carries within. Details Lai plants early on add up to a powerful finish. A beautiful counterpart to Thanhhà Lai's Inside Out and Back Again." — Shelf Awareness (starred review)
"Newbery Honor author Lai delivers a funny, realistic tale of family and friendship and culture clashes. The subtle humor of clunky translations of Vietnamese into English and vice versa are a great contrast to Mai's sharp and sometimes-snarky observations that offer a window into Vietnamese village life and language. A touching tale of preteen angst and translation troubles." — Kirkus Reviews
"Lai convincingly shows Mai's slow transformation from spoiled child to someone who can look beyond herself with compassion. Mai's change of heart is believable, moving in fits and starts and taking its own sweet time; she retains her sarcastic sense of humor, but her snark gradually loses its bite, and she begins laughing at herself more than others. Her strong-willed personality makes her an entertaining narrator; readers will happily travel anywhere with Mai." — The Horn Book
"The village experience and Mia and her grandmother's travels in the city offer Lai a way to introduce readers to various aspects of Vietnamese culture with both wry wit and genuine enthusiasm. Mai's surprise at finding a new friend in a difficult cousin, as well as a new perspective on what really matters, is as endearing as it is instructive for readers, and they may be prompted to take more interest in their own family histories." — Bulletin of the Center for Children's Books
"Thanhha Lai is so amazing." — Bustle
"Holy cats, I LOVE this book! I loved Mia so much—she's one of the best characters I've read in a while. Sarcastic, smart, and so, so funny. And she brings a wonderful sense of levity to a beautiful, sad story." — Book Riot