Amusing Ourselves to Death: Public Discourse in the Age of Show Business (Paperback)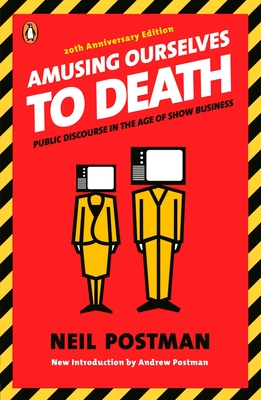 $18.00

NOT CURRENTLY IN THE STORE - Available to Order - Usually Arrives in Store in 1-5 Business Days!
Staff Reviews
---
Despite being written in 1985, Amusing Ourselves to Death might be the most important book you could read about political discourse in the twenty-first century. When entertainment is everything the rise of Trump doesn't seem shocking...it seems inevitable.
Description
---
What happens when media and politics become forms of entertainment? As our world begins to look more and more like Orwell's 1984, Neil's Postman's essential guide to the modern media is more relevant than ever.

"It's unlikely that Trump has ever read Amusing Ourselves to Death, but his ascent would not have surprised Postman." -CNN

Originally published in 1985, Neil Postman's groundbreaking polemic about the corrosive effects of television on our politics and public discourse has been hailed as a twenty-first-century book published in the twentieth century. Now, with television joined by more sophisticated electronic media—from the Internet to cell phones to DVDs—it has taken on even greater significance. Amusing Ourselves to Death is a prophetic look at what happens when politics, journalism, education, and even religion become subject to the demands of  entertainment. It is also a blueprint for regaining control of our media, so that they can serve our highest goals.

"A brilliant, powerful, and important book. This is an indictment that Postman has laid down and, so far as I can see, an irrefutable one." –Jonathan Yardley, The Washington Post Book World
About the Author
---
Neil Postman (1931–2003) was chairman of the Department of Communication Arts at New York University and founder of its Media Ecology program. He wrote more than twenty books.
Praise For…
---
"I can't think of a more prophetic, more thoughtful, more necessary – and yes, more entertaining – book about media culture." –Victor Navasky, National Book Award-winning author of The Art of Controversy

"All I can say about Neil Postman's brilliant Amusing Ourselves to Death is: Guilty As Charged." –Matt Groening, Creator of The Simpsons

"As a fervent evangelist of the age of Hollywood, I publicly opposed Neil Postman's dark picture of our media-saturated future. But time has proved Postman right. He accurately foresaw that the young would inherit a frantically all-consuming media culture of glitz, gossip, and greed." –Camille Paglia

"A brilliant, powerful, and important book. This is an indictment that Postman has laid down and, so far as I can see, an irrefutable one." –Jonathan Yardley, The Washington Post Book World
Upcoming Events
No upcoming events available