The Amazing Adventures of Kavalier & Clay (Paperback)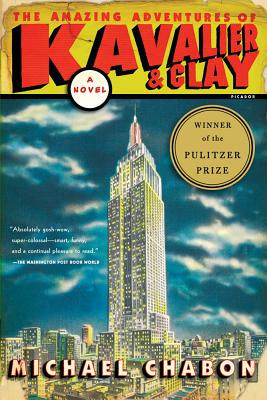 $17.00

NOT CURRENTLY IN THE STORE - Hard to Find - We Will Research Availability and Get Back to You
Staff Reviews
---
At once a history of Golden Age comics, a tale of boyhood fervor, and a subtle investigation into the many forms and faces of oppression, The Adventures of Kavalier and Clay is a truly stunning masterwork. Not only did it keep me captivated from the first page to the last, but it also provided me with an appreciation for a form of art I'd always dismissed. A rare and mesmerizing book.
Description
---
This brilliant epic novel set in New York and Prague introduces us to two misfit young men who make it big by creating comic-book superheroes. Joe Kavalier, a young artist who has also been trained in the art of Houdiniesque escape, has just smuggled himself out of Nazi-invaded Prague and landed in New York City. His Brooklyn cousin Sammy Clay is looking for a partner to create heroes, stories, and art for the latest novelty to hit America the comic book. Inspired by their own fears and dreams, Kavalier and Clay create the Escapists, The Monitor, and Luna Moth, inspired by the beautiful Rosa Saks, who will become linked by powerful ties to both men.  The Amazing Adventures of Kavalier & Clay is the winner of the 2001 Pulitzer Prize for Fiction.
About the Author
---
Michael Chabon is the bestselling author of "Werewolves In Their Youth," "Wonder Boys," "A Model World," and "The Mysteries of Pittsburgh." He lives in California with his wife and children.
Praise For…
---
"The depth of Chabon's thought, his sharp language, his inventiveness and his ambition make this a novel of towering achievement."—The New York Times Book Review

"It's absolutely gosh-wow, super-colossal—smart, funny, and a continual pleasure to read."—Washington Post Book World

"Towering, swash-buckling thrill of a book . . . the themes are masterfully explored, leaving the book's sense of humor intact and characters so highly developed they could walk off the page."—Newsweek

"Well researched and deeply felt, this rich, expansive and hugely satisfying novel will delight a wide range of readers."—Publishers Weekly (starred + boxed)

"Elegant, lyrical writing meets gentle comedy."—San Francisco Chronicle

"Product of a sparkling intelligence, undeniable talent and consummate skill."—Fort Lauderdale Sun-Sentinel

"A lyrical [novel] that's exquisitely patterned...composed with detailed scenes, and spotted with some rapturous passages . . . A-."—Entertainment Weekly

"A page turner in the most expansive sense of the word: its gripping plot pushes readers forward...Chabon is a reader's writer; with sentences so cozy they'll wrap you up and kiss you goodnight."—Chicago Tribune

"This is a gladhearted novel, rich in story and character and invention, and a great escape."—Orlando Sentinel

"Starts out as one of the most pleasurable novels of the past few years. It ends as one of the most moving."—Atlanta Journal-Constitution
Upcoming Events
10/14/2023 -

10:00am

to

7:00pm