The Regrets (Hardcover)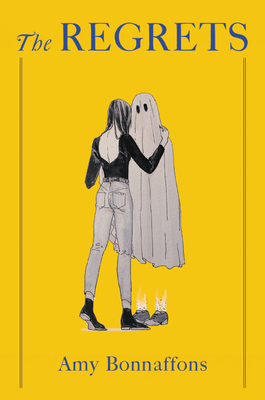 $27.00

NOT CURRENTLY IN THE STORE - Available to Order - Usually Arrives in Store in 1-5 Business Days!
Staff Reviews
---
You know that handsome, quirky guy in the slim-fit jeans who inexplicably ghosted you? Well, he's actually a ghost. But he's here now with a perfectly reasonable explanation.
Amy Bonnaffons' The Regrets is a gloriously unconventional romantic novel. Her writing soothes and bites in an odd, sensitively crafted story about the bespoke exceptions and illusions love demands.
You give the ghost a chance. But when the smoke clears and the lights are back on, what do you need to find your way back to yourself?
Description
---
Reality and dream collide in Amy Bonnaffons's "dazzling," wildly inventive "miracle of a love story" about an affair between the living and the dead (NPR)
For weeks, Rachel has been noticing the same golden-haired young man sitting at her Brooklyn bus stop, staring off with a melancholy air. When, one day, she finally musters the courage to introduce herself, the chemistry between them is undeniable: Thomas is wise, witty, handsome, mysterious, clearly a kindred spirit. There's just one tiny problem: He's dead.
Stuck in a surreal limbo governed by bureaucracy, Thomas is unable to "cross over" to the afterlife until he completes a 90-day stint on earth, during which time he is forbidden to get involved with a member of the living -- lest he incur "regrets." When Thomas and Rachel break this rule, they unleash a cascade of bizarre, troubling consequences.
Set in the hallucinatory borderland between life and death, The Regrets is a gloriously strange and breathtakingly sexy exploration of love, the cataclysmic power of fantasies, and the painful, exhilarating work of waking up to reality, told with uncommon grace and humor by a visionary artist at the height of her imaginative power.
About the Author
---
Amy Bonnaffons's work has appeared in the New York Times, the Wall Street Journal, and the Kenyon Review, among other places, and has been read on This American Life. She is a founding editor of 7x7.la, an online journal that publishes collaborations between writers and visual artists. She holds an MFA from NYU and currently lives in Athens, GA, where she is pursuing a PhD at the University of Georgia.
Praise For…
---
An NPR Best Book of 2020
A Good Housekeeping Best Book of 2020
A Publishers Weekly's Best Fiction Book of 2020
 

"Dazzling...wildly inventive and daring...the writing itself is flawless...The Regrets is a miracle of a love story, a brilliant novel that asks perceptive questions about the line between love and (literal) possession, about what we're willing to do for love."—NPR.org

"Boldly sensitive, sexy, witty, and sad- good lord, thank you, Amy Bonnaffons, for writing a book like a tonic for those of us who are painfully wide open to the world and 'fatally vulnerable to magic.' Readers will find themselves haunted by The Regrets long after putting it down."—CJ HAUSER, author of FAMILY OF ORIGIN

"The Regrets captures the bardo of love, a world where living flesh and ghostly projection are indistinguishable, as they often are in the yearnings, desires, and infatuations of our own waking lives."—MELISSA BRODER, author of THE PISCES

"A surreal love story about the courtship between a living
woman and a dead man...It is a plot that could be-that should be-unbearably twee,
oppressively quirky, in love with its own melancholy. Instead, Bonnaffons' first
full-length novel is a rare pleasure: a philosophical rom-com too weird, too
bodily, too precise, too fun to get bogged down in trembling sentiment. Deep
and deeply funny."—KIRKUS (Starred Review)

"If orgasm is, as the French would have it, a 'little death,' no novelist I know illuminates the tingling play between sex and mortality better than Amy Bonnaffons. At once love story, ghost story, and low-key philosophical investigation into the nature of existence, The Regrets is a supernatural tale about the super natural vagaries of love: the transcendence of attraction, the haunting of possession, and the potency of daydream."—RACHEL LYON, authorof SELF-PORTRAIT WITH BOY

"Bonnaffons's
wonderful debut novel is
a tale of ghostly love and passion...The tension of an ephemeral romance and impending
loss will keep readers turning the pages, and the luminous prose is vibrant
with penetrating observations, whether about moments that are a 'crucial node
in the universe's vast plan' or about dying-with or without regrets. This sexy,
witty novel about life, death, and love's power will enchant readers."—PUBLISHERS WEEKLY (Starred Review)

"In Amy Bonnaffons's remarkable debut novel, The Regrets, love is spectral-both literally and figuratively. This is a book about ghosts and angels and dreams, but its emotional register is grounded and unmistakably human. The Regrets examines the way wisdom can interfere with fulfillment and self-protection with the joy of living. It is somehow both sly and earnest, humorous and haunting. Bonnaffons reads like Haruki Murakami for the millennial generation; she is weird, tender, and full of magic."—LUCY TAN, author of WHAT WE WERE PROMISED

"This tight and lyrical debut novel follows the flawed members of a sticky love triangle...Bonnaffons (The Wrong Heaven, 2018) has a deft hand for dialogue and character development, which grounds the fantastical nature of her novel in the sharp truths of real-life love and desire."—BOOKLIST

"Just
when you think there's no new way to write about heartbreak, along comes Amy
Bonnaffons with her smart, spooky debut novel 'The Regrets,' in which a hip,
single Brooklyn librarian falls for a sexy ghost."—WASHINGTON POST

"Bonnaffons is a masterful
chronicler of female desire and its discontents."—LENI ZUMAS, author ofRED CLOCKS

"Delightfully weird, and weirdly delightful."—GOOD HOUSEKEEPING (Best Books of 2020)

"Written
in piercing prose, this brisk exploration of love, sex, and loss will leave you
feeling pleasantly haunted."—ENTERTAINMENT WEEKLY

"Amy Bonnaffons gives an entirely new meaning to
the term 'ghosting' with her clever debut novel. It's a high concept she
grounds with insightful, sometimes painfully accurate observations about
dating, skewering a particular brand of millennial dirtbag boyfriend while
tenderly examining the heart of a woman who falls for him... Bonnaffons makes the
figurative literal to charming effect."—USA TODAY

"Bonnaffons reveals the
mysteries inside of us, just waiting to make themselves known."—KEVIN WILSON, authorof NOTHING TO SEE HERE

"Her name's Rachel, she's a librarian in New York, and she's in love with
a ghost. Her man is stuck in a purgatory of sorts, and their relationship is up
against time. This sounds weird (it is), but it's also sexy and worth it. It
will make you think hard about life, death, and love. Perfect, since V-day is
next week."—THE SKIMM

"Amy Bonnaffons is the real deal. She's a woman of impossible juxtapositions."—DARIN STRAUSS, author of HALF A LIFE

"A
girl encounters a ghost on a Brooklyn bus and falls head over heels in this
witty update of the Bridget Jones-esque rom-com in which soul mates bond via
'perfect consonance, zero conversation.'"—O MAGAZINE

"Bonnaffons is excellent at depicting the unreasoning nature of desire, the
physical yearnings that can make shacking up with a sexy ghost seem like a good
idea."—WALL STREET JOURNAL

"In this hauntingly beautiful debut novel, a love affair crosses
the line between the living and the dead."—SHELF AWARENESS
Upcoming Events
10/14/2023 -

10:00am

to

7:00pm