Call Me Cassandra: A Novel (Hardcover)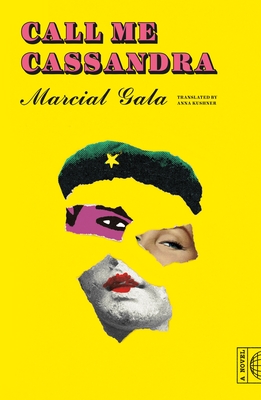 $26.00

NOT CURRENTLY IN THE STORE - Backordered - May Take Multiple Weeks
Description
---
Finalist for the 2023 PEN Translation Prize and the 2022 Lambda Literary Award for Gay Fiction

"Dazzling." —Marcela Valdes, The New York Times Book Review (Editors' Choice)

"A spellbinding novel by one of the best writers of the Americas." —Junot Díaz, author of This is How You Lose Her

Ten-year-old Rauli lives in a world that is often hostile. His older brother is violent; his philandering father doesn't understand him; his intelligence and sensitivity do not endear him to the other children at school. He loves to read, especially Greek myths, but in Cuba in the 1970s, novels and gods can be dangerous. Despite the signs that warn Rauli to repress and fear what he is, he knows three things to be true: First, that he was born in the wrong body. Second, that he will die, aged eighteen, as a soldier in the Cuban intervention in Angola. And third, that he is the reincarnation of the Trojan princess Cassandra.

Moving between Rauli's childhood and adolescence, between the Angolan battlefield, the Cuban city of Cienfuegos, and the shores of ancient Troy, Marcial Gala's Call Me Cassandra tells of the search for identity amid the collapse of Cuba's utopian dreams. Burdened with knowledge of tragedies yet to come, Rauli nonetheless strives to know himself. Lyrical and gritty, heartbreaking and luminous, Rauli's is the story of the inexorable pull of destiny.
About the Author
---
Marcial Gala is a novelist, a poet, and an architect from Cuba. He won the Pinos Nuevos Prize for best short story in 1999. The Black Cathedral received the Critics' Award and the Alejo Carpentier Award in 2012 and was published in English by FSG in 2020. Gala also won the 2018 Ñ Prize of the City of Buenos Aires-Clarín for Call Me Cassandra. He lives in Buenos Aires and Cienfuegos.

The daughter of Cuban exiles, Anna Kushner was born in Philadelphia and has been traveling to Cuba since 1999. She has translated the novels of Norberto Fuentes, Guillermo Rosales, and Gonçalo M. Tavares. She has also translated works by Marcial Gala, Mario Vargas Llosa, and Leonardo Padura, all published by Farrar, Straus and Giroux.
Praise For…
---
"Dazzling . . . Deftly pushing the boundaries of both realism and first-person perspective, Gala (The Black Cathedral) makes it impossible for the reader to determine if Raúl/Cassandra is actually supernatural . . . Gala constructs sentences and scenes that swing easily from the mythological to the mundane, and Anna Kushner's translation does a wonderful job of capturing his tones—and his temporal shifts." —Marcela Valdes, The New York Times Book Review (Editors' Choice)

"A fitting tribute to the tenacious and brilliant gay Cuban author Reinaldo Arenas (1943-1990), Call Me Cassandra repurposes an age-old myth to meld together a bitter war tale, a trans coming-of-age story, and a drama of a family splitting at the seams . . . In Call Me Cassandra, Gala dismantles the binaries that suffocate the region while confirming his standing as one of the most inventive new voices in contemporary Latin American fiction." —Derick Gomez, PopMatters

"An exploration of literary and personal fluidity, Call Me Cassandra riffs on Greek tragedy with warmth and poise . . . Gala flits between national, global, existential and personal concerns with ease . . . The personal and social dynamics of the city of Cienfuegos are on display through pin-sharp dialogue and characterization, beautifully rendered in Anna Kushner's translation." —Elisabeth Cook, BookBrowse

"The distinctive beauty of Call Me Cassandra is that its nonlinear narrative echoes the narrator's own fractured experience of time . . . In Anna Kushner's superb translation . . . the book takes on the cathartic power of traditional tragedies." —Marina Manoukian, ArtsFuse

"Mesmerizing . . . [Gala's] lively lyricism and steady realism provide sharp insights into Cuba's crumbling dreams of utopia . . . An intimate and sensory look into a real place . . . I look forward to reading more of [Gala's] evocative and beautifully written work." —Maya C. James, Locus

"Strange, dazzling . . . Kushner preserves Gala's lyricism and playfulness . . . Call Me Cassandra is both a thought-provoking meditation on myths and its own venture into mythmaking. Just as Rauli will 'die here in Africa, on the border with the Old World,' Call Me Cassandra also sits on the edge of the Old World and New." —Mara Sandroff, New City

"Gala is an inventive, enticing storyteller, moving fluidly between past and present—and beyond—effortlessly traversing Greek temples and palaces, Cienfuegos's nightclubs and Angolan battlefields to deliver a brilliantly subversive coming-of-age triumph . . . [Call Me Cassandra is] a fascinating examination of fluid identity set against cultural expectations." —Terry Hong, Shelf Awareness

"Fate hangs over this novel . . . A haunting meditation on identity and violence." —Kirkus (starred review)

"The appearance of mythical beings during opportune times, Raúl's pitiless predictions, and the unfolding events of a fraught time in Cuban history contribute to the power of Gala's creative spin on an indelible myth and imaginative, memorable, and heartbreaking tale of identity and fatalism." —Andrienne Cruz, Booklist (starred review)

"Lyrical and elegiac . . . Gala's prose, elegantly translated by Kushner, perfectly conveys the protagonist's dual realities . . . In the end, the author offers a singular invocation of immortality." —Publishers Weekly

"A spellbinding novel by one of the best writers of the Americas. Call Me Cassandra is Marcial Gala's masterpiece, blending Greek myth with the Cuban intervention in Angola. At the heart of this incandescent tales burns sensitive Rauli, caught between the Gods and the Revolution, between a body that he longs to escape and a world that lets no one like him escape. Call Me Cassandra is Chronicle of a Death Foretold but blacker and brilliantly better." —Junot Díaz, author of This is How You Lose Her

"I admire greatly the nimbleness of Marcial Gala's prose, the way his sentences swing effortlessly from emotional ruin to beauty to gallows hilarity and back again. As the storyline cuts between Rauli's childhood in Cienfuegos and his life as a soldier in Angola, a portrait of an unforgettable and defiant spirit emerges. Call Me Cassandra is a searching and uncompromising story about the vast complexities of displacement, the breathtaking power of the imagination, and the tidal pull of fate. I love this novel." —Laura van den Berg, author of I Hold a Wolf By the Ears

"Rich, haunting, dark and superbly alluring, Call Me Cassandra is a vivid, intoxicating novel that takes us into the dreamy daily life of a trans girl in the barracks of the Cuban army in Angola. Marcial Gala is one of the most brilliant storytellers working in the Americas today, and this is the kind of book of hope, sex, and the power of imagination that makes you want to join a revolution." —Pola Oloixarac, author of Mona

"It has been many years since I read a novel that excited me so much and so deeply. Marcial Gala surprises in the dexterity, audacity and elegance with which he articulates a very original fictional mechanism, creating a narrator who remembers the future as much as the past—but is condemned to have no one believe his predictions. Call Me Cassandra takes a brave and sensitive look at Cuba's participation in the Angolan civil war. If there are books that restore our faith in literature, and literature's ability to make the other known to us, this is one of them." —José Eduardo Agualusa, author of The Society of Reluctant Dreamers
Upcoming Events
10/14/2023 -

10:00am

to

7:00pm