A Scheme of Heaven: The History of Astrology and the Search for our Destiny in Data (Hardcover)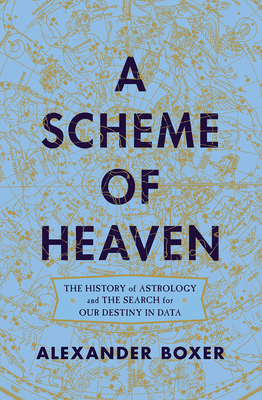 $28.95

NOT CURRENTLY IN THE STORE - Available to Order - Usually Arrives in Store in 1-5 Business Days!
Staff Reviews
---
If our fates are influenced by the stars, how do we explain the statistical failure of astrological predictions?
If we reject the possibility of stellar influence, why do we accept the existence of cosmic radiation?
A challenge to skeptics and believers alike, A Scheme of Heaven celebrates science, history, and the human quest for meaning.
Description
---
An illuminating look at the surprising history and science of astrology, civilization's first system of algorithms, from Babylon to the present day.
Humans are pattern-matching creatures, and astrology is the universe's grandest pattern-matching game. In this refreshing work of history and analysis, data scientist Alexander Boxer examines classical texts on astrology to expose its underlying scientific and mathematical framework. Astrology, he argues, was the ancient world's most ambitious applied mathematics problem, a monumental data-analysis enterprise sustained by some of history's most brilliant minds, from Ptolemy to al-Kindi to Kepler.
Thousands of years ago, astrologers became the first to stumble upon the powerful storytelling possibilities inherent in numerical data. To correlate the configurations of the cosmos with our day-to-day lives, astrologers relied upon a "scheme of heaven," or horoscope, showing the precise configuration of the planets at a particular instant in time as viewed from a particular place on Earth. Although recognized as pseudoscience today, horoscopes were once considered a cutting-edge scientific tool. Boxer teaches us how to read these esoteric charts—and appreciate the complex astronomical calculations needed to generate them—by diagramming how the heavens appeared at important moments in astrology's history, from the assassination of Julius Caesar as viewed from Rome to the Apollo 11 lunar landing as seen from the surface of the Moon. He then puts these horoscopes to the test using modern data sets and statistical science, arguing that today's data scientists do work similar to astrologers of yore. By looking back at the algorithms of ancient astrology, he suggests, we can better recognize the patterns that are timeless characteristics of our own pattern-matching tendencies.
At once critical, rigorous, and far ranging, A Scheme of Heaven recontextualizes astrology as a vast, technological project—spanning continents and centuries—that foreshadowed our data-driven world today.
About the Author
---
Alexander Boxer is a data scientist with a PhD in physics and degrees in the history of science and classics. His research has appeared in Nature Physics and he was a field agent for Atlas Obscura in Washington, D.C.
Praise For…
---
A vivid narrative... Mr. Boxer traces the ups and downs of astrology, from its vociferous condemnation by Christians to its modern-era resurgence. Along the way, we encounter statistical methodologies, the problematic art of calendar-keeping, plus a good deal of (mostly Western) cultural history.
— Alan Hirshfeld - The Wall Street Journal

Boxer applies his knowledge of statistics to some of the most enduring and fascinating patterns that astrology educed from its constant comparisons between heavenly and terrestrial events.
— Steven Vanden Broecke - Science

And with his lovely prose, Boxer makes it relatively easy to navigate—if not celestially then literarily—around the difficult bits. A journey through Boxer's own scheme of heaven is one well worth taking.
— Katie Hafner - Washington Post

A delightful and utterly fascinating work of intellectual history.
— Joshua Foer, author of Moonwalking with Einstein and coauthor of Atlas Obscura

Through striking diagrams and accessible explanations, Boxer shows us the impressive range of technology the ancients developed for tapping into astrology's predictive powers. This book demonstrates how impactful astrology is in everyday life—not through the influence of the stars, but rather through its deep scientific and cultural legacy.
— Janelle Shane, author of You Look Like a Thing and I Love You

A Scheme of Heaven is a masterful synthesis—science, history, legends, literature, and an eye-opening exploration of the human penchant for pattern recognition. The book is full of wit and refreshing insight. I'll never look at a horoscope—or the night sky—in quite the same way again.

— David Baron, author of American Eclipse

Boxer is a champion of intrepid thought. His learned book demonstrates how much we stand to gain by studying topics that just may be a little bit true. And a little truth, as Boxer shows, can change everything.
— Mitch Horowitz, PEN Award–winning author of Occult America

A fresh and original introduction to astrology's long history and deep cultural reach. Open and inquisitive, Boxer combines the critical perspective of a modern data scientist with a historian's sympathetic eye for telling detail. The result is a vivid and unique delight.
— Stephen Johnston, University of Oxford
Upcoming Events
No upcoming events available