Let's Pretend This Never Happened: A Mostly True Memoir (Paperback)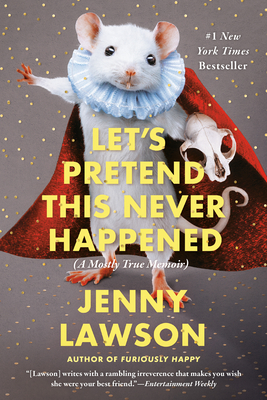 $18.00

NOT CURRENTLY IN THE STORE - Available to Order - Usually Arrives in Store in 1-5 Business Days!
Staff Reviews
---
Raised on a chunk of land in rural Texas, to say Jenny Lawson had an "odd" childhood would be an understatement. Picture taxidermied mice in lieu of dolls and live bobcats being thrown at you (literally). While Lawson walked away from this upbringing with a few neuroses, she recounts it all with blazing jocularity and more than a little humor. If you need to laugh, you'll find no better elixir than this.
May 2012 Indie Next List
---
"I just can't recommend Lawson's new memoir highly enough! However, my recommendation does come with a warning: Do not read this in public unless you want others staring at you and wondering if you've gone mad because you're laughing hysterically. The daughter of an off-kilter taxidermist and a mother, who, for the most part, turned her head the other way, Jenny has her issues resulting from standing inside a dead deer at a young age, growing up with live raccoons in the house, and being an arsonist at the age of three. Those embarrassing moments that we all wished had never happened? Well, Jenny tells all. Laughter really is the best medicine, so make sure you don't miss this one!"
— Linda Grana, DIESEL, A Bookstore, Oakland, CA
Description
---
The #1 New York Times bestselling (mostly true) memoir from the hilarious author of Furiously Happy.

"Gaspingly funny and wonderfully inappropriate."—O, The Oprah Magazine

When Jenny Lawson was little, all she ever wanted was to fit in. That dream was cut short by her fantastically unbalanced father and a morbidly eccentric childhood. It did, however, open up an opportunity for Lawson to find the humor in the strange shame-spiral that is her life, and we are all the better for it.

In the irreverent Let's Pretend This Never Happened, Lawson's long-suffering husband and sweet daughter help her uncover the surprising discovery that the most terribly human moments—the ones we want to pretend never happened—are the very same moments that make us the people we are today. For every intellectual misfit who thought they were the only ones to think the things that Lawson dares to say out loud, this is a poignant and hysterical look at the dark, disturbing, yet wonderful moments of our lives.

Readers Guide Inside
About the Author
---
Known for her sardonic wit and her hysterically skewed outlook on life, Jenny Lawson has made millions of people question their own sanity, as they found themselves admitting that they, too, often wondered why Jesus wasn't classified as a zombie, or laughed to the point of bladder failure when she accidentally forgot that she mailed herself a cobra. Lawson's blog (TheBloggess.com) is award-winning and extremely popular, and she is considered one of the funniest writers of our generation by at least three or four people.
Praise For…
---
Praise for Let's Pretend This Never Happened

"Really funny."—Reese Witherspoon

"Even when I was funny, I wasn't this funny."—Augusten Burroughs, author of Running with Scissors and This Is How

"Lawson's self-deprecating humor is not only gaspingly funny and wonderfully inappropriate; it allows her to speak...in a real and raw way."—O, The Oprah Magazine

"Fucked up in the best possible way. Adorably offensive."—Jesus (*The author's hairdresser. You can tell him apart from that other Jesus because they pronounce their names differently.)

"Jenny Lawson is hilarious, snarky, witty, totally inappropriate, and 'Like Mother Teresa, Only Better.'"—Marie Claire

"[Lawson] writes with a rambling irreverence that makes you wish she were your best friend."—Entertainment Weekly

"The funniest memoir ever about a talking squirrel, anxiety disorder, couch etiquette, and more. Believe us, Lawson is hilarious."—Ladies' Home Journal

"GET READY. Jenny has such a disturbing, ill-mannered, rich sense of humor you will wonder, 'Am I the sick one for laughing?' Everyone I gave the book to confirmed: We must all be sick, because this book IS HYSTERICAL...and yet it was also strangely touching at times. It's one of my favorite books in the past five years."—Kathryn Stockett, # 1 New York Times bestselling author of The Help

"Funny, raunchy, and unexpectedly uplifting…Let's Pretend will leave you hoping that Lawson's next book happens and soon."—People

"Take one part David Sedaris and two parts Chelsea Handler and you'll have some inkling of the cockeyed humor of Jenny Lawson…[She] flaunts the sort of fearless comedic chops that will make you spurt Diet Coke through your nose."—Parade