Our Kind of People (Paperback)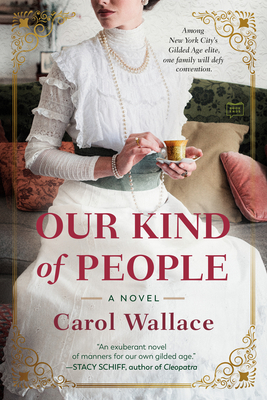 Description
---
Fans of Bridgerton will love this "exuberant novel of manners for our own gilded age" (Stacy Schiff, author of Cleopatra) as we follow the Wilcox family's journey through riches and ruin.

Among New York City's Gilded Age elite, one family will defy convention.

Helen Wilcox has one desire: to successfully launch her daughters into society. From the upper crust herself, Helen's unconventional--if happy--marriage has made the girls' social position precarious. Then her husband gambles the family fortunes on an elevated railroad that he claims will transform the face of the city and the way the people of New York live, but will it ruin the Wilcoxes first? As daughters Jemima and Alice navigate the rise and fall of their family--each is forced to re-examine who she is, and even who she is meant to love.

From the author of To Marry an English Lord, an inspiration for Downton Abbey, comes a charming and cutthroat tale of a world in which an invitation or an avoided glance can be the difference between fortune and ruin.
About the Author
---
Carol Wallace has written more than twenty books, including the New York Times bestseller To Marry an English Lord, which was an inspiration for Downton Abbey. She is also the author of an historical novel, Leaving Van Gogh, and a co-author of The Official Preppy Handbook. Wallace holds degrees from Princeton University and Columbia University, and is the great-great-granddaughter of Lew Wallace, author of the novel Ben-Hur: A Tale of the Christ, which was first published in 1880. She currently lives in New York, New York.
Praise For…
---
One of BookTrib's Books to Binge If You Loved HBO's The Gilded Age

"The fixtures of New York social life in the late 19th century are under siege in Carol Wallace's charming historical romance, Our Kind of People. Perfect for appetites that have been whetted by HBO's The Gilded Age." —The New York Times Books Review

"The latest from Wallace, whose nonfiction work To Marry an English Lord partially inspired Downton Abbey, delivers a smart, perfectly executed look at New York City in the Gilded Age…Wallace does full justice to the era's conventions, and her characters' attempts to navigate meteoric social and technological change are recognizably and deliciously modern. Fans of Daisy Goodwin and Curtis Sittenfeld will relish this." —Publishers Weekly (starred review)

"Fans of Bridgerton and Downton Abbey will delight in this period piece and its plethora of charming details about fabrics, dance cards, and decorum. An entertaining glimpse into Manhattan's 19th-century high society and the conflict between tradition and innovation." —Kirkus Reviews

"With high energy, [Wallace] depicts how fashions, transportation, and society were changing faster that anyone could imagine." —Booklist

"[A] deliciously soapy narrative...Wallace weaves in wonderfully authentic details to recreate the glittering social scene of the 19th century, with its strict etiquette and arcane rules, as well as the hardships of the family's financial downturn...a thoroughly enjoyable read. Recommended for devotees of Downton Abbey, Bridgerton, or the Gilded Age in general." —Historical Novels Review

"Carol Wallace has written an exuberant novel of manners for our own gilded age. And as one might expect from the co-author of The Official Preppy Handbook and To Marry an English Lord, not a detail is out of place, from the calling cards to the kid gloves. New money and old traditions combust on contact; Our Kind of People is rich, rousing, and beautifully researched." —Stacy Schiff, author of Cleopatra

"In Our Kind of People, Wallace draws us intimately into the opulent yet precarious elite world of late-1800s New York, and one family's quest to cast its own destiny on the razor's edge between glory and ruin. At times wickedly humorous, at times tender and tragic, this novel illuminates the strengths, vulnerabilities and dreams that are present within all of us. Wallace's effervescent, pitch-perfect prose stole my heart." —Roxanne Veletzos, author of The Girl They Left Behind and When the Summer Was Ours

"Evoking the excitement and glamour of a booming 19th-century New York, Our Kind of People charts one family's rise, fall, and ultimate triumph in a changing world. Wallace fills her world with careful historical detail and an acute understanding of the nuances of New York high society." —Julia Kelly, author of The Light Over London

"Move over, Edith Wharton! I adored Our Kind of People, enthralled by its utterly engaging, not-quite-socially acceptable Wilcox family, and the stratifications they endured and conquered in 19th Century New York. What a rare pleasure in these distractible times to read a novel I couldn't put down, so happy to root for the high and mighty getting their just deserts. Thank you and brava, Carol Wallace, for giving us the fictional key to a long-ago city of dreams." —Elinor Lipman, author of Good Riddance and On Turpentine Lane

"A delightful glimpse into the delicate yet cutthroat world of gilded age society, Our Kind of People is a reminder that in the ever-shifting sands of New York's high society, one truth remains constant: that a little audacity and a lot of heart can go a long way." —Bryn Turnbull, author of The Woman Before Wallis
Upcoming Events
No upcoming events available