Drive Your Plow Over the Bones of the Dead: A Novel (Paperback)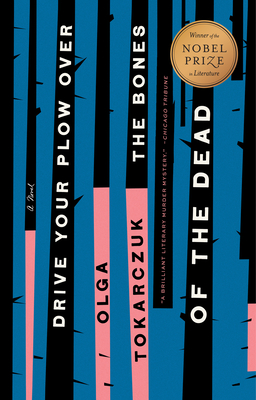 Staff Reviews
---
Now, I am not a huge murder mystery reader. But this? Drive Your Plow Over the Bones of the Dead is worlds away from your average murder mystery. I consumed it in a three-day blaze of glory. Spilling at the seams with questions and ideas, feminism and philosophy, delicious prose, and some of the best narration I've ever had the pleasure of reading. SO GOOD!
August 2019 Indie Next List
---
"Janina is an eccentric middle-aged woman who translates William Blake, studies astrology, and is acutely attuned to the wilderness around her in rural Poland. When hunters and poachers begin to be gruesomely murdered, Janina informs the police that the animals are responsible. As the bodies mount, so does her involvement with the mystery, although her status as a crank and possible madwoman ensures that she's ignored. This is an extraordinary and disturbing tale — a mystery that becomes more complex as the story continues, accompanied by Janina's often witty observations on man, nature, justice, and identity. The ending of this hard-to-categorize novel, a finalist for the 2019 Man Booker International Prize, will knock the breath out of you. Don't miss this excellent translated work from an award-winning writer!"
— Cindy Pauldine, The River's End Bookstore, Oswego, NY
Winter 2020 Reading Group Indie Next List
---
"This book is bonkers and I am so in love with it — one of the funniest books I've ever read. Olga Tokarczuk's comic timing is surprising and delightful in this rural noir set in Poland and featuring astrology, William Blake, revenge-seeking animals, and an entire cast of characters unlike you have ever seen before. This book is genius and oh so satisfying."
— Mary Cotton, Newtonville Books, Newton Centre, MA
Description
---
WINNER OF THE NOBEL PRIZE IN LITERATURE

"A brilliant literary murder mystery." —Chicago Tribune

"Extraordinary. Tokarczuk's novel is funny, vivid, dangerous, and disturbing, and it raises some fierce questions about human behavior. My sincere admiration for her brilliant work." —Annie Proulx

In a remote Polish village, Janina devotes the dark winter days to studying astrology, translating the poetry of William Blake, and taking care of the summer homes of wealthy Warsaw residents. Her reputation as a crank and a recluse is amplified by her not-so-secret preference for the company of animals over humans. Then a neighbor, Big Foot, turns up dead. Soon other bodies are discovered, in increasingly strange circumstances. As suspicions mount, Janina inserts herself into the investigation, certain that she knows whodunit. If only anyone would pay her mind . . .

A deeply satisfying thriller cum fairy tale, Drive Your Plow over the Bones of the Dead is a provocative exploration of the murky borderland between sanity and madness, justice and tradition, autonomy and fate. Whom do we deem sane? it asks. Who is worthy of a voice?
About the Author
---
Olga Tokarczuk has won the Nobel Prize in Literature and the Man Book International Prize, among many other honors. She is the author of a dozen works of fiction, two collections of essays, and a children's book; her work has been translated into fifty languages.
Praise For…
---
Named a best book of 2019 by TIME, NPR, Kirkus, Publishers Weekly, and BookRiot.

PEN America Translation Prize longlist

Warwick Prize for Women in Translation shortlist

"A marvelously weird and fablelike mystery. . . . Authors with Tokarczuk's vending machine of phrasing . . . and gimlet eye for human behavior. . . are rarely also masters of pacing and suspense. But even as Tokarczuk sticks landing after landing . . . her asides are never desultory or a liability. They are more like little cuts — quick, exacting and purposefully belated in their bleeding. . . . This book is not a mere whodunit: It's a philosophical fairy tale about life and death that's been trying to spill its secrets. Secrets that, if you've kept your ear to the ground, you knew in your bones all along." — New York Times Book Review

"While it adopts the straightforward structure of a murder mystery, [the book features] macabre humor and morbid philosophical interludes [that] are distinctive to its author. . . [and an] excellent payoff at the finale. . . . As for Ms. Tokarczuk, there's no doubt: She's a gifted, original writer, and the appearance of her novels in English is a welcome development." — The Wall Street Journal

"Drive Your Plow is exhilarating in a way that feels fierce and private, almost inarticulable; it's one of the most existentially refreshing novels I've read in a long time." — The New Yorker

"A paean to nature. . . a sort of ode to Blake. . . [and] a lament. . . Does Tokarczuk transcend Blake? Arguable —perhaps." — NPR
 
"A brilliant literary murder mystery."  –Chicago Tribune

" A winding, imaginative, genre-defying story. Part murder mystery, part fairy tale, Drive Your Plow is a thrilling philosophical examination of the ways in which some living creatures are privileged above others." – TIME

"Shimmering with subversive brilliance . . . . this is not your conventional crime story—for Tokarczuk is not your conventional writer. Through her extraordinary talent and intellect, and her 'thinking novels,' she ponders and tackles larger ecological and political issues. The stakes are always high; Tokarczuk repeatedly rises to the occasion and raises a call to arms."—HuffPost 

"Sometimes the opening sentence of a first-person narrative can so vividly capture the personality of its speaker that you immediately want to spend all the time you can in their company. That's the case with . . . Drive Your Plow Over the Bones of the Dead  . . .  [a] barbed and subversive tale about what it takes to challenge the complacency of the powers that be." —Boston Globe 

"Bewitching. . .. Serious crosscurrents … explore everything from animal rights to predetermination to the way society stigmatizes and marginalizes those it considers mad, strange or simply different . . . Tokarczuk is capable of miracles and ensures that this extraordinary novel soars." —Minneapolis Star Tribune 

"Sardonic humour and gothic plot-twists add a layer of macabre rustic comedy." – The Economist 
 
"One of the funniest books of the year." – The Guardian

 "Written with humor, charm, and a great talent for mystery … a sharp, memorable alternative to those dime-a-dozen beach bag potboilers without losing any of the whodunnit appeal." —Town & Country 


Upcoming Events
No upcoming events available