Paul Takes the Form of a Mortal Girl (Paperback)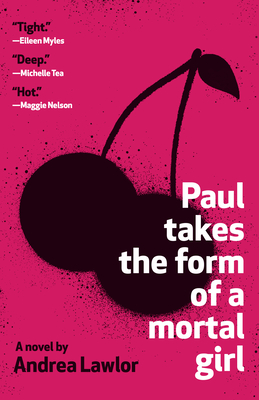 Staff Reviews
---
What on the surface is a raucous fantasy cocktail of sex and debauchery has far more going on under the hood. Do we have true selves? If so, how do we find them? If we could change our bodies with nothing more than a thought, would we?
This coming-of-age tale is unlike any other.
Description
---
"In these irreverent pages, a shapeshifter gets a crash course in gender and sexuality by inhabiting both sides of the binary and arriving precisely somewhere in the middle." —O, The Oprah Magazine

"HOT" (Maggie Nelson) • "TIGHT" (Eileen Myles) • "DEEP" (Michelle Tea)

It's 1993 and Paul Polydoris tends bar at the only gay club in a university town thrumming with politics and partying. He studies queer theory, has a dyke best friend, makes zines, and is a flaneur with a rich dating life. But Paul's also got a secret: he's a shapeshifter. Oscillating wildly from Riot Grrrl to leather cub, Paul transforms his body and his gender at will as he crossed the country––a journey and adventure through the deep queer archives of struggle and pleasure.

Paul Takes the Form of a Mortal Girl is a riotous, razor-sharp bildungsroman whose hero/ine wends his/her way through a world gutted by loss, pulsing with music, and opening into an array of intimacy and connections.
About the Author
---
Andrea Lawlor teaches writing at Mount Holyoke College and edits fiction for Fence. They live in western Massachusetts. Paul Takes the Form of a Mortal Girl is their first novel.
Praise For…
---
"Paul Takes the Form of a Mortal Girl is playful, sexy, smart, and like nothing else I—or you—have ever read before."
—Carmen Maria Machado, author of Her Body and Other Parties

"Restless, muscular, and playful…. A tight satisfying masterpiece."
—Eileen Myles, author of Evolution

"Fast-paced and cheeky…a touchingly sweet-hearted and deeply cool book."
—Michelle Tea, author of Black Wave

"I love this book in all it's ecstasy, wit, and hilarity....As rare as it is contagious."
—Maggie Nelson, author of The Argonauts

"Joyous and ever-changing, whip-smart and brilliantly perverse, Paul Takes the Form of a Mortal Girl is quite simply one of the most exciting—and one of the most fun—novels of the decade." 
—Garth Greenwell, author of What Belongs to You

"Mixes pop culture, gender theory, and smut, but [Lawlor's] greatest achievement is that Paul is no mere symbol but a vibrantly yearning being."
—The New Yorker

"One of the most buzzed-about books from last year gets a reissue. In these irreverent pages, a shapeshifter gets a crash course in gender and sexuality by inhabiting both sides of the binary and arriving precisely somewhere in the middle. Book jacket blurbs are seldom something to go on, but in this case...just look."
—O, The Oprah Magazine

"Bends genre as well as gender....Difficult to quote in a family newspaper."
—The New York Times

"A fantasy spin an all-too-pertinent issues of gender and sex."
—Harper's Bazaar

"If anyone has ever endeavored to reclaim the canonical—specifically Ovid and Gertrude Stein—not to queer it, but to genderqueer it, it is Lawlor."
—The Paris Review

"With lashings of sex, music and clothes, it is filthy, sharp and clever. What's not to like?"
—Hanif Kureishi

"Endlessly inventive....Magic."
—Kaitlyn Greenidge, Lenny Letter

"Intoxicatingly rousing…. A timelessly contemporary exposé of an antihero with a heart made of fire."
—Los Angeles Review of Books

"Groundbreaking…. A fresh novel that elevates questions of sexual identity and intimacy." 
—Kirkus (starred review)

"I'm loving Paul Takes the Form of a Mortal Girl....It's pulling at my little queer midwestern heartstrings." 
—Danez Smith, The Guardian
Upcoming Events
No upcoming events available