Happy: A Beginner's Book of Mindfulness (Hardcover)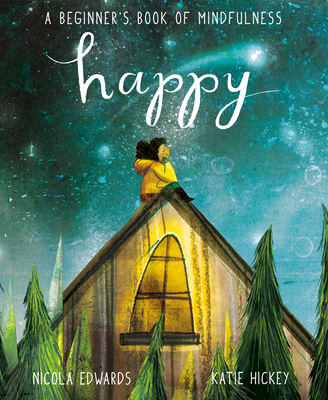 Description
---
A perfect bedtime read, this picture book gently encourages children to explore the senses and discover their path to mindfulness.

"Mindfulness is all about connetion with ourselves and the world around us."

This poetically-written introduction to mindfulness touches upon the most important aspects of life--feeling, discovering, smelling, listening, and all the things that bring the world to life. With every soothing read and practice, children are better equipped to understand and control their own emotions...and diiscover an appreciation for the beautiful world around them.
About the Author
---
Nicola Edwards was raised by the seaside in beautiful Brighton. She loves reading, dancing, rhyming, and turquoise things. She now lives with her husband in East London and spends her days writing and editing children's books.

Katie Hickey is a freelance illustrator who graduated from Falmouth University in beautiful (and slightly soggy) Cornwall, England. Katie takes inspiration from her travels and surroundings to create characterful and atmosheric images. She uses a combination of hand-rendered print processes and digitial techniques to create her work.