Welcome to Bobville: City of Bobs (Hardcover)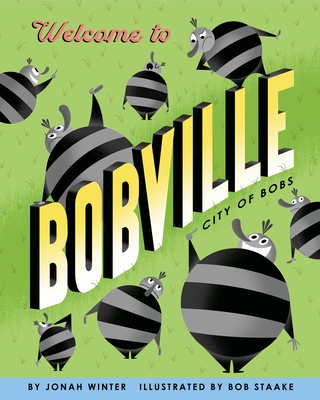 $17.99

NOT CURRENTLY IN THE STORE - Hard to Find - We Will Research Availability and Get Back to You
Description
---
Here's a timely, hilarious picture book, with Seussian appeal! In Bobville, everyone is named...yup, Bob...and everything is exactly the same--until one Bob decides he'd like to be a Bruce.

Welcome to Bobville, home to people only named Bob! In Bobville, the Bobs eat the same food, wear the same clothes, watch the same movies, and have the same hobbies. They agree on everything-- ESPECIALLY that they don't like anyone who isn't named Bob. The Bobs go about their Bob ways, until one day, to the surprise of the entire city, one resident decides he wants to do things a little differently, and live as Bruce. In response, the Bobs build a wall to keep Bruce, and anyone else who dares to be different, out of the city. But Bruce doesn't mind-- it turns out the diverse world outside of Bobville is actually very beautiful. In this timely picture book, bestselling author Jonah Winter and acclaimed illustrator Bob Staake explore how exclusion and walls breed intolerance, and how being different and open-minded enriches our lives and the world.
About the Author
---
Jonah Winter is the award-winning author of more than forty nonfiction picture books that promote environmental awareness and social and racial justice. Among them are Here Comes the Garbage Barge!; Ruth Bader Ginsburg: The Case of R.B.G. vs. Inequality; My Name is James Madison Hemings; Barack; The Founding Fathers!; and Lillian's Right to Vote, a Jane Addams Children's Book Award recipient and Kirkus Prize finalist. Visit him at jonahwinter.com.

Bob Staake has authored and/or illustrated over 50 books, including The Book of Gold and Bluebird, which received three starred reviews; My Pet Book; The Donut Chef; and Look! a Book! The New York Times named Staake's The Red Lemon one of the ten best illustrated books of the year. Learn more at BobStaake.com.
Praise For…
---
Praise for Welcome To Bobville:

"A fun lesson with a not-so subtle message that promotes pushing boundaries and embracing differences." —Booklist, Starred Review

"A clever look at tolerance and understanding." —Kirkus Reviews

"A reminder of the importance of independent thinking and the joy of being different wrapped in a silly yet empowering tale." —The Horn Book

"There are lots of books lately about celebrating differences and condemning intolerance. This title is a carefree addition to the canon that is simply a celebration of how silly it would be for us all to be the same." —School Library Journal

Praise for Jonah Winter's Thurgood: 

"Winter and Collier have created a catalyst that will inspire readers to learn more about this giant of American history." —Publishers Weekly, Starred Review

 "A memorable portrait of a legal giant." —Booklist, Starred Review

"Informative, inspiring, and exciting. . . . A fervent celebration of a man whose work improved the lives of millions of Americans." —School Library Journal, Starred Review

"A resounding winner." —Shelf Awareness, Starred Review

Praise for Bob Staake's Bluebird: 

"Staake works out an impressive range of emotion... Without use of a single word, this book raises all kinds of simple profundities for kids to question, ponder, imagine, and discuss." —Booklist, Starred Review

"…believers and skeptics alike will find something deeply impressive and moving in this work of a singular, fully committed talent." —Publishers Weekly, Starred Review

"Like nothing you have seen before." —Kirkus Review, Starred Review