Chilean Poet: A Novel (Hardcover)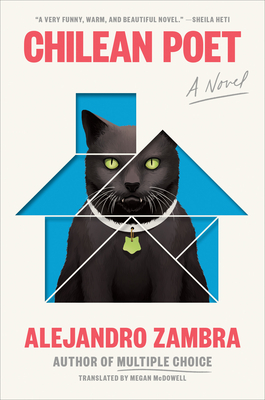 $27.00

NOT CURRENTLY IN THE STORE - Hard to Find - We Will Research Availability and Get Back to You
Description
---
A NEW YORKER BEST BOOK OF THE YEAR
A WALL STREET JOURNAL TOP 10 BOOK OF THE YEAR
ONE OF NPR'S "BOOKS WE LOVE"

"A tender and funny story about love, family and the peculiar position of being a stepparent…[Chilean Poet] broadens the author's scope and quite likely his international reputation." —Los Angeles Times

"Zambra [is] one of the most brilliant Latin American writers of his generation." —The New York Review of Books 

"Zambra's books have long shown him to be a writer who, at the sentence level, is in a world all his own." —Juan Vidal, NPR.org

A writer of "startling talent" (The New York Times Book Review), Alejandro Zambra returns with his most substantial work yet: a story of fathers and sons, ambition and failure, and what it means to make a family

After a chance encounter at a Santiago nightclub, aspiring poet Gonzalo reunites with his first love, Carla. Though their desire for each other is still intact, much has changed: among other things, Carla now has a six-year-old son, Vicente. Soon the three form a happy sort-of family—a stepfamily, though no such word exists in their language.
 
Eventually, their ambitions pull the lovers in different directions—in Gonzalo's case, all the way to New York. Though Gonzalo takes his books when he goes, still, Vicente inherits his ex-stepfather's love of poetry. When, at eighteen, Vicente meets Pru, an American journalist literally and figuratively lost in Santiago, he encourages her to write about Chilean poets—not the famous, dead kind, your Nerudas or Mistrals or Bolaños, but rather the living, striving, everyday ones. Pru's research leads her into this eccentric community—another kind of family, dysfunctional but ultimately loving. Will it also lead Vicente and Gonzalo back to each other?
 
In Chilean Poet, Alejandro Zambra chronicles with enormous tenderness and insight the small moments—sexy, absurd, painful, sweet, profound—that make up our personal histories. Exploring how we choose our families and how we betray them, and what it means to be a man in relationships—a partner, father, stepfather, teacher, lover, writer, and friend—it is a bold and brilliant new work by one of the most important writers of our time.
About the Author
---
Alejandro Zambra is the author of ten books, including Multiple Choice; Bonsai; The Private Lives of Trees; and My Documents, a finalist for the Frank O'Connor International Short Story Award. The recipient of numerous literary prizes, as well as a New York Public Library Cullman Center fellowship, his stories have appeared in The New Yorker, The New York Times Magazine, The Paris Review, and Harper's Magazine, among other publications. He lives in Mexico City. 

Megan McDowell (translator) is the recipient of a 2020 Award in Literature from the American Academy of Arts and Letters and has been short- or long-listed four times for the International Booker Prize. She lives in Santiago, Chile.
Praise For…
---
"Chilean Poet complicates the notion of an artistic birthright rooted in national identity . . . [it] treats the thorny topic of collective identity not as tragedy, but as a familial comedy. Its laughs are forged across languages . . . [such] that one happily loses track of any original."
—New York Times Book Review

"[Zambra] mix[es] tenderness, depth and laugh-out-loud humor . . . [his] incursions into metafiction, in which the author peeks in and winks at the reader, feel playful, serendipitous. He's clearly having fun."
—Los Angeles Times

"[A] splendid book . . . Chilean Poet moves deftly among different points of view . . . [Vicente's] complicated reunion with Gonzalo is one of the best endings to a novel that I have read in years, a scene of beautiful emotional improvisation."
—Wall Street Journal

"[A] charming novel."
—The New Yorker

"[A] picaresque, sprightly, contemporary version of a bildungsroman . . . startling and original . . . Just as Zambra's characters turn to literature for hope, so I can now turn to Zambra. Born two years after the coup that destroyed democracy in Chile, he managed to survive the darkest days of our history and to emerge with an incandescent, comedic, compassionate view of humanity."
—Ariel Dorfman, The New York Review of Books

"A fascinating portrait of a country at a turning point . . . It is a testament to Zambra's skill that I can so readily imagine the continuation of Vicente's life. It is also a testament to Chilean Poet's hopefulness, which, while cautious, runs so deep that the book seems almost to have predicted [Gabriel] Boric's victory."
—The Atlantic

"Zambra's fifth novel is in many ways a return to youth, the beauty, the unreliability, and the red-hot indignity of it . . . there are those signature Zambra sentences, those reckless, rambling sentences that proceed like sleepwalkers traversing the same crosswalk, heedless of traffic lights . . . this is fiction that provokes a need in you, a curiosity you wish to prolong by returning to it someday: crushing or euphoric emotions (love, regret, giving up, artistic passion) paired with everyday events (using a computer, quitting smoking) and packed in a miniature, highly constrained form . . . in many strange and enthralling ways [it] mature[s] as one reads it."
—Bookforum

"Really funny, really sweet . . . an offbeat family story." 
—NPR's "Pop Culture Happy Hour"

"Hilarious, touching, and a phenomenal jumping off point for deepening your knowledge of Chilean poetry's varied, mercurial characters, Chilean Poet dives into what families are, fathers and sons, and literary pretensions."
—Electric Lit

"[H]eartfelt . . . Without a doubt, it is [Zambra's] best work yet, generously infused with nostalgic tenderness, original humor, and Zambraesque storytelling vitality. Only a writer like Zambra—whose love for literature, insight into human vulnerability, and understanding of tumultuous history were expansively illustrated in his previous works—could have written Chilean Poet . . . emotionally resonant . . . both Zambra's straightforward prose and his experimental poems all read naturally, thanks to McDowell's astute translation."
—Asymptote

"There are many joys of [Chilean Poet], including Zambra's fascinating depiction of the Chilean literary scene, a lot of (purposefully) bad poetry, and all of the stylistic inventiveness and wonder that Zambra and acclaimed translator Megan McDowell are known for. A tender and brilliant novel that surprises at every turn, Chilean Poet is a poignant examination of family and art."
—Book Riot

"The thing that has always made Zambra's writing irresistible (to me, anyway) is his attention to the seemingly inconsequential matters that render our lives so flush with consequence. Chilean Poet will almost certainly amble along Zambra's wonderfully original, laconic literary path."
—Il'ja Rákoš, The Millions

"Zambra's novels remain clever and poetic, never too serious, always affirming. This quality could be described as warmth, but I will call it inclusivity: Zambra's novels will always accept us. They will not be bitter and they will not allow us to writhe in anguish. They will show us the pain of maturation and the pain of relationships, but they will lead us through these passages gently, with humor and compassion . . . Zambra ends novels better than anyone alive, and the ending to Chilean Poet is one of the most memorable a reader can experience."
—Chicago Review of Books

"Zambra has earned a reputation as an autofiction alchemist, an artist who does not simply notate the numbing details of daily life but spins the quotidian into art. In his latest novel, Chilean Poet, he writes in a different, grander register . . . we encounter scenarios that are recognizable because we have experienced them before, yet he depicts them with such care and irreverence that they are rendered unfamiliar."
—Vulture

"[A] brilliant poetical novel . . . [Zambra] brilliantly coax[es] his readers in each of the novel's four parts to believe his frequently hilarious tales . . . a novelistic epigone but primarily a charming, very rare, and disconcerting tribute to the poet's vocation; a poignant settling of scores." 
—World Literature Today

"Megan McDowell has mastered [Zambra's] predominant tone of droll melancholy right along with him." 
—4Columns

"Megan McDowell's ability to capture the novel's Chilenismos beyond the usual linguistic chasms between English and Spanish is a remarkable achievement . . . Zambra strikes a perfect balance of self-aware yet sincere. He reaches the sublime through descriptions of everyday routine. He never takes himself too seriously while acknowledging the gravity of introducing a child to the world in all its glorious contradictions . . . Chilean Poet takes readers on a courageous journey of invention." 
—PopMatters

"A very funny, warm, and beautiful novel." 
—Sheila Heti, author of Pure Colour

"Every beat and pattern of being alive becomes revelatory and bright when narrated by Alejandro Zambra. He is a modern wonder."
—Rivka Galchen, author of Everyone Knows Your Mother is a Witch

"His clever irony, his lighthearted yet powerful prose, his gift for capturing this life that passes through and yet still escapes us—everything Zambra has already put into practice in his novellas and short stories explodes with vitality in Chilean Poet. Contemporary, beautiful, brilliant."
—Samanta Schweblin, author of Fever Dream

"A playful, discursive novel about families, relationships, poetry, and how easily all three can come together or fall apart . . . [Chilean Poet] renders both the small moments of literary striving and the everyday difficulties of being part of, and raising, a family with an insight that's both cleareyed and tender."
—Kirkus Reviews

"There's no questioning Zambra's deep affection for writers grasping at love."
—Publishers Weekly

"Intelligent and funny and moving and profound. . . It's been a long time since I've laughed so hard or been so moved by a novel."
—Rodrigo Fresán, Letras Libres
 
"Engaging . . . written with a simplicity and freedom . . . The final part is wonderful, almost miraculous, masterly."
—Ignacio Echevarría, El Mundo
 
"Chilean Poet reminds us, in sum, of 'life's complexity'…It has moved me and made me laugh a lot. This is a great Zambra."
—Nadal Suau, El Mundo
 
"[An] intelligent and moving novel . . . jaunty and ironic but never lacking in tenderness."
—Jorge Carrión, New York Times en Español, "Best Spanish-Language Books of 2020"

PRAISE FOR ALEJANDRO ZAMBRA

"The most talked-about writer to come out of Chile since Bolaño."
—The New York Times Book Review
 
"Zambra's books have long shown him to be a writer who, at the sentence level, is in a world all his own."
—NPR.org

"Strikingly original."
—James Wood, The New Yorker

"One of the most interesting writers working right now."
—Elle.com

"When I read Zambra I feel like someone's shooting fireworks inside my head."
—Valeria Luiselli, author of Lost Children Archive

"Zambra is so alert to the intimate beauty and mystery of being alive that in his hands a raindrop would feel as wide as a world."
—Anthony Marra, author of The Tsar of Love and Techno
Upcoming Events
No upcoming events available