The Women of Troy: A Novel (Paperback)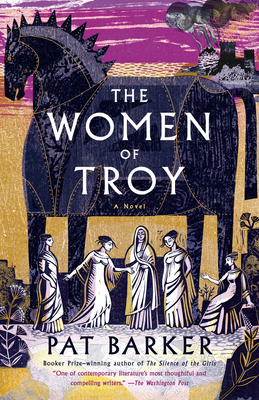 $17.00

NOT CURRENTLY IN THE STORE - Backordered - May Take Multiple Weeks
Description
---
A daring and timely feminist retelling of The Iliad from the perspective of the women of Troy who endured it—an extraordinary follow up to The Silence of the Girls from the Booker Prize-winning author of The Regeneration Trilogy and "one of contemporary literature's most thoughtful and compelling writers" (The Washington Post).

Troy has fallen and the victorious Greeks are eager to return home with the spoils of an endless war—including the women of Troy themselves. They await a fair wind for the Aegean.

It does not come, because the gods are offended. The body of King Priam lies unburied and desecrated, and so the victors remain in suspension, camped in the shadows of the city they destroyed as the coalition that held them together begins to unravel. Old feuds resurface and new suspicions and rivalries begin to fester.

Largely unnoticed by her captors, the one time Trojan queen Briseis, formerly Achilles's slave, now belonging to his companion Alcimus, quietly takes in these developments. She forges alliances when she can, with Priam's aged wife the defiant Hecuba and with the disgraced soothsayer Calchas, all the while shrewdly seeking her path to revenge.
About the Author
---
PAT BARKER is the author of sixteen novels, beginning with her working class masterpiece Union Street in 1982. Her Regeneration Trilogy novels set in the First World War were awarded the Booker Prize and praised as one of the greatest historical novels in British literature. Her last novel, The Silence of the Girls, was shortlisted for the Women's Prize for Fiction and the Gordon Prize in the UK, and won the Independent Bookshop Award in 2019. She was made a CBE (Commander of the Order of the British Empire) in 2000. She lives in Durham, England.
Praise For…
---
ONE OF THE GUARDIAN'S BEST BOOKS OF THE YEAR

"Now the publication of The Women of Troy (Doubleday) brings the author back to the bloodied plains where the Greeks and the Trojans fought—here, once again, a staging ground for the battle between the sexes."—The New Yorker

"[Barker's] insight and compassion are on full display. As is her outrage."—The New York Times Book Review

"This continuation of the Trojan woman's story feels like another victory for every person who was silenced by history, their story stolen from them."—Refinery29

"Barker's prose has a plain force more powerful than fancy wordsmithing; she makes these long-ago events immediate … More work from one of contemporary literature's most thoughtful and compelling writers is always welcome."—The Washington Post

"Pat Barker is in the process of writing the Greek trilogy by which she always intended to crown a remarkable career."—The New York Review of Books

"Immersive and textured: full of smoke from the fires, and sand whipped up by the wind that's keeping the Greek army pinned to the shore."—NPR

"[T]he narrative is at its most absorbing when Briseis is on the page and observing the scheming and infighting among the Greek men and the resilience and bravery of the Trojan women. She is a wonderful creation. With luck, Barker is already planning her next move."—The Minneapolis Star Tribune

"Like its predecessor, The Women of Troy returns voice and agency to characters who were silenced in the original epic… Barker's writing is swift, detailed, and immersive… [The Women of Troy] succeeds at making us understand that what they felt—the grief of the Trojan women—cannot have been much different than our own."—Chicago Review of Books

"Barker's sequel to The Silence of the Girls (2018) continues the story of Queen Briseis, given as a war prize to Achilles… Through Briseis' eyes, readers experience the aftermath of the fall of Troy… Briseis is an engaging character, both pragmatic and perceptive, providing keen insight into monsters such as Pyrrhus, as well as the women of Troy."—Booklist

"Once again, Barker uses blunt prose to tell human stories that strip the romance from one of literature's enduring epics."—The Millions

"[A] masterly continuation of her fiercely feminist take on Homer's Iliad. . . In a novel filled with names from legend, Briseis stands tall as a heroine: brave, smart and loyal. . . Barker's latest is a wonder."—Publishers Weekly *Starred Review*

"Barker's blunt, earthy prose strips the romance from Greek mythology, revealing its foundations in murder and oppression, yet she also understands—and conveys—the stark appeal of these ancient stories as she asks us to reconsider them through the eyes of their victims. As with her masterful Regeneration trilogy, the inconclusive close of this volume leaves readers hungry to know what happens next to a host of complex and engaging characters. Vintage Barker: challenging, stimulating, and profoundly satisfying."—Kirkus Reviews *Starred Review*
Upcoming Events
10/14/2023 -

10:00am

to

7:00pm