Gay Marriage and Democracy: Equality for All (Polemics) (Paperback)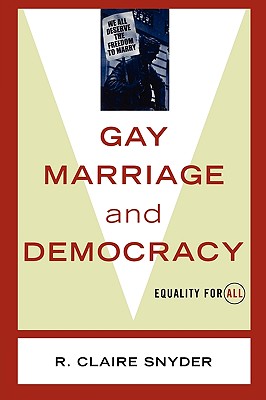 $48.00
NOT CURRENTLY IN THE STORE - Available to Order - Usually Arrives in Store in 1-5 Business Days!
Description
---
In this provocative new work, R. Claire Snyder argues that the fundamental principles of American democracy not only allow but require the legalization of same-sex marriage. In addition to explaining the theoretical issues at stake, the book provides a short history of marriage, disentangling its interpersonal, communal, religious and civil components. In clear and concise language, Snyder examines and systematically addresses numerous critiques of same-sex marriage, including religious conservatism, traditionalism, the organized movement of the Christian Right, communitarianism, and academic 'queer theory.' By exploring the arguments swirling around this controversial topic from the perspective of democratic theory, Gay Marriage and Democracy shows that all citizens must be treated equally for democracy to truly succeed.
About the Author
---
R. Claire Snyder is Associate Professor of Government and Politics in Political Theory in the Department of Public and International Affairs at George Mason University.
Upcoming Events
No upcoming events available