Uneasy Reunions: Immigration, Citizenship, and Family Life in Post-1997 Hong Kong (Hardcover)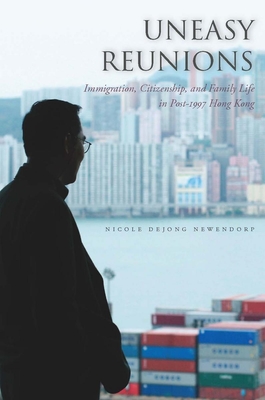 $60.50
NOT CURRENTLY IN THE STORE - Available to Order - Usually Arrives in Store in 1-5 Business Days!
Description
---
Migrating to reunite with family members is one of the most common forms of migration in the world today. This book focuses on the family reunion migration that takes place between mainland Chinese wives and their Hong Kong husbands in post-1997 Hong Kong. Despite sharing one formal citizenship status (that of the Peoples Republic of China) and strong similarities of culture, ethnicity, and history, mainland Chinese wives wait for periods of up to ten years to join their husbands and other family members in Hong Kong. Once there, they experience significant social and economic marginalization. Nicole Newendorp follows the paths these immigrant women take: from marriages to Hong Kong men and long periods of waiting, to the downward mobility and familial struggles they face in Hong Kong. When these immigrant women seek help from Hong Kong social workers and other government officials, they receive an education in the qualities of civility idealized in Hong Kong discourses of belonging. Throughout, the author focuses on the ways in which ideologies of membership are constructed in Hong Kong, and how these normative ideals influence mainland Chinese immigrants everyday experiences of inclusion and exclusion in Hong Kong.
About the Author
---
Nicole Newendorp is a Lecturer on Social Studies at Harvard University. This is her first book.
Praise For…
---
"[This book is] a testament to Newendorp's sensitivity and skill as an ethnographer and her facility with the Cantonese language . . . Newendorp excels in presenting complex ideas in clear ways. She takes on many sophisticated debates from what it means to be Chinese in different 'Chinese' locations to the complexities of power and mobility in a transnational milieu. Overall, the book makes a unique and refreshing contribution . . . This ethnography will have broad appeal to a wide variety of readers."—Caren Freeman, Journal of International Migration & Integration

"Uneasy Reunions achieves what all ethnography aspires to: rich and textured portraiture of a corner of the human experience that speaks to the largest issues and experiences of our times. . . . [It] strikes a perfect balance: careful ethnographic portraiture, well-chosen scaffolding of relevant area and theoretical literature, and pitch-perfect reference to other global instances of migration across political difference. We applaud Newendorp for this parsimonious, evocative, inspired, and analytically impeccable contribution to the ethnography of East Asia."—Nancy Abelmann, University of Illinois at Urbana-Champaign, and Chair, 2009 Francis L.K. Hsu Book Prize Committee, Society for East Asian Anthropology

"This empathetic ethnography explores identity, migration, and difference through the prism of contemporary mainland Chinese women married to Hong Kong men who are seeking rights to live and form families in Hong Kong. Since Hong Kong formally returned to the People's Republic of China in 1997, many families who share culture and national citizenship nonetheless have remained separated by political history and divergent cultural formations. Images and expectations divide as well as unite women who want to migrate and the society that receives them, as the author shows through extensive fieldwork since 2000 with wives, children, social workers (an especially rich portrait), and other Hong Kongers."—CHOICE

"This study is a contribution to our understanding of the city's dynamic social and political life .... Newendorp provides remarkably nuanced details of the daily challenges, desires, and hopes of immigrant women."—Helen Siu, Journal of Anthropological Research

"This book provides a compelling contribution to the topic of marital immigration from China and sheds light on the new challenges Hong Kong faces as a post-colonial society. By integrating issues central to the transnational world in which we live, Newendorp delivers an engaging and well-researched ethnography of citizenship."—Sara Friedman, Indiana University, author of Intimate Politics: Marriage, the Market, and State Power in Southeastern China
Upcoming Events
No upcoming events available