Gather at the Table: The Healing Journey of a Daughter of Slavery and a Son of the Slave Trade (Hardcover)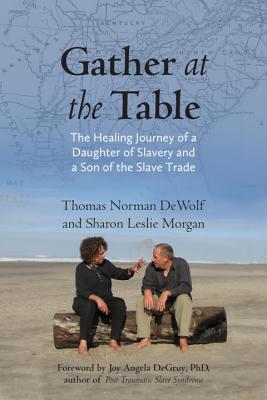 $25.95
NOT CURRENTLY IN THE STORE - Hard to Find - We Will Research Availability and Get Back to You
Description
---
Two people—a black woman and a white man—confront the legacy of slavery and racism head-on
 
"We embarked on this journey because we believe America must overcome the racial barriers that divide us, the barriers that drive us to strike out at one another out of ignorance and fear. To do nothing is unacceptable."
 
Sharon Leslie Morgan, a black woman from Chicago's South Side avoids white people; they scare her. Despite her trepidation, Morgan, a descendent of slaves on both sides of her family, began a journey toward racial reconciliation with Thomas Norman DeWolf, a white man from rural Oregon who descends from the largest slave-trading dynasty in US history. Over a three-year period, the pair traveled thousands of miles, both overseas and through twenty-seven states, visiting ancestral towns, courthouses, cemeteries, plantations, antebellum mansions, and historic sites. They spent time with one another's families and friends and engaged in deep conversations about how the lingering trauma of slavery shaped their lives.

Gather at the Table is the chronicle of DeWolf and Morgan's journey. Arduous and at times uncomfortable, it lays bare the unhealed wounds of slavery. As DeWolf and Morgan demonstrate, before we can overcome racism we must first acknowledge and understand the damage inherited from the past—which invariably involves confronting painful truths. The result is a revelatory testament to the possibilities that open up when people commit to truth, justice, and reconciliation. DeWolf and Morgan offer readers an inspiring vision and a powerful model for healing individuals and communities.
About the Author
---
Thomas Norman DeWolf, author of Inheriting the Trade, is featured in the Emmy-nominated documentary Traces of the Trade, which premiered at the Sundance Film Festival and on the acclaimed PBS series POV. DeWolf speaks regularly about healing from the legacy of slavery and racism at colleges, conferences, and workshops throughout the United States.
 
Sharon Morgan is a marketing communications consultant, a nationally recognized pioneer in multicultural marketing, and a founder of the National Black Public Relations Society. An avid genealogist, she blogs extensively, leads workshops on African American family history, and is the webmaster for OurBlackAncestry.com.
Praise For…
---
"Gather at the Table is an honest exploration into the deep social wounds left by racism, violence, and injustice, as the authors work through their own prejudices in search of reconciliation--and ultimately find friendship."
—Leymah Gbowee, 2011 Nobel Peace Laureate
 
"I could not put this book down. Gather at the Table is an extraordinary story of an honest, meaningful conversation across the racial divide. At times it hurts to read. And well it should. Centuries of injustice and trauma that face us every day in this country have no place for half-truths. Sharon and Tom took the harder road—searching for healing, they literally walked together into painful histories and found authentic friendship."
—John Paul Lederach, PhD, author of The Moral Imagination: The Art and Soul of Building Peace
 
"A great introduction to a shared past that ought to be better known."
—Kirkus Reviews
 
"What a courageous journey—communicated in an engaging, readable style with candor, humor, and deep feeling. This book shed light on the thoughts, questions, and feelings I have about race, society, culture, and historical, generational, and structurally induced trauma—and the human ability to transcend. In reading it, I realized there are questions I'm still afraid to ask about race, things I'm afraid to say, and yet I realized anew the power of acknowledgment, mercy, justice, and conflict transformation. I'm grateful to DeWolf and Morgan for not just taking the journey but for sharing their story with us."
—Carolyn Yoder, founding director of STAR: Strategies for Trauma Awareness & Resilience

"Sharon and Tom take us on a heart-opening journey of awakening. As a nation, we owe them a deep bow of gratitude as they help us navigate the deep divides of race and otherness."
—Belvie Rooks, cofounder, Growing a Global Heart
Upcoming Events
No upcoming events available