What Is Marriage For?: The Strange Social History of Our Most Intimate Institution (Paperback)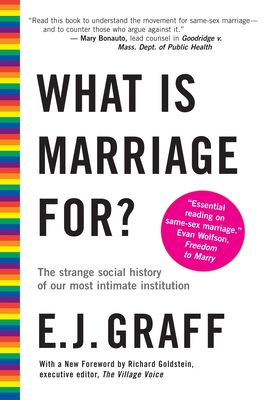 $31.20
NOT CURRENTLY IN THE STORE - Available to Order - Usually Arrives in Store in 1-5 Business Days!
Description
---
In the wake of the Massachusetts Supreme Judicial Court's historic Goodridge decision, a reissue of the bible of the same-sex marriage movement

Will same-sex couples destroy "traditional" marriage, soon to be followed by the collapse of all civilization? That charge has been leveled throughout history whenever the marriage rules change. But marriage, as E. J. Graff shows in this lively, fascinating tour through the history of marriage in the West, has always been a social battleground, its rules constantly shifting to fit each era and economy. The marriage debates have been especially tumultuous for the past hundred and fifty years-in ways that lead directly to today's debate over whether marriage could mean not just Boy + Girl = Babies, but also Girl + Girl = Love.
About the Author
---
E. J. Graff is a journalist and independent scholar whose work has appeared in the New York Times, the Boston Globe, The Nation, The Village Voice, Out, and elsewhere. She is currently a visiting scholar at the Brandeis Women's Studies Research Center.
Praise For…
---
E. J. Graff's What Is Marriage For? is the place to start reading for anyone thinking about the words 'lesbian,' 'gay,' and 'marriage' in the same sentence. It's engaging, it's fun, and it puts the lie to those prophets of gloom and doom who think every push for greater equality-whether it be women's suffrage, reproductive rights, or interracial marriage-signals the end of civilization. --Evan Wolfson, Freedom to Marry

"A thought-provoking review of the vicissitudes of this ancient institution." -Joseph Glenmullen, Boston Globe

"A font of fascinating information . . . Graff marshals an array of sources and anecdotes dating back to the ancient Hebrews into a narrative that is . . . vivid and accessible." --Anne Kingston, Toronto Globe and Mail

"An enlightening romp through the history of marriage in western Europe and the U.S." -Cassandra West, Chicago Tribune
Upcoming Events
No upcoming events available