Work/Family Conflicts: Private Lives-Public Responses (Economic History; 117) (Hardcover)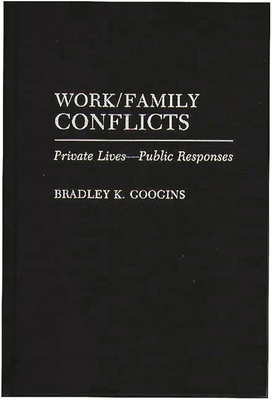 $100.80
NOT CURRENTLY IN THE STORE - Available to Order - Usually Arrives in Store in 1-5 Business Days!
Description
---
Work/Family Conflicts describes a social earthquake which, without our knowledge, is changing the fiber of our lives. Conflicts inherent to complex work/family issues are being felt within and among three sectors: the family, the corporation, and society at large. These conflicts deny easy solutions and are aggravated as they bump up against social, economic, and cultural realities. According to Bradley Googins, all three sectors must ultimately appreciate their roles in the conflicts and accept some responsibility for resolving them. He focuses on the roles played by society and families and stresses the need to ignore simplistic solutions. He looks instead toward creative understandings, new partnerships, and the courage to confront dysfunctional structures, attitudes, and social arrangements. The ultimate goal is healthy and productive families and workplaces.
Googins divides his volume into ten chapters. His first chapter provides an overview reflecting the magnitude of the issues. He then outlines a framework--examining issues at four levels: individuals, families, corporations, and governments. Salient changes, conflicts, and impacts are discussed at each level. Chapter three analyzes the development of work/family relationships over several centuries. Googins presents the findings of the Boston University Balancing Job and Homelife Study in chapter four. This study provides his research base. Viewing work/family conflicts from the perspective of today's families, chapter five looks at family members while chapter six and seven cover childcare and elder dependent care. Chapter eight identifies society's megaconflicts, chapter nine outlines the types of initiatives which have begun in response to these conflicts. A final chapter takes a look at the challenges and possibilities ahead of us.
About the Author
---
BRADLEY K. GOOGINS is an Associate Professor at the Graduate School of Social Work at Boston University. He is author of a monograph entitled Boston University: Balancing Job and Home Life Study and an article, Vulnerability of Working Parents, which appeared in Social Work in 1987. He is now working on a companion volume on work-family conflicts from the corporate perspective.
Upcoming Events
No upcoming events available