Call Me Tree / Llámame Árbol (Hardcover)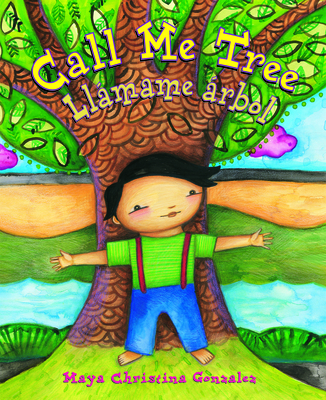 Description
---
Best Books of the Year, Honorable Mention, The Huffington Post
Choices, Cooperative Children's Book Center (CCBC)
Bilingual English/Spanish. An imaginary tale of self-discovery told by a child who grows, learns about the natural world, embraces others, and is free to become who he or she is meant to be--a child as unique as a tree.
What does it mean to be like a tree?
For one young child, it all begins
as a tiny seed
that is free to grow
and reach out to others
while standing strong and tall-
just like a tree in the natural world.
With this gentle and imaginative story about becoming your fullest self, Maya Christina Gonzalez empowers young readers to dream and reach... and to be as free and unique as trees.
About the Author
---
Maya Christina Gonzalez is an award-winning children's book artist, author, activist and progressive educator. Her work addresses systemic inequity in relation to race/ethnicity, sexism and cissexism using children's books as radical agents of change and healing, both personally and culturally. She co-founded Reflection Press, a POC, queer and trans owned independent publishing house that uses holistic, nature-based, and anti-oppression frameworks in their books and materials for kids and grown-ups. She is also the creator of the Gender Wheel, a tool to express the dynamic, infinite and inclusive reality of gender, and provides lectures and workshops to educators, parents and caregivers. Visit her online at mayagonzalez.com.