Felix Ever After (Compact Disc)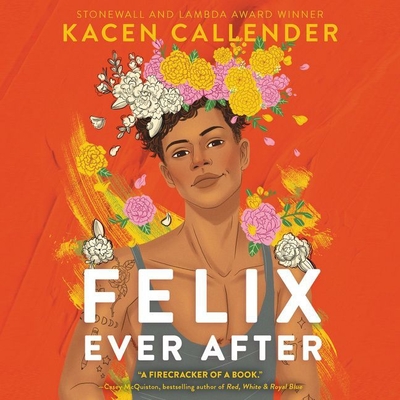 $34.99

NOT CURRENTLY IN THE STORE - Hard to Find - We Will Research Availability and Get Back to You
Staff Reviews
---
Felix Ever After is the messy trans representation we deserve. After a classmate anonymously posts his deadname, Felix decides to exact his revenge by catfishing his suspect. His plan goes south, though, when Felix starts to fall for the boy he's tricking. All the while, Felix is questioning his gender identity all over again after first coming out as years before.

This is a joyful story that celebrates the strength and pride of knowing who we are and accepting when we need to change. Felix shows readers that growth is ongoing and that we always deserve respect and love.
Description
---
From Stonewall and Lambda Award-winning author Kacen Callender comes a revelatory YA novel about a transgender teen grappling with identity and self-discovery while falling in love for the first time.
Felix Love has never been in love--and, yes, he's painfully aware of the irony. He desperately wants to know what it's like and why it seems so easy for everyone but him to find someone. What's worse is that, even though he is proud of his identity, Felix also secretly fears that he's one marginalization too many--Black, queer, and transgender--to ever get his own happily-ever-after.
When an anonymous student begins sending him transphobic messages--after publicly posting Felix's deadname alongside images of him before he transitioned--Felix comes up with a plan for revenge. What he didn't count on: his catfish scenario landing him in a quasi-love triangle....
But as he navigates his complicated feelings, Felix begins a journey of questioning and self-discovery that helps redefine his most important relationship: how he feels about himself.
Felix Ever After is an honest and layered story about identity, falling in love, and recognizing the love you deserve.
Felix is attending an ultracompetitive arts summer program to have a better shot at a full scholarship to Brown when someone posts Felix's dead name beside photos of him, pre-transition, in the school's lobby. Felix's plot to get revenge throws him onto the path of love and self-discovery. (Publishers Weekly, An Anti-Racist Children's and YA Reading List)
Upcoming Events
No upcoming events available