American Delirium: A Novel (Paperback)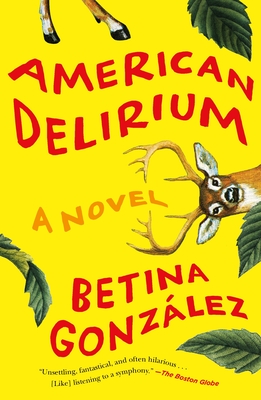 $17.99

NOT CURRENTLY IN THE STORE - Available to Order - Usually Arrives in Store in 1-5 Business Days!
Description
---
"One dizzying vortex, combining colonial history, generational delusions and psychedelic drug trips. . . . An eerily familiar vision of American madness and decay."
—The New York Times Book Review

From award-winning novelist Betina González, American Delirium is a dizzying, luminous English-language debut about a town overrun by a mysterious hallucinogen and the collision of three unexpected characters' lives through the mayhem.

First, in a small Midwestern city, the deer population starts attacking people. So Beryl, a feisty senior with a troubled past, decides to take matters into her own hands, training a squad of fellow retirees to hunt the animals down and reclaim their own vitality.

At the same time, a group of protesters decides to abandon the "system" and live in the woods, leaving their children and all responsibility behind. Berenice never thought her mother would join the "dropouts," but she's been gone for several days, and the only clue to what might have happened to her is hidden somewhere in her old scrapbook.

Vik, a taxidermist at the natural history museum and an immigrant from the Caribbean, is beginning to see the connections between the dropouts, the deer, and the discord. But he's not about to act on his suspicions—he knows he would somehow be the one to go to jail. Each of these heartfelt and engrossing characters struggles to see their place in a society full of contradictions, but they ultimately rescue one another in surprising ways.
About the Author
---
Betina González is the bestselling author of several novels and short-story collections, for which she has won several awards, including the prestigious Premio Tusquets. She earned her MFA in bilingual creative writing at the University of Texas at El Paso and her PhD from the University of Pittsburgh. She lives in Buenos Aires and teaches at the University of Buenos Aires and New York University Buenos Aires. American Delirium is her first book to be published in English.

Heather Cleary is an Assistant Professor of Spanish at Sarah Lawrence College, USA. Her research on contemporary Latin American culture and the theory and practice of translation has appeared in journals including Hispanic Review and Mutatis Mutandis. She has also published seven books in translation, includ two books by Sergio Chejfec, The Dark (2013), which was shortlisted for the National Translation Award, and The Planets(2015), which was a Finalist for the Best Translated Book Award.
Praise For…
---
NAMED A BEST BOOK OF 2021 BY NPR

"With alternately sharp and florid prose [American Delirium] tells the story of a city in decay. . . . The genre here is magical realism, but González punctures the reveries with moments of acuity. . . . Utterly transportive—the rare, giddy book that makes the familiar seem fantastical, and vice versa."
—The Atlantic

"Unsettling, fantastical, and often hilarious . . . [Like] listening to a symphony."
—The Boston Globe

"A commentary on aging, sex, and the emptiness of modern living in the U.S. that could've only been written by an outside observer."
—NPR

"This has the makings of a zany psychedelic romp, but instead the delirium is marvelously controlled and administered in doses just potent enough to ease patient readers into this off-kilter world. González's distorted utopian vision is a memorable trip." ­
—Publishers Weekly (starred review)

"A novel about the fictions—those myths about age, race, family, nationality, sexuality, health—that we tell ourselves. . . . Both zany and profound."
—Kirkus Reviews (starred review)

"A profound and much-needed tale full of hope and kindness."
—Booklist (starred review)

"With piercing insight and prose that evokes the literary flair of César Aira, American Delirium is a surreal exploration of environmental imbalance."
—Lit Hub

"Fast-paced . . . An ode to taxidermy and botany, a meditation on aging, a tongue-in-cheek look at how we romanticize the wilderness, and, as the title suggests, a reflection on the delusions of modern life."
—Outside

"Bitingly satirical. . . . González is a fresh voice, asking important questions in an engaging and incisive way."
—Pittsburgh Post-Gazette

"A wild romp. . . . The lively pace and absurdity of American Delirium could easily go off the rails, but González keeps a tight control over each of her characters."
—BookPage

"Betina Gonzalez writes with tremendous verve. What a sharp, audacious novel about the escalating delirium of our current era. Heather Cleary's translation recreates the quicksilver scenes of American Delirium with superb artistry."
—Idra Novey, author of Those Who Knew

"This is a beautiful and ruthless novel that asks readers to dive into it with their whole selves, to see themselves in its violence and its flickers of hope. It is, like few are, a book that will stay with you long after you've finished it."
—Yuri Herrera, author of Signs Preceding the End of the World, winner of the 2016 Best Translated Book Award

"Betina Gonzalez has created a gorgeous novel where the real and the mystical walk hand in hand, and occasionally give each other a sharp jab. The book's interwoven storylines delve not only into the world of botanical psychedelics, but into the psychedelia of ordinary life—the surrealism of aging, the hallucinatory nature of desire, the hauntings of love and loneliness and death. As Gonzalez's characters navigate a world where plants inspire revolution and animals are possessed by homicidal rage, they ask us to consider whether human beings are perhaps the least natural creatures this planet has to offer."
—Anjali Sachdeva, author of All the Names They Used for God

"American Delirium traces an illuminating journey into the uncanny core of contemporary society. A bold, smart, atmospheric exploration of the unsettling reality that lies beneath our false sense of comfort."
—Carlos Fonseca, author of Natural History

"With [González's] capacity to inform, her sense of analysis, of proportion, of measure, of the balance of something so complex as a novel, I predict a bright future for her."
—Nobel laureate José Saramago

"Strange and surreal, bewitching but understated, American Delirium captures the uncanny in the everyday, a cryptic glimpse at society and our boundless contradictions. From runaway parents to attacking deer, Betina González's English-language debut is remarkable. Beautifully translated by Heather Cleary and perfect for fans of vibrant and daring writers like César Aira and Roque Larraquy."
—Mark Haber, bookseller at Brazos Bookstore (Houston) and author of Reinhardt's Garden