Truck Full of Ducks (Hardcover)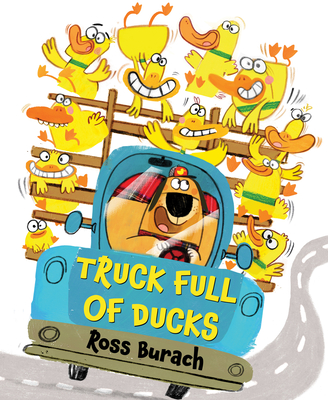 $17.99

NOT CURRENTLY IN THE STORE - Available to Order - Usually Arrives in Store in 1-5 Business Days!
Description
---
Titanic new talent Ross Burach breathes fresh life into tried and true topics -- trucks and ducks! -- in this laugh-out-loud comedy of errors!"Children will delight in the extreme silliness of this story and will repeatedly pore over the detailed, colorful, and quirky illustrations." --School Library JournalDid you call for a truck full of ducks?Bernie is on the road to make a delivery when one of the ducks EATS the directions. Oh no! How will he find his customer?Join the flock on this wacky call-and-response ride to find out just WHO ordered a truck full of ducks -- and why!Ross Burach's screwball comedy is filled with surprise twists and crafty jokes that will quack you up!
About the Author
---
Ross Burach is the creator of the riotously funny picture books The Very Impatient Caterpillar, The Little Butterfly That Could, and Truck Full of Ducks,as well as the acclaimed board books I Love My Tutu Too!, Potty All-Star, Hi-Five Farm!, and Hi-Five Animals!, named the best board book of the year by Parents magazine. Ross's work can also be seen in the Acorn early reader series Bumble and Bee. Ross lives with his family in Brooklyn, New York. You can visit him online at rossburach.com.
Praise For…
---
Praise for Truck Full of Ducks, by Ross Burach:"Burach will have readers quacking up, both with the frequent repetition of the title -- 'Did you call for a truck full of ducks?' is a funny line no matter how often it's read or heard -- and over the illustrations… Sight gags and side comments in the pictures add further yuks to this ducky delight." -- Booklist"Children will delight in the extreme silliness of this story and will repeatedly pore over the detailed, colorful, and quirky illustrations." -- School Library Journal"Burach tells his story entirely through dialogue, packing it -- and his exuberant, crayon-like digital illustrations -- with visual jokes [and] an abundance of funny details to discover in each scene." -- Publishers Weekly"Silly details decorate every spread… Storytime audiences will quack up." -- Kirkus ReviewsPraise for Billy Bloo is Stuck in Goo, illustrated by Ross Burach:2018 CBC Children's & Teen Choice Book Awards Finalist"Begs to be read aloud… Gleeful, errant nonsense." -- Kirkus Reviews"Plenty to linger (and laugh) over." -- Publishers Weekly"Lots of giggles and goo, and weird characters too, in this rhyming cumulative storytime read-aloud, make this title a must-have for picture book collections." -- School Library Journal

Praise for Truck Full of Ducks, by Ross Burach:"Burach will have readers quacking up, both with the frequent repetition of the title -- 'Did you call for a truck full of ducks?' is a funny line no matter how often it's read or heard -- and over the illustrations… Sight gags and side comments in the pictures add further yuks to this ducky delight." -- Booklist"Children will delight in the extreme silliness of this story and will repeatedly pore over the detailed, colorful, and quirky illustrations." -- School Library Journal"Burach tells his story entirely through dialogue, packing it -- and his exuberant, crayon-like digital illustrations -- with visual jokes [and] an abundance of funny details to discover in each scene." -- Publishers Weekly"Silly details decorate every spread… Storytime audiences will quack up." -- Kirkus ReviewsPraise for Billy Bloo is Stuck in Goo, illustrated by Ross Burach:2018 CBC Children's & Teen Choice Book Awards Finalist"Begs to be read aloud… Gleeful, errant nonsense." -- Kirkus Reviews"Plenty to linger (and laugh) over." -- Publishers Weekly"Lots of giggles and goo, and weird characters too, in this rhyming cumulative storytime read-aloud, make this title a must-have for picture book collections." -- School Library Journal
Upcoming Events
No upcoming events available