The Flintstones Vol. 1 (Paperback)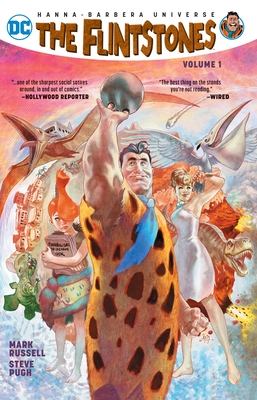 List Price: $17.99
Our Price: $16.19
(Save: $1.80 10%)
Description
---
Hanna-Barbera has created some of the most recognizable animated characters of all time. As part of DC Comics' re-imagination of cartoons like SCOOBY-DOO, THE FLINTSONES, JOHNNY QUEST, SPACE GHOST, and WACKY RACERS, these new series will be infused with modern and contemporary concepts while keeping the heart and soul of the classic animation.

Fred and Barney reunite for Mark Russell's modern take on Hanna-Barbera's most famous stone-age family!

Welcome to Bedrock, where Paleolithic humans head to dinner for a taste of artisanal mammoth after shopping at Neandertall & Big Men's Clothing, where Wilma shows her modern art, and where, if you take a plane, you could end up sitting on the literal tail section. See Fred, Wilma, Pebbles, Dino, Barney, Betty and Bamm-Bamm as you've never seen them before in THE FLINTSTONES VOL. 1.
 
THE FLINTSTONES has garnered significant critical acclaim for its modern take on the iconic Hanna-Barbera prime-time animated series. This darkly hilarious title cast an acerbic eye on issues like consumerism, religion, politics and relationships that's both distinctly twenty-first century and uniquely the Flintstones!

The critically acclaimed creative team of Mark Russell (PREZ) and Steve Pugh (ANIMAL MAN, SWAMP THING) set out to turn a beloved classic cartoon into a modern graphic novel masterpiece with THE FLINTSTONES VOL. 1, which collects THE FLINTSTONES #1-6.
About the Author
---
Mark Russell is an American author, best-known for his satirical graphic novel God Is Disappointed In You, an irreverent retelling of the Bible. He is also the writer of PREZ and THE FLINTSTONES for DC Comics.
Praise For…
---
"It deserves Eisner attention…a unique commodity: a comic with an honest-to-god stance on the underpinnings of civilization and the true meaning of life." —Starred Review from Booklist
 
"In what is probably the most unexpected achievement in current comics, writer Russell (God Is Disappointed in You) manages to make the Flintstones relevant by being topical and candid." —Starred Review from Publishers Weekly

"DC's new FLINTSTONES comic is brilliant social satire—yes, really." —The Daily Dot
 
"An invitingly biting debut book that spikes the narrative with sharp one-liners and sly asides." —Washington Post
 
"…easily one of the most compelling and interesting comics in a long while."—Paste Magazine
 
"I never would have guessed that, out of all the books on shelves, THE FLINTSTONES would be the most satirical and affecting." —Newsarama