Parable of the Sower: A Graphic Novel Adaptation (Hardcover)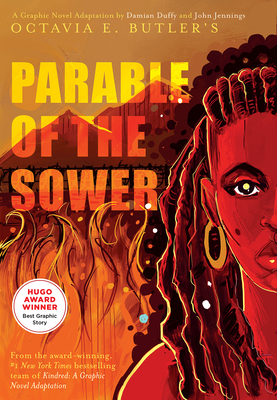 $24.99

NOT CURRENTLY IN THE STORE - Available to Order - Usually Arrives in Store in 1-5 Business Days!
Description
---
In this graphic novel adaptation of Octavia E. Butler's Parable of the Sower by Damian Duffy and John Jennings, the award-winning team behind the #1 New York Times bestseller Kindred: A Graphic Novel Adaptation, the author portrays a searing vision of America's future.

2021 Hugo Award Winner for Best Graphic Story or Comic

In the year 2024, the country is marred by unattended environmental and economic crises that lead to social chaos. Lauren Olamina, a preacher's daughter living in Los Angeles, is protected from danger by the walls of her gated community.

However, in a night of fire and death, what begins as a fight for survival soon leads to something much more: a startling vision of human destiny . . . and the birth of a new faith.

"The graphic novel is faithful to Butler, yet still fresh in its world building." —USA Today

"Alarmingly prescient and relevant . . . This accessible adaptation is poised to introduce Butler's dystopian tale to a new generation of readers." —Publishers Weekly
About the Author
---
Octavia Estelle Butler (1947–2006), often referred to as the "grand dame of science fiction," was born in Pasadena, California, on June 22, 1947. She received an Associate of Arts degree in 1968 from Pasadena City College, and also attended California State University in Los Angeles and the University of California, Los Angeles. Butler was the first science-fiction writer to win a MacArthur Fellowship ("genius" grant). She won the PEN Lifetime Achievement Award and the Nebula and Hugo Awards, among others. Her books include Wildseed, Imago, and Parable of the Sower.

Damian Duffy, cartoonist, writer, and comics letterer, is a PhD student at the University of Illinois at Urbana-Champaign Graduate School of Library and Information Science, and a founder of Eye Trauma Studios (eyetrauma.net). His first published graphic novel, The Hole: Consumer Culture, created with artist John Jennings, was released by Front 40 Press in 2008. Along with Jennings, Duffy has curated several comics art shows, including Other Heroes: African American Comic Book Creators, Characters and Archetypes and Out of Sequence: Underrepresented Voices in American Comics, and published the art book Black Comix: African American Independent Comics Art and Culture. He has also published scholarly essays in comics form on curation, new media, diversity, and critical pedagogy.

John Jennings is the curator of the Megascope list and illustrator of the graphic novel adaptations of Octavia E. Butler's Kindred and Parable of the Sower. He is a professor of media and cultural studies at the University of California, Riverside, and was awarded the Nasir Jones Hiphop Fellowship at Harvard's Hutchins Center for African & African American Research. He also coedited the Eisner Award-winning anthology The Blacker the Ink: Constructions of Black Identity in Comics and Sequential Art.
Praise For…
---
"…the graphic novel is faithful to Butler, yet still fresh in its world building."
— USA Today

"…alarmingly prescient and relevant…This accessible adaptation is poised to introduce Butler's dystopian tale to a new generation of readers."
— Publishers Weekly

"…Jennings' work in the book is beyond stunning…"
— The Beat

"The Parable of the Sower graphic novel… is as faithful an adaptation as you can get. Not only does it hit all the plot points, it perfectly portrays Butler's balancing act in regard to how far society has fallen apart."
— Kirkus

"Duffy and Jennings have done justice to Butler's work, losing none of the story's richness and adding an exciting visual element that makes the reading experience even more visceral and engrossing."
— Foreword Reviews, STARRED review

"John Jennings's work succeeds as sequential storytelling and approaches the level of iconography regularly."
— The Believer

"Jennings and Duffy are some of the most skilled and hardest working comics creators doing the work to radically transform and diversify the comics scene."
— Comicosity

"Jennings has captured [Butler's] words with visual imagery in such an afrofuturistic, horror-esque way that the images jump off the page with every turn."
— Flickering Myth
Upcoming Events
No upcoming events available