Burnt Sugar: A Novel (Paperback)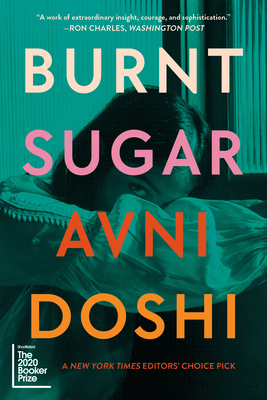 Description
---
Shortlisted for the 2020 Booker Prize, a searing literary debut novel set in India about mothers and daughters, obsession and betrayal
"I would be lying if I say my mother's misery has never given me pleasure," says Antara, Tara's now-adult daughter.

This is a love story and a story about betrayal—not between lovers but between a mother and a daughter. . . . In her youth, Tara was wild. She abandoned her arranged marriage to join an ashram, embarked on a stint as a beggar (mostly to spite her affluent parents), and spent years chasing a disheveled, homeless "artist," all with little Antara in tow.

But now Tara is forgetting things, and Antara is an adult—an artist and married—and must search for a way to make peace with a past that haunts her as she confronts the task of caring for a woman who never cared for her.

Sharp as a blade and laced with caustic wit, Burnt Sugar unpicks the slippery, choking cord of memory and myth that binds mother and daughter: Is Tara's memory loss real? Are Antara's memories fair? In vivid and visceral prose, Avni Doshi tells a story at once shocking and empathetic of a mother-daughter relationship and a daughter's search for self. A journey into shifting memories, altering identities, and the subjective nature of truth, Burnt Sugar is the stunning and unforgettable debut of a major new voice in contemporary fiction.
About the Author
---
Avni Doshi was born in New Jersey. She received her BA in art history from Barnard College and her MA in history of art at University College, London. While working as an art writer and curator in India, Doshi began writing fiction. She has been awarded the Tibor Jones South Asia Prize and a Charles Pick Fellowship. Her debut novel, Burnt Sugar, was shortlisted for the prestigious TATA Literature Award upon its publication in India. Avni Doshi currently lives in Dubai with her family.
Praise For…
---
"Avni Doshi isn't just a talented writer, she is an artist. She knows the difference between a line and shade — both start the same way, but intention and style inform their difference. Doshi's sentences are sharply drawn and devastatingly precise. There is never a wasted word, no debris, no flourish to hide behind. A voice this unadorned, and blunt, is so hauntingly stubborn and original, you want to hear from it again and again."
— New York Times Book Review

"Burnt Sugar is a work of extraordinary insight, courage and sophistication…It's not that Doshi has written something no one has ever thought before; it's that she's written something no one has ever expressed so exquisitely — and so baldly."
— The Washington Post

"I read Burnt Sugar with awe, fury and compassion, electrified by the question of whether time does heal all wounds, and whether it even should."
— Catherine Whelan

"Avni Doshi is a writer of surgical precision and sharp intelligence. This novel of mother-and-daughter resentments and the deep, intimate cuts of ancient family history gleams like a blade—both dangerous and beautiful. I loved it."
— Elizabeth Gilbert

"Burnt Sugar is absolutely exquisite."
— Diksha Basu

"Impressively assured…It's the mother's selfishness and instability that makes Antara such a complex character, hypersensitive, anxious and filled with rage."


— The San Francisco Chronicle

"It's rare that I read a novel so outrageous in both form and content, without either one feeling overdone, or like an afterthought. Doshi's prose is sensual at every turn, blistering even when it really doesn't need to be; it feels almost like being in a fever dream (or a sugar-addled coma, perhaps). And the story too is audacious, a scalpel-sharp portrait of a mother and daughter and what I can only describe as their competing realities. I don't want to say any more here, because the surprises work well in this novel, but suffice it to say that it is very good, and a book I will be thinking about for a long time."
— LitHub

"Acerbic, full of wit and cool intelligence, but also brilliantly poetic and passionate—every sentence is a coiled spring."
— Olivia Sudjic

"Avni Doshi writes fearlessly, with a cruel, almost terrifying intelligence. I was discomfited and exhilarated by it."
— Meng Jin

"Doshi's portrayal of troubled mother-daughter intimacy is viscerally poetic. This has the heft and expansiveness of a classic 19th-century novel."

— Publishers Weekly STARRED review

"a landmark portrait of toxic parenting and its tangled aftermath ... Dark emotions color a daughter's complex connection to her mother in a striking first novel that delves deep into family bonds."
— Kirkus STARRED review

"A courageous novel written in spare, gleaming sentences. It made me hold my breath and gather it up again."
— Tishani Doshi

"Raw, wise, and cuttingly funny."
— Rowan Hisayo Buchanan

"Burnt Sugar is an unsettling, sinewy debut, startling in its venom and disarming in its humor from the very first sentence."
— Guardian

"An intelligent debut, deserving of its Booker shortlisting, Burnt Sugar is sorrowful, skeptical, and electrifyingly truthful about mothers and daughters."
— Guardian, Book of the Day

"With a tightly controlled narrative voice and careful use of flashbacks … This is a layered, descriptive, at times distasteful novel that brings us face to face with our own darker impulses and deep-seated traumas."
— Chicago Review of Books

"Doshi's prose is arresting and her ideas fiercely intelligent."
— Sunday Times

"Burnt Sugar is an incredible novel with messages and characters that remain with its reader far beyond the final line."
— New York Journal of Books

"Doshi's visceral debut is a no-holds-barred excavation of how hate can both poison and sustain."
— Daily Mail

"A corrosive, compulsive debut."
— Daily Telegraph

"The words in Avni Doshi's "Burnt Sugar" hit you like a bullet... Regardless of your cultural background, "Burnt Sugar" will pulse with an addictive and thrilling energy. Every sentence is a treasure to read and brings you one step closer to yourself, even though you didn't ask for it."
— Michigan Daily