Till Death Do Us Part: A Look Inside Long-Term Gay Relationships (Paperback)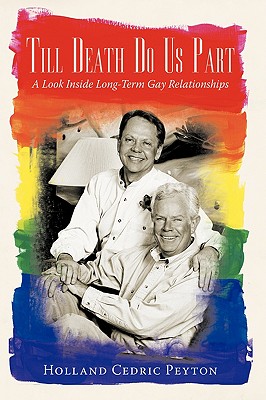 $22.95
NOT CURRENTLY IN THE STORE - Available to Order - Usually Arrives in Store in 1-5 Business Days!
Description
---
As a gay youth, author Holland Cedric Peyton sought role models for long-term relationships, but found that contemporary society offered only heterosexual examples. As an adult, Peyton embarked on an ambitious research project to locate and interview long-time homosexual partners. In this book, he presents their stories, ideas, and advice regarding love and maintaining a positive, long-term relationship.
Peyton interviewed ten male couples who have been together for a minimum of thirty to more than forty years. In each section, you'll get to know the couples, how they met, and how they achieved longevity in their relationships. Perhaps most importantly, each couple provides insight by answering an extensive series of questions, covering topics from self-perception, family, love, religion, and friendships, to tolerance, celebrations, and children.
These couples' extraordinarily candid interviews are a terrific way to honor their personal relationships and help young gays learn how to live a long, married life with someone they love. Together, Peyton and these couples, who opened their hearts and their lives, take on a large, important task: to provide personal, tangible, relatable relationship role models for gay youth.
Upcoming Events
No upcoming events available