Sorry I'm Late, I Didn't Want to Come: One Introvert's Year of Saying Yes (Paperback)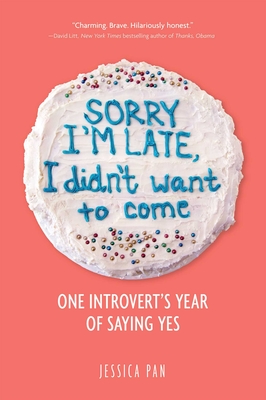 Staff Reviews
---
Are you looking to get out of your comfort zone? No? Then this is the book for you! Instead of attempting extrovert-ism yourself, let Jessica Pan lead the uncomfortable way. This book is extremely well written, and will genuinely make you want to get out of your comfort zone more because of Pan's own inspiring (and hilarious) attempts.
Description
---
An introvert spends a year trying to live like an extrovert with hilarious results and advice for readers along the way.

What would happen if a shy introvert lived like a gregarious extrovert for one year? If she knowingly and willingly put herself in perilous social situations that she'd normally avoid at all costs? Writer Jessica Pan intends to find out. With the help of various extrovert mentors, Jessica sets up a series of personal challenges (talk to strangers, perform stand-up comedy, host a dinner party, travel alone, make friends on the road, and much, much worse) to explore whether living like an extrovert can teach her lessons that might improve the quality of her life. Chronicling the author's hilarious and painful year of misadventures, this book explores what happens when one introvert fights her natural tendencies, takes the plunge, and tries (and sometimes fails) to be a little bit braver.

 
About the Author
---
JESSICA PAN is a journalist whose work has appeared in the Guardian's Weekend magazine, The Cut, Refinery29, and Vice, among others. She has a degree in psychology from Brown University and is the coauthor of Graduates in Wonderland, an epistolary memoir about living in Beijing and Paris. She previously worked as a TV reporter and magazine editor in Beijing and now lives in London. Find her @JessicaLPan on Twitter and @JessyPanPan on Instagram.
Praise For…
---
"Charming. Brave. Hilariously honest. Whether you buy this book for yourself, your favorite introvert, or the chatty friend you're hoping to shut up for a few solid hours, you can't go wrong with Jessica Pan's revealing and delightful memoir." 
(David Litt, New York Times bestselling author of Thanks, Obama)

"Sorry I'm Late, I Didn't Want to Come is a funny and poignant tale. I loved spending time with Jessica Pan in the pages of this book. I promise to never approach or contact her in real life." 
(A.J. Jacobs, New York Times bestselling author of The Year of Living Biblically)

"This book is a rollicking, hilarious delight. Jessica Pan's sense of humor as she stumbles (and sometimes triumphs) in a world of extroverts is sure to appeal to introverts everywhere. The only downside is that her book about going out and meeting new people is sure to make you stay home until you finish it."
(Jennifer Wright, author of Get Well Soon and Killer Fashion)

"Sorry I'm Late, I Didn't Want to Come achieves what so many books claim (but then frankly fail) to do: making you laugh, while at the same time managing to inspire. Pan is a gem, and her introvert's exploration of extroversion is all at once delightful and deftly rendered."
(Sara Barron, author of The Harm in Asking)

"Our Favorite Nonfiction of the Year (So Far)" (Book Riot)

"Sorry I'm Late is much more personal, colloquial and intimate than other books in this bashful little genre, but it offers many of the same messages: shy people are not alone; connection is everything; being extroverted can be fun; but sometimes, curling up alone with a good book is really perfectly fine." (The Guardian)

"Very funny, very smart" (Liberty Hardy on the Book Riot's For Real podcast)

"I loved it! It's such a wonderful title, and the book lives up to it."
(Nigella Lawson, bestselling author of At My Table)
Upcoming Events
No upcoming events available