A Broken Blade (Paperback)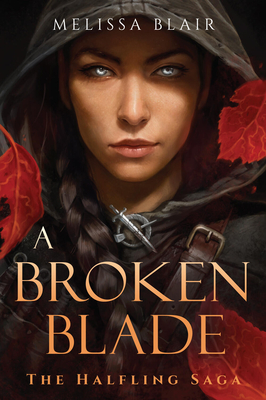 Description
---
The BookTok sensation from debut author Melissa Blair--now with exclusive bonus content "Gripping and fierce. This is much-needed fantasy with its fangs honed sharp by the power of resistance. Melissa Blair has built a tremendous world."--Chloe Gong, #1 New York Times bestselling author of These Violent Delights My body is made of scars,
some were done to me,
but most I did to myself. Keera is a killer. As the King's Blade, she is the most talented spy in the kingdom. And the king's favored assassin. When a mysterious figure moves against the Crown, Keera is called upon to hunt down the so-called Shadow. She tracks her target into the magical lands of the Fae, but Faeland is not what it seems . . . and neither is the Shadow. Keera is shocked by what she learns, and can't help but wonder who her enemy truly is: the King that destroyed her people or the Shadow that threatens the peace? As she searches for answers, Keera is haunted by a promise she made long ago, one that will test her in every way. To keep her word, Keera must not only save herself, but an entire kingdom. Fans of fast-paced high fantasy such as A Court of Thorns and Roses series, The Inadequate Heir, and From Blood and Ash author Jennifer L. Armentrout, will enjoy the fierce female characters, sapphic representation, and fantasy romance of A Broken Blade.
About the Author
---
Melissa Blair (she/her/kwe) is an Anishinaabe-kwe of mixed ancestry living in Turtle Island and the author of A Broken Blade, the first book in The Halfling Saga. She splits her time between Treaty 9 in Northern Ontario and the unceded territory of the Algonquin Anishinabeg in Ottawa, Canada. She has a graduate degree in Applied Linguistics and Discourse Studies, loves movies, and hates spoons. Melissa has a BookTok account (@melissas.bookshelf on TikTok) where she discusses and reviews her favorite books, including Indigenous and queer fiction, sapphic books, LGBTQ+ romance, feminist literature, and non-fiction.
Upcoming Events
No upcoming events available