You Should Have Known: Now on HBO as the Limited Series The Undoing (Paperback)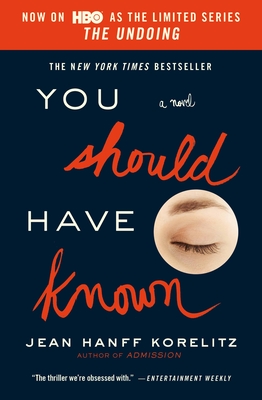 Staff Reviews
---
An opportunity to see a talented writer truly come into her own. The characters are fully formed and there's more than enough suspense to keep you going!
Description
---
Read the "rollickingly good literary thriller" and New York Times bestseller that's the inspiration for the most talked about TV series of 2020, HBO's The Undoing starring Nicole Kidman and Hugh Grant (Vanity Fair).
  Grace Reinhart Sachs is living the only life she ever wanted for herself. Devoted to her husband, a pediatric oncologist at a major cancer hospital, their young son Henry, and the patients she sees in her therapy practice, her days are full of familiar things: she lives in the very New York apartment in which she was raised, and sends Henry to the school she herself once attended.

Dismayed by the ways in which women delude themselves, Grace is also the author of a book You Should Have Known, in which she cautions women to really hear what men are trying to tell them. But weeks before the book is published a chasm opens in her own life: a violent death, a missing husband, and, in the place of a man Grace thought she knew, only an ongoing chain of terrible revelations. Left behind in the wake of a spreading and very public disaster, and horrified by the ways in which she has failed to heed her own advice, Grace must dismantle one life and create another for her child and herself.
About the Author
---
Jean Hanff Korelitz was born and raised in New York and graduated from Dartmouth College and Clare College, Cambridge. She is the author of one book of poems, The Properties of Breath, and three previous novels, A Jury of Her Peers, The Sabbathday River, The Devil and Webster, and The White Rose, as well as a novel for children, Interference Powder. She has also published essays in the anthologies Modern Love and Because I Said So, and in the magazines Vogue, Real Simple, More, Newsweek, Organic Style, Travel and Leisure (Family), and others. She lives in Princeton, NJ with her husband (Irish poet Paul Muldoon, poetry editor at the New Yorker and Princeton poetry professor) and two children.
Praise For…
---
"Ms. Korelitz's book is smart and devious - enough so to bring to mind another work of trickery, one that has "Gone" in its title and does not feature Scarlett O'Hara."—The New York Times

"Tempt the gods with smug self-righteousness and they will deliver a windfall of tragedy, as witness in Jean Hanff Korelitz's rollickingly good literary thriller...Korelitz writes intimately and engagingly about a social strata few are privy to, but the ugliness is very familiar."—Vanity Fair

"This consuming, expertly plotted thriller moves along at a slow burn, building up to shocking revelations about Grace's past and ending with a satisfying twist on her former relationship mantra; 'doubt can be a gift.'"—People

"Korelitz does not disappoint as she chronicles the emotional unraveling of her heroine in this gripping saga...A cut above your average who-is-this-stranger-in-my-marriage-bed novel, "You Should Have Known'' transforms itself at certain moments from a highly effective thriller into a nuanced novel of family, heritage, identity, and nurture."—The Boston Globe

"The thriller we're obsessed with."—Entertainment Weekly

"This excellent literary mystery [unfolds] with authentic detail in a rarified contemporary Manhattan. . . intriguing and beautiful."—Publishers Weekly (starred review)

"An unputdownably deft vivisection of Manhattan's upper social strata."—Vogue.com
Upcoming Events
No upcoming events available