Give the Devil His Due (Rowland Sinclair WWII Mysteries) (Paperback)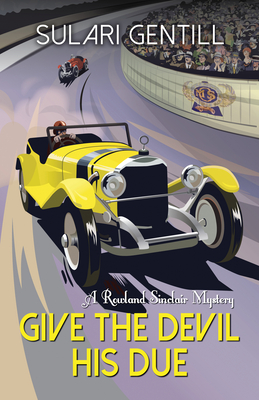 Other Books in Series
This is book number 7 in the Rowland Sinclair WWII Mysteries series.
Description
---
A fascinating historical mystery by Sulari Gentill, author of #1 LibraryReads pick The Woman in the Library
Winner of the 2018 Ned Kelly Award for Best Mystery
For fans of Rhys Bowen, Kerry Greenwood and Jacqueline Winspear comes an adventure-packed romp that threads 1934 Sydney's upper class and its seedy underworld.
Wealthy Rowland Sinclair, an artist with leftist friends and a free-wheeling lifestyle, reluctantly agrees to a charity race. He'll drive his beloved yellow Mercedes on the Maroubra Speedway, renamed the Killer Track for the lives it has claimed. His teammates are a young Errol Flynn and the well-known driver Joan Richmond. It's all good fun. But then people start to die...
The body of a journalist covering the race is found murdered in a House of Horrors. An English blueblood with Blackshirt affiliations dies in a Maroubra crash. Reporters stalk Rowly for dirt while bookmakers are after an edge. When someone takes a shot at him—it could be anyone. Then the police arrest one of Rowly's housemates for murder.
For fans of Golden Age mysteries—but with a bohemian twist—this historical novel features a riveting crime, a wry, almost British sense of humor, and an amateur sleuth you can't help but root for. 
Other Rowland Sinclair Mysteries:
A Few Right Thinking Men
A Decline in Prophets
Miles off Course
Paving the New Road
A Murder Unmentioned
Gentlemen Formerly Dressed
About the Author
---
After setting out to study astrophysics, graduating in law and then abandoning her legal career to write books, SULARI GENTILL now grows French black truffles on her farm in the foothills of the Snowy Mountains of Australia.
Gentill's Rowland Sinclair mysteries have won and/or been shortlisted for the Davitt Award and the Commonwealth Writers' Prize, and her stand-alone metafiction thriller, After She Wrote Him won the Ned Kelly Award for Best Crime Novel in 2018. Her tenth Sinclair novel, A Testament of Character, was shortlisted for the Ned Kelly Best Crime Novel in 2021.
Praise For…
---
"Australian author Gentill's seventh installment featuring Rowland Sinclair (after A Murder Unmentioned) is as fun and consuming as her previous novels. The writing is superb, providing fascinating historical context as well as depth in her characters. Highly recommended for fans of the series and historical crime mysteries." — Library Journal

"This 1930s Sydney is vibrant and authentic" — Historical Novel Society

"The relationships of Gentill's well-developed characters continue to evolve as this fine historical series takes a darker tone with the rise of fascism in Europe." — Publishers Weekly

"For fans of Rhys Bowen, Kerry Greenwood and Jacqueline Winspear comes an adventure-packed romp that threads 1934 Sydney's upper class and its seedy underworld." — Booklist

"This is a great addition to a fun Australian mystery series… a fast-paced and captivating novel set during a turbulent period in Australia's history. Containing an intriguing mystery, a unique sense of humour and a range of historical characters, this is a highly recommended read for lovers of Australian fiction." — The Sydney Morning Herald

"[D]evil of a good read." — The Herald Sun

"This 1930s Sydney is vibrant and authentic, and the inclusion of a relevant newspaper cutting at the beginning of each chapter is a neat touch… in order to get the best value out of this highly original series with its quirky characters… seek out the earlier titles and follow them in sequence." — Historical Novel Society
Upcoming Events
10/14/2023 -

10:00am

to

7:00pm