Attracting Birds in the Carolinas: Creating Bird-Friendly Habitats from the Mountains to the Coast (Paperback)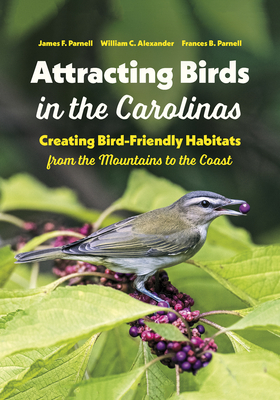 Description
---
Covering the Carolinas from up-country to the Piedmont to the Coastal Plain, this book is an in-depth yet accessible primer on the many ways that Carolinians can attract birds--from large wildlife refuges to private sanctuaries, and from farms to suburban homes and even apartments. The first book to focus specifically on attracting birds in both states, Attracting Birds in the Carolinas includes information on birds' basic needs and their annual reproduction and migration cycles, and provides helpful tips on how to modify your outdoor space to invite avian visitors.

In addition to helpful information on attracting particular species, this guide offers practical advice for managing problem species--both avian, such as the European Starling and Mute Swan, and nonavian, such as squirrels and snakes.
About the Author
---
James F. Parnell is professor emeritus of biology at the University of North Carolina, Wilmington. William C. Alexander is a retired biologist and chair of the science division at the South Carolina Governor's School for Science and Mathematics. Frances B. Parnell is a retired family and consumer sciences educator with North Carolina public schools.