Seven Days in June (Paperback)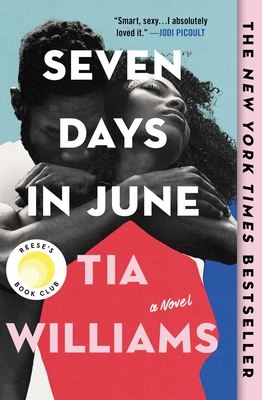 Description
---
The instant New York Times bestseller and Reese Witherspoon book club pick is "a heady combination of book love and between-the-sheets love." (Ruth Ware)

"Tia Williams's book is a smart, sexy testament to Black joy, to the well of strength from which women draw, and to tragic romances that mature into second chances. I absolutely loved it."
—JODI PICOULT, #1 New York Times bestselling author of The Book of Two Ways and Small Great Things

Seven days to fall in love, fifteen years to forget, and seven days to get it all back again...

Eva Mercy is a single mom and bestselling erotica writer who is feeling pressed from all sides. Shane Hall is a reclusive, enigmatic, award-winning novelist, who, to everyone's surprise, shows up in New York.

When Shane and Eva meet unexpectedly at a literary event, sparks fly, raising not only their buried traumas, but the eyebrows of the Black literati. What no one knows is that fifteen years earlier, teenage Eva and Shane spent one crazy, torrid week madly in love. While they may be pretending not to know each other, they can't deny their chemistry—or the fact that they've been secretly writing to each other in their books through the years.

Over the next seven days, amidst a steamy Brooklyn summer, Eva and Shane reconnect—but Eva's wary of the man who broke her heart, and wants him out of the city so her life can return to normal. Before Shane disappears though, she needs a few questions answered...

With its keen observations of creative life in America today, as well as the joys and complications of being a mother and a daughter, Seven Daysin June is a hilarious, romantic, and sexy-as-hell story of two writers discovering their second chance at love.

A Best Book of the Year: NPR • Kirkus • Marie Claire • PopSugar • New York Public Library • Bustle • Reader's Digest • Literary Hub
A Best Book of the Summer: Harper's Bazaar • Oprah Daily • Shondaland • The Los Angeles Times • CBS News • PureWow • Good Housekeeping • BuzzFeed • theSkimm
A Best Romance of 2021: The Washington Post • USA Today • Vulture • Goodreads • BookPage • BuzzFeed • Happy Mag
About the Author
---
Tia Williams had a fifteen‑year career as a beauty editor for magazines including Elle, Glamour, Lucky, Teen People, and Essence. In 2004, she pioneered the beauty‑blog industry with her award‑winning site, Shake Your Beauty. She wrote the bestselling debut novel The Accidental Diva and penned two young adult novels, It Chicks and Sixteen Candles. Her previous novel, the award‑winning The Perfect Find, is being adapted by Netflix for a film starring Gabrielle Union.

Tia is currently an editorial director at Estée Lauder Companies and lives with her daughter and husband in Brooklyn.
Praise For…
---
"[Seven Days in June is] filled with important observations and tidbits about Black life, giving the reader something that goes a step beyond the basic rom-com format."
—
USA Today
"While this is a sumptuous, fun, romantic story about two authors who reunite at a conference, it's also an ode to anyone who goes through life wishing they were more normal."
—
Good Morning America
"Sultry."
—
Marie Claire
"A read as sultry as the summer heat."
—
Harper's Bazaar
"Steamy."
—
Essence
"Gutting, arousing, and sparklingly witty… a love story with depth."—
Vogue
"One of the most anticipated romance novels of the summer…Eva and Shane's story gets steamy, so be sure to read by the water so you can cool off."
—
Oprah Daily
"If this cover doesn't raise your temperature a few degrees, the story will. Grab a fan before reading this one, because it really heats up."
—
Good Housekeeping
"Readers will delight in the opportunity to become a part of Eva's world, in a novel that seamlessly weaves young love, true love, addiction, pain, and hope."
—
Shondaland
"Very steamy…This one's going to be everywhere."
—
The Skimm
"Seven Days in June is a beautiful ode to Black joy."
—
PopSugar
"Seven Days in June had me laughing out loud and crying with the characters as their hearts are broken and healed. Tia Williams' book is a smart, sexy testament to Black joy, to the well of strength from which women draw, and to tragic romances that mature into second chances. I absolutely loved it."
—
Jodi Picoult, #1 NYT bestselling author of The Book of Two Ways and Small Great Things
"In
Seven Days in June
, Tia Williams conjures a seductive fantasy-rich friendships, star-crossed lovers, artistic fulfillment. But Williams, a canny anthropologist of contemporary urban life, is writing realism, exploring personal pain, family entanglements, and the negotiation of black identity in a world defined by whiteness. The result isn't escapism (though the book is a delight) but a vision of life at it truly is: complications and difficulties punctuated by profound joy."—
Rumaan Alam, author of National Book Award finalist Leave the World Behind
"I can always rely on Tia Williams for a novel with a delicious plot, compelling characters, and all of the pop cultural references my heart desires.
Seven Days In June
is nothing short of a good time. It's funny, thoughtful in both a real and thotty way, and its protagonist Eva Mercy may not know it, but she is my new favorite pretend writer."—
Michael Arceneaux, New York Times bestselling author of I Can't Date Jesus and I Don't Want To Die Poor
"What's on its face is a delightfully steamy read is a story layered with nuance that gracefully examines thornier topics of parenting in the modern age, life with chronic pain, and Black identity. Through it all, Williams' clever and witty writing will leave you clamoring to be part of Mercy's world."—
Reader's Digest
"Williams has a knack for realistically portraying how childhood trauma lingers into adulthood. In her exploration of how people cope, she also delivers hope: psyches can be mended and relationships can help to resolve pain. Williams doesn't shy away from the darker aspects of human experience, and her characters are fully formed and believable as a result. This is a winning romance."—
Publishers Weekly
"Williams' novel is a tour de force, capturing Eva's experience as part of the Black literati in Brooklyn, her urge to hide generational trauma from her daughter while still celebrating their ancestors, and the ways in which fate brings people together. The structure of the novel is complex but ultimately rewarding and provides a portrait of a richly layered world. A hugely satisfying romance that is electrifying and alive."
—
Kirkus (Starred Review)
"Williams proves once again that there is much more to romance novels than meet-cutes and other reliable tropes. As she deepens the genre with multilayered characters living full and interesting lives beyond their burgeoning romance without skimping on explicitly perfect sex scenes, her characters embody this storytelling duality. The well-crafted love story alone would delight readers, but Williams generously provides even more. She explores motherhood and womanhood, the passion to write, and the sometimes fine line between romance and heartache."
—
Booklist
"With funny, snappy writing and a strong eye for detail, Williams builds a compelling, glamorous Black literary world for the protagonists to inhabit. The book balances a second-chance romance with themes of motherhood, childhood trauma, and life with chronic pain."
—
Library Journal
"Williams' writing is zippy and fun to read, but her characters are also complicated individuals, making their love feel authentic."
—
The Week
"Sparkling with delicious sensuality and an intriguing plot, 
Seven Days in June
 by Tia Williams [is] a captivating contemporary story of romantic connection and love in an unforgiving world, overlaid with challenging themes of poverty, disability and childhood trauma that the author fearlessly addresses with grace and tenderness. [It] also shines in its celebration of strong female friendships and the unabashed pursuit of joy, reminiscent of Terry McMillan's beloved '90s classic 
How Stella Got Her Groove Back. 
Williams skillfully blends uplifting, hilarious moments into the story through a sensational supporting cast."—
Shelf Awareness
"Through this gripping love story, Williams reckons with family histories and shows the power in rewriting our origin stories. Readers will feel as attached to these characters as Eva and Shane are to each other."
—
BookPage
"Steamy as all get-out but also laugh-out-loud funny."
—
Scary Mommy
"This story is so much more than a rom-com: It grapples with motherhood, chronic pain, and familial bonds. Sharp, funny, and thoughtful, Seven Days in June is exactly what you'd want in a romance-focused novel, and then some."
—
Apartment Therapy
"An incredibly witty, slightly tear-inducing romance that gives a beautiful nod to the sometimes complicated relationships women can have with their mothers."—
PopSugar
"An emotional journey you're not soon to forget."—
Bookriot
"Warm and emotional."—
Insider
"The characters are vibrant, bleeding, pulsing, living creatures that crawl off the page and stomp on your heart. Equal parts swoony and razor-sharp, when it's done, you'll want to go again."—
Nikki Payne, Bustle
Upcoming Events
No upcoming events available