White Fright: The Sexual Panic at the Heart of America's Racist History (Hardcover)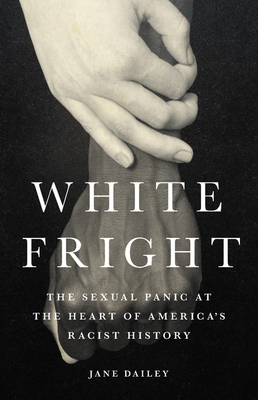 Description
---
A major new history of the fight for racial equality in America, arguing that fear of black sexuality has undergirded white supremacy from the start.
In
White Fright
, historian Jane Dailey brilliantly reframes our understanding of the long struggle for African American rights. Those fighting against equality were not motivated only by a sense of innate superiority, as is often supposed, but also by an intense fear of black sexuality.
In this urgent investigation, Dailey examines how white anxiety about interracial sex and marriage found expression in some of the most contentious episodes of American history since Reconstruction: in battles over lynching, in the policing of black troops' behavior overseas during World War II, in the violent outbursts following the Supreme Court's decision in
Brown v. Board of Education
, and in the tragic story of Emmett Till. The question was finally settled -- as a legal matter -- with the Court's definitive 1967 decision in
Loving v. Virginia
, which declared interracial marriage a "fundamental freedom." Placing sex at the center of our civil rights history,
White Fright
offers a bold new take on one of the most confounding threads running through American history.
About the Author
---
Jane Dailey is an associate professor of history at the University of Chicago. A recipient of fellowships from the American Academy in Berlin and the Guggenheim Foundation, she is also the author and coauthor of several previous books, including Before Jim Crow and Building the American Republic. She lives in Chicago, Illinois.
Praise For…
---
"Students of the civil rights movement and constitutional law will find plenty of useful information…A methodical journey through significant legal questions involving racism in America."
—
Kirkus
"This indispensable narrative powerfully illuminates how anxieties about 'miscegenation' and interracial marriage shaped and sustained white supremacy for four centuries. Every American should read this book."
—
Drew Gilpin Faust, author of This Republic of Suffering
"In
White Fright
historian Jane Dailey skillfully untangles the purposefully snarled concepts of sex, marriage, and politics at the foundation of the White supremacist American political economy that followed Reconstruction. More than a century and a half later, such gut-level concepts underlie our current politics, making
White Fright
essential reading right now. As Dailey shows, the history of anti-Blackness is White history."
—
Nell Irvin Painter, author of Southern History Across the Color Line
"To understand the true virulence of white supremacy in America, and to grasp just how hard won the fights against it have been, one must reckon with the extent to which racist laws and actions have always, in fact, been fueled by white obsessions about sex. Jane Dailey's latest, a most powerful recovery of this insidious history, must be read by all."
—
Heather Ann Thompson, Pulitzer Prize-Winning author of Blood in the Water
"Jane Dailey's peerless contribution is the revelation of how African Americans came to rebut not only the arch segregationists of the Deep South, but also the white moderates who dared to prescribe what Blacks "ought to want"-even after the Nazis copied the laws that such well-to-do whites helped keep in place. A must-read to understand how the right to choose whom to love and marry lost its centuries-old exclusivity."
—
Nancy MacLean, author of Democracy in Chains
Upcoming Events
No upcoming events available