Machine: A Novel (Paperback)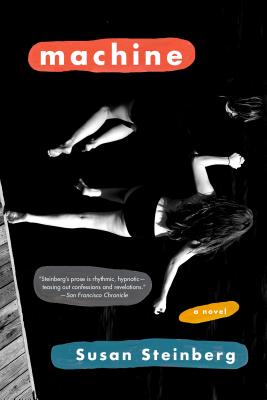 List Price: $15.00
Our Price: $13.50
(Save: $1.50 10%)
Staff Reviews
---
Susan Steinberg might be at the top of my "Writers Who Need More Recognition" list. Her short story collection, Spectacle, came out in 2013 and it immediately blew me away with its precision and insight. Now her first novel, Machine, has come out, telling the story of a group of teenagers grappling with an unexpected death during their summer getaway. Steinberg's work is experimental, boisterous, and penetrating. As she explores the roles we inhabit in today's society and how these roles restrict or redefine the way we see ourselves, you begin to understand that this is an author willing to shine a light in the darkness no matter what it unearths. - David
September 2019 Indie Next List
---
"Machine is like no book I have encountered before. Lyrically written prose slowly uncovers the details of the mysterious death of one of the young local girls in a small vacation town. In snippets, we see this world through the perspective of another girl, who is shocking in her honesty about how she navigates life as a young woman in this community of locals versus summer residents. Haunting and beautifully constructed."
— Hillary Smith, Copperfield's Books Calistoga, Calistoga, CA
Winter 2019 Reading Group Indie Next List
---
"I devoured this novel and it left me reeling. Steinberg has an utterly unique way of telling this story of blame, privilege, and dwindling innocence felt by a teenage girl when another girl drowns. Though it sounds like a plot done before, the style of writing is fresh and perfect for authentically telling this story. It's hypnotic and haunting, intense and thrilling, poetic and lyrical. A short book that packs a punch."
— Katrina Bright-Yerges, Books & Company, Oconomowoc, WI
Description
---
A haunting story of guilt and blame in the wake of a drowning, the first novel by the author of Spectacle

Susan Steinberg's first novel, Machine, is a dazzling and innovative leap forward for a writer whose most recent book, Spectacle, gained her a rapturous following. Machine revolves around a group of teenagers—both locals and wealthy out-of-towners—during a single summer at the shore. Steinberg captures the pressures and demands of this world in a voice that effortlessly slides from collective to singular, as one girl recounts a night on which another girl drowned. Hoping to assuage her guilt and evade a similar fate, she pieces together the details of this tragedy, as well as the breakdown of her own family, and learns that no one, not even she, is blameless.

A daring stylist, Steinberg contrasts semicolon-studded sentences with short lines that race down the page. This restless approach gains focus and power through a sharply drawn narrative that ferociously interrogates gender, class, privilege, and the disintegration of identity in the shadow of trauma. Machine is the kind of novel—relentless and bold—that only Susan Steinberg could have written.
About the Author
---
Susan Steinberg is the author of the short-story collections Hydroplane and The End of Free Love. She was the 2010 United States Artists Ziporyn Fellow in Literature. Her stories have appeared in McSweeney's, Conjunctions, The Gettysburg Review, American Short Fiction, Boulevard, and The Massachusetts Review, and she is the recipient of a Pushcart Prize. She has held residencies at the MacDowell Colony, the Vermont Studio Center, the Wurlitzer Foundation, the Blue Mountain Center, Yaddo, and New York University. She has a BFA in painting from the Maryland Institute College of Art and an MFA in English from the University of Massachusetts, Amherst. She teaches at the University of San Francisco.
Praise For…
---
"Steinberg shifts backward and forward in time, just as her prose shifts into a kind of poetry. The result is a glittering, knifelike reflection of despair through the eyes of a young woman, made richer by the fact that it's told in hindsight."—The New Yorker

"Steinberg's daring experiments with style and perspective make clear that such stock suspense isn't the point. The narrator's real quest is to discover whether a soul—hers, if it exists—can be saved."—The Atlantic

"Steinberg's beautifully structured sentences and wholly original stylistic decisions give Machine a delicate intricacy that enhances the depth of the plot."—San Francisco Chronicle

"[Steinberg's] prose is urgent and fluid, propelled by grammatical tension that transforms any odd pair of clauses into a flint and a stone—sometimes they grind together in subtle variation, and sometimes they spark into something new. The reader, unsure of which result to expect, is driven to attend to each word as if it might suddenly catch on fire."—The Nation

"The narrative shifts, experimental structure and poetic language in Steinberg's hypnotic first novel capture the teen years with their shifting emotional tides and heightened awareness of class, gender, self and others."—BBC Culture

"Taut, incantatory sentences, often laid out like poems."—Harper's

"Stylish and innovative. . . . The semicolon is one of the most sophisticated yet poorly understood pieces of punctuation. . . . A prolific and graceful user of this oft-avoided punctuation mark, Steinberg employs it to lyrical and layered effect."—Star Tribune (Minneapolis)

"After making waves with her book Spectacle, bold stylist Susan Steinberg resurfaces with her first novel, a tale of gender, class, privilege and trauma set during a summer at the shore. . . . The narrative grapples with guilt and blame while eschewing formal conventions."—Chicago Tribune

"Susan Steinberg takes everything you loved about her short story collections (Spectacle, anyone?) and brings them to this new tragedy: a hazy summer night in which one girl drowned. The voice of the story—sometimes singular, sometimes with other echoes—will guide and haunt you as it tries to make sense of what happened."—Literary Hub

"Steinberg's writing sinks its teeth in down to the bone and refuses to release."—Chicago Review of Books

"Peril, fury, suspicion, rebellion—Steinberg's craft lies in accumulating these moods and sustaining them. . . . It's a bold and challenging way to make a book, to trust the reader to sit still for her own impalement. But the risk pays off. Machine embodies a new kind of novel in verse, a creature that's part stutter and part song, and its stark, strange melody echoes long after its musicians have packed up and gone home."—On the Seawall

"Steinberg writes in small, interconnected, and poetic fragments. . . . Heartbreaking, eerie, and acutely observant."—Kirkus Reviews, starred review

"What makes [Machine] so thrilling is Steinberg's artistry with form; she fractures narrative into its fundamental parts. Steinberg writes prose with a poet's sense of meter and line, and a velocity recalling the novels of Joan Didion. The result is a dizzying work that perfectly evokes the feeling of spinning out of control."—Publishers Weekly, starred review

"With simple, lyrical language, Steinberg presents a mystery of privilege and youth that deftly captures the unadulterated gear quaking deep behind a teenager's invincible front."—Booklist

"Otherworldly, and every-other-line sublime, Machine reads like the text messages Laura Palmer might send back from the Black Lodge. It's a timely reminder of why our culture remains haunted by dead girls, and of the different ways we find to drown them."—Bennett Sims

"Machine is an astonishment. . . . Another breakthrough for modern fiction."—Sam Lipsyte

"Susan Steinberg is a conventions-defying, form-innovating wizard of a writer, and I already can't wait to reread her newest book, Machine. Unique, astounding, and terribly and splendidly moving, this novel is a revelation."— R. O. Kwon
Upcoming Events
10/14/2023 -

10:00am

to

7:00pm