Hysterical: Why We Need to Talk About Women, Hormones, and Mental Health (Paperback)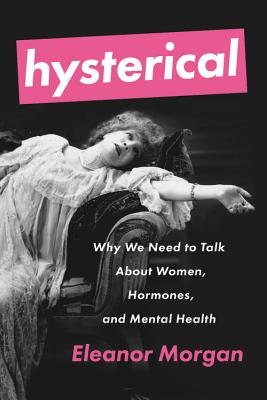 Staff Reviews
---
Hysterical is a book that asserts its belief in women. Morgan encourages us to examine our deep taboos surrounding women's pain: biological, bodily, emotional and beyond. Her storytelling and thorough research demands recognition and compassion from a society reluctant to confront the messy truth of women's bodies. From "wandering wombs" to #MeToo, Hysterical illuminates a woman-focused understanding of what healing is and is not.
Description
---
A riveting exploration of the link between women's hormones and mental health--with advice, personal testimony, facts, and research creating a portrait of how hormones contribute to make up the "female animal"

Hysterical seeks to explore the connections between hormones and health, particularly in the frequent mood changes and mental health issues women typically chalk up to the influence of hormones.
Journalist Eleanor Morgan investigates the relationship between biochemistry, our bodies, and our mental health, including the context for this discussion: the historic culture of silence around women's bodies. As Morgan argues, we've gotten better at talking about mental health, but we still shy away from discussing periods, miscarriage, endometriosis, and menopause. That results in a lack of vital understanding for women, particularly as those processes are inextricably connected to our mental health; by exploring women's bodies in conjunction with our minds, Morgan urges for new thinking about our health.
Examining the mythology of female hormones, the ways that culture shapes our perceptions of women's bodies, and the latest medical research, Hysterical skillfully paints a portrait of the modern landscape of women and health--and shows us how to navigate stigma and misinformation.
About the Author
---
Eleanor Morgan is a journalist who has written and interviewed extensively for the Guardian, the Observer, the Times, the Independent, GQ, Harper's Bazaar, Vogue, Buzzfeed and the Believer. She worked as Senior Editor at VICE UK. Her first book, Anxiety for Beginners (not published in the US), served as a guide for those who live with anxiety disorders and those who live with it by proxy. Morgan is now studying to be a psychologist with women's mind-body synergy as a predominant research interest. She lives in the UK.

Praise For…
---
"An urgent page-turner connecting the thread between the author's own reproductive history to the cultural, political, and social factors that convince women their bodies are up for grabs, Eleanor Morgan makesa convincing case for calling out the patriarchal systems that substitute the word "crazy" for real care. Reading Hysterical should be a rite of passage for every woman who wants to relearn her body and reclaim her self."—Sheila Hamilton, author of All the Things We Never Knew: Chasing the Chaos of Mental Illness and host of the podcast Beyond Well

"Hysterical is a thoroughly researched book on women's bodies and women's emotions, our moods and our physical memories. A topic that should never go out of style, especially in a time when our reproductive rights are being overturned and horrifically discarded, Eleanor Morgan has written and created a definitive road map for all of us. Filled with wisdom and wit and brilliant insight, Morgan covers everything from menstruation to menopause to the #MeToo movement, from PMS to PMDD to PTSD, from dietary supplements to dietary issues to hormonal replacement therapies. To quote Morgan, 'It is in our capacity to inquire, analyze, look around and ask for better that we are most powerful.' Eleanor Morgan has done just that."—Amy Ferris, author of Marrying George Clooney: Confessions from a Midlife Crisis and editor of Shades of Blue: Writers on Depression, Suicide, and Feeling Blue

"Power through knowledge is precisely what [Eleanor Morgan] sets out to give her readers in this exploration into the myriad ways the body affects the mind. From a refresher course on the menstrual cycle to the societal and cultural ways in which women's bodies are controlled, Hormonal feels like an essential guide in helping us truly understand our cores."—Vogue UK

"The essential hormone handbook."—Stylist