Things to Do When You're Goth in the Country (Paperback)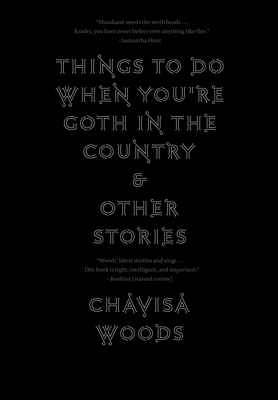 $15.95

NOT CURRENTLY IN THE STORE - Backordered - May Take Multiple Weeks
Staff Reviews
---
As a person with a notoriously bad attention span, I love a good short story. I buy short story collections and slim novels with reckless abandon and when one manages to catch my attention it really is like magic. Things to Do When You're Goth in the Country is pure magic. Unlike any other collection I've ever read, Woods' voice is fresh and unique and captures something totally intangible about the experience of being young and weird and stuck in America.
Description
---
Nominated for the 2018 Lambda Literary Award for Fiction

"Darkly funny and brilliantly human, urgently fantastical and implacably realistic. This is one of the best short story collections I've read in years. It should be required reading for anyone who's trying to understand America in 2017." —Paul La Farge, author of The Night Ocean
 
The eight stories in Things to Do When You're Goth in the Country paint a vivid image of people living on the fringes in America, people who don't do what you might expect them to. Not stories of triumph over adversity, but something completely other. 

Described in language that is brilliantly sardonic, Woods's characters return repeatedly to places where they don't belong—often the places where they were born. In "Zombie," a coming-of-age story like no other, two young girls find friendship with a mysterious woman in the local cemetery. "Take the Way Home That Leads Back to Sullivan Street" describes a lesbian couple trying to repair their relationship by dropping acid at a Mensa party. In "A New Mohawk," a man in romantic pursuit of a female political activist becomes inadvertently much more familiar with the Palestine/Israel conflict than anyone would have thought possible. And in the title story, Woods brings us into the mind of a queer goth teenager who faces ostracism from her small-town evangelical church.

In the background are the endless American wars and occupations and too many early deaths of friends and family. This is fiction that is fresh and of the moment, even as it is timeless.
About the Author
---
Brooklyn-based writer CHAVISA WOODS is the author of The Albino Album (Seven Stories Press, 2013) and Love Does Not Make Me Gentle or Kind (Fly by Night Press, 2009). Woods was the recipient of the 2014 Cobalt Prize for Fiction, the 2018 Kathy Acker Award for Fiction, and she was a finalist for the Lambda Literary Award for Fiction in 2009, 2014, and 2018. Woods has appeared as a featured author at the Whitney Museum of American Art, City Lights Bookstore, Seattle Town Hall, the Brecht Forum, the Cervantes Institute, and the St. Mark's Poetry Project.
Praise For…
---
"In the tradition of Shirley Jackson, William Faulkner, and Flannery O'Connor, Woods's third full-length work, Things to Do When You're Goth in the Country, explores the haunted terrain of the American psyche ... Woods embraces the complex humanity of her characters even as she explores the tragedy of enculturation, identifying forces that divide us. Think of her as a literary exorcist, calling out certain entities that possess rural America: isolation, working-class poverty, drugs, incarceration, military dogma, and evangelical religion." —The Rumpus

"The stories establish instant, distinct voices, much like Roxane Gay's recent Difficult Women (2016), and fans of Miranda July's fiction will relish the wily creativity of Woods' plots. This book is tight, intelligent, and important, and sure to secure Woods a seat on the pantheon of critical 21st-century voices." —Booklist, starred review

"I can't think of any other book that captures the essence of America the way this collection does—it is nuanced and provocative, heartfelt and funny and wise. Of it, Booklist says, '…tight, intelligent, and important, and sure to secure Woods a seat in the pantheon of critical twenty-first-century voices' and I couldn't agree more." —Lambda Literary

"Set at the irresistible junction of toxic reality and the truly strange, the electric unexplainable, Chavisa Woods stirs up stories of drugs and dykes, mutant mohawks, the Gaza Strip and green glowing orbs. Here, the outsider becomes truly alien. Murakami meets the meth heads. Woods delivers a nation of cigarettes in language both lyric and thrilling. Reader, you have never before seen anything like this." —Samantha Hunt, author of Mr. Splitfoot
 
"Chavisa Woods's Things to Do When You're Goth in the Country is part Flannery O'Connor, part Kelly Link: darkly funny and brilliantly human, urgently fantastical and implacably realistic. This is one of the best short story collections I've read in years, and it should be required reading for anyone who's trying to understand America in 2017." —Paul La Farge, author of The Night Ocean
Upcoming Events
No upcoming events available