As the Crow Dies (Paperback)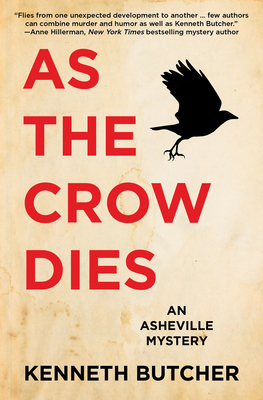 Description
---
A bookish police detective and his roller derby star partner investigate a quirky mystery involving superintelligent animals, military conspiracy ... and murder.
When a body is found in the River Arts District of Asheville, North Carolina, the man on the case is police lieutenant Ira Segal, recently returned to semi-active status after being shot in the line of duty. Segal, who carries Elmore Leonard paperbacks as security blankets, isn't sure he's up to investigating a murder, and neither is his partner, military veteran and local roller derby star Sgt. Dinah "Dinosaur" Rudisill.
Segal discovers that the victim worked for the mysterious start-up company Creatures 2.0, which trains animals to acquire uncanny capabilities. Creature 2.0's eccentric founder, Francis Elah, has gone missing, and no one can find him, not even Elah's top client, the Office of Naval Intelligence.
As Segal and Rudisill investigate the murder and Elah's disappearance, they meet the bizarre animals Elah trained, including a raccoon who rolls cigarettes, pigeons who follow a priest to church, and a superintelligent crow who keeps bringing evidence to the detectives' attention. When the trail leads to a shadowy military contractor, more murders, and a threat to national security, Segal and Rudisill face a dangerous confrontation, and the only thing they can trust is each other.
Witty, engaging and fast-paced, As the Crow Dies is a mystery that veers from the norm in unexpectedly delightful ways.
Upcoming Events
10/14/2023 -

10:00am

to

7:00pm