My Annihilation (Paperback)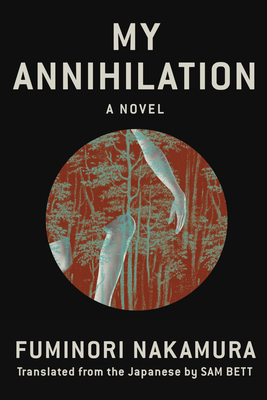 $16.95

NOT CURRENTLY IN THE STORE - Backordered - May Take Multiple Weeks
Description
---
What transforms a person into a killer? Can it be something as small as a suggestion?

Turn this page, and you may forfeit your entire life.

With My Annihilation, Fuminori Nakamura, master of literary noir, has constructed a puzzle box of a narrative in the form of a confessional diary that implicates its reader in a heinous crime.

Delving relentlessly into the darkest corners of human consciousness, My Annihilation interrogates the unspeakable thoughts all humans share that can be monstrous when brought to life, revealing with disturbing honesty the psychological motives of a killer.
About the Author
---
Fuminori Nakamura was born in 1977 and graduated from Fukushima University in 2000. He has won numerous prizes for his writing, including Japan's prestigious Ōe Prize; the David L. Goodis Award for Noir Fiction; and the Akutagawa Prize. The Thief, his first novel to be translated into English, was a finalist for the Los Angeles Times Book Prize. His other novels include Cult X, The Gun, The Kingdom, Evil and the Mask, The Boy in the Earth, and Last Winter, We Parted.
 
Sam Bett is a fiction writer and Japanese translator. His translation work has won the Japan-US Friendship Commission Prize and been shortlisted for the International Booker Prize.
Praise For…
---
Praise for My Annihilation

Esquire 50 Best Mysteries of All Time
An NPR Best Book of 2022
CrimeReads Best International Crime Fiction of 2022
A Sunday Times Best Thriller Book of 2022 (So Far)
CrimeReads Most Anticipated Books of 2022

"[My Annihilation] is a literary labyrinth of forking paths. Surgical memory erasure, subliminal messaging, sexual blackmail and suicide all feature in this bravura work, which evokes the feel of such diverse writers as Calvino, Highsmith, Kafka and Dick."
—Tom Nolan, The Wall Street Journal

"Camus meets Chandler in Japan, via the hall-of-mirrors thriller My Annihilation . . . This is a book that doesn't afford easy succor or any particular comfort at all. In Nakamura's universe we are all damned, not by our sins so much (although those, as well) as by our ignorance. Who are we? What are we doing here? The answers to those questions are unavailable to us, but it doesn't matter anyway. 'Turn this page, and you may give up your life,' indeed. For Nakamura, this is less a choice than an inevitability."
—David L. Ulin, Los Angeles Times

"[A] lurid and intellectually ambitious new thriller . . . My Annihilation attempts to annihilate our sense-making capability, operating somewhat like the ECT machines beloved by his unsavory shrinks . . . Every time you think you grasp what's going on, Nakamura reminds you that you are not in control here. Perhaps you are never in control."
—The New York Times Book Review

"A haunting novel of ideas where secret agendas abound and narratives are wrapped inside each other, this sharp, labyrinthine tale is probably Fuminori Nakamura's most cerebral novel to date . . . Dark and complex, sure, but also thrilling and endlessly entertaining."
—NPR.org

"A dark novel that's the literary equivalent of a puzzle box; an experimental, cerebral story in which questions reign supreme, secret agendas slither under everything, every narrator is unreliable, memory is shaky at best, and reality is a shifting thing that refuses to be pinned down."
—Esquire

"[A] bewildering jumble of texts, tropes and registers, mixing pulpy devices with psychopathological musings . . . [A] Dostoevskyan literary thriller."
—John Dugdale, The Sunday Times

"My Annihilation is an exploration of the psyche, how trauma shapes individuals, and how dark desires can easily turn people into murderers . . . A wildly entertaining narrative in which things like abuse, grief, murder, and vengeance are seen through the lens of psychoanalysis. Nakamura is a gifted storyteller, and this fast, slim, cerebral noir, beautifully translated by Sam Bett, is a great addition to his oeuvre."
—Vol. 1 Brooklyn

"Nakamura's philosophical brilliance shines through each page of his latest sadistic, genius thriller."
—Asia Media International

"A tricky and taut work of literary noir that implicates the reader in a disturbing murder, [My Annihilation] might just be the antidote for anyone who's addicted to pressing play on another true crime doc."
—Chicago Review of Books

"A disturbing and thoughtful novel, almost surreal at times . . . This book will make you think deeply about what a human personality actually is."
—New York Journal of Books

"[Nakamura] has made a career out of pushing the boundaries of existential horror, shining a light on the darkest shadows of humanity . . . My Annihilation is a compulsive read . . . This chilling psychological mystery about a violent crime promises not to disappoint. Expect anything but a happy ending."
—The Japan Times

"An anxiety-inducing horror/mystery tale not for the feint of heart."
—Books and Bao

"My Annihilation is one hell of a ride. From the first sentence—'Turn this page, and you may forfeit your entire life'—Nakamura plays tricks on the reader, the narrator, and even the notion of existence itself. Perfect for those who like their noir obsessive and deeply philosophical."
—CrimeReads

"If you like Japanese crime novels, psychological stories, revenge, that feeling of maybe nothing is as it seems, and want a quick read, this one is for you."
—BookRiot

"A dark, psychological tale."
—The A.V. Club

"[My Annihilation] dives deep to explore the inner workings of a murderer."
—Crime Fiction Lover

"A thought-provoking picture, in Nakamura's words, of 'what it means to be human and what it means to exist in the world.' Some true crime set in Japan might be the thing after this."
—First Clue

"A shocking and darkly rich tale that will stay with you."
—Tokyo Weekender

"My Annihilation is literally multi-layered, and these are peeled back at different times and in different ways to reveal (and obscure ...) more of the story . . . My Annihilation keeps readers on their toes, and guessing, and there are some very satisfying turns and reveals here . . .[A]n enjoyably constantly unsettling read."
—The Complete Review

"Masterfully crafted suspense . . . My Annihilation is a terrifying and unpredictable work that is a must-read for any thriller fans."
—International Examiner

"A work of dark brilliance."
—BookReporter.com

"A jigsaw puzzle of a novel exploring themes of connection and consequence through personal identity and responsibility . . . The psychological thriller My Annihilation poses multiple philosophical questions during its roller coaster of a story–not a whodunnit, but a who-is-it."
—Foreword Reviews

"Nakamura is a gifted and highly imaginative writer. His characters and the shocking plot are bewildering and bizarre, with even the layout of the book supporting the dark, eerie theme . . . A profound, revelatory, and deeply moving examination of the human mind."
—Booklist

"The story becomes a maze of conflicting accounts, back and forth between manuscript and reader—black boxes within black boxes, memory and personality transient, even basic facts losing a foundation . . . [A] dark, elegant novel."
—Library Journal

"Nakamura expertly mixes a look into the criminal mind with a story of doomed love. This fever-dream of a novel will long linger in the reader's memory."
—Publishers Weekly

"Searing . . . An unnerving tale that richly earns its title. By the last chapter, you won't believe a word the narrator tells you."
—Kirkus Reviews

Praise for Fuminori Nakamura

Japan Objects' Best Japanese Authors of All Time

"A thriller in the same elevated sense as is Dostoevsky's Crime and Punishment or Camus's The Stranger . . . ​Nature versus nurture, free will versus fate: Such are the themes that flicker almost subliminally through this shocking narrative, which also emits echoes of Poe and Mishima."
—The Wall Street Journal

"A suspenseful study of obsession. . . Love, even illicit love, has a way of bringing out the best—or the worst—in a person."
—The New York Times Book Review

"Nakamura's impassioned writing is part of a continuum that stretches from Dostoevsky to Camus to Ōe."
—Los Angeles Times
Upcoming Events
10/14/2023 -

10:00am

to

7:00pm