Barn 8: A Novel (Paperback)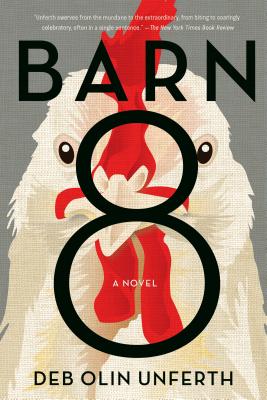 Description
---
An unforgettably exuberant and potent novel by a writer at the height of her powers

Two auditors for the U.S. egg industry go rogue and conceive a plot to steal a million chickens in the middle of the night—an entire egg farm's worth of animals. Janey and Cleveland—a spirited former runaway and the officious head of audits—assemble a precarious, quarrelsome team and descend on the farm on a dark spring evening. A series of catastrophes ensues.

Deb Olin Unferth's wildly inventive novel is a heist story of a very unusual sort. Swirling with a rich array of voices, Barn 8 takes readers into the minds of these renegades: a farmer's daughter, a former director of undercover investigations, hundreds of activists, a forest ranger who suddenly comes upon forty thousand hens, and a security guard who is left on an empty farm for years. There are glimpses twenty thousand years into the future to see what chickens might evolve into on our contaminated planet. We hear what hens think happens when they die. In the end the cracked hearts of these indelible characters, their earnest efforts to heal themselves, and their radical actions will lead them to ruin or revelation.

Funny, whimsical, philosophical, and heartbreaking, Barn 8 ultimately asks: What constitutes meaningful action in a world so in need of change? Unferth comes at this question with striking ingenuity, razor-sharp wit, and ferocious passion. Barn 8 is a rare comic-political drama, a tour de force for our time.
About the Author
---
Deb Olin Unferth is the author of the story collection Minor Robberies and the novel Vacation, winner of the 2009 Cabell First Novelist Award and a New York Times Book Review Critics' Choice. Her work has been featured in Harper's Magazine, McSweeney's, The Believer, and the Boston Review. She has received two Pushcart Prizes and a 2009 Creative Capital grant for Innovative Literature and was a Harper's Bazaar Editors' Choice: Name to Know in 2011. She teaches at Wesleyan University and currently lives in New York.
Praise For…
---
NAMED A BEST BOOK OF 2020 BY NPR, SLATE, AUSTIN CHRONICLE, AND LITERARY HUB

"Unferth's gift as a short story writer is evidenced in this novel. . . . Within moments of being introduced to [her] characters, we know them intimately, care about them deeply. . . . The thorough research Unferth must have done on the historical, cultural and agricultural aspects of hens and roosters is woven naturally throughout the text, and many of these characters are motivated to take action for the sake of these animals' rights. Barn 8 is a beautiful, urgent, politically charged book with a huge heart, and while the plot is sometimes madcap, well, so is love."—The New York Times Book Review

"Kaleidoscopic. . . . Unferth's lens, which telescopes through time and space, is unafraid to linger on the bizarre and vicious cycle of birth-death, need-fulfillment and supply-demand that this phantom-run barn universe perpetuates. . . . Yet Unferth never traffics in gratuitous shock. Instead, her sentences and constantly shifting point of view are embroidered with a great deal of unexpected tenderness and optimism."—Los Angeles Times

"An incredibly nimble and frequently amusing book worthy of its deathly serious subject, one that invites the reader to think rather than merely witness."—The Boston Globe

"Unferth's eco-heist story is inventive, but accessible; uncompromising in its critique of the agricultural-industrial complex, but also a whole lot of fun. . . . Unferth injects humanity and heart into the dilemma of consumption in a capitalist society, making very clear the consequences of moving forward with blinders on."—BuzzFeed

"Satirical and smart, veering from hilarious comedy to incisive commentary, Barn 8 demands that we reconsider our unexamined lives."—Star Tribune (Minneapolis)

"Barn 8's chief draw and accomplishment is Unferth's adeptness at wringing lyricism from the sordid domain of animal farming. . . . Unferth makes the unseen shit visible, and reminds her reader that however much we want to look up or look away, it is stubbornly always there, right at the end of our forks."—Bookforum

"Framed inside the world of commercial chicken farming (which is a whole thing in itself, both in real life and in the book), the razor-sharp prose and surprisingly heartfelt insight move this book right along into unexpected places. Barn 8 is so weird in the best way, hilarious even as it probes deep into fault lines of capitalist society, politics, and revolution."—Electric Literature

"Barn 8 is all about anarchy and destruction and chaos and what happens when we . . . do something regardless of the consequences or benefits or potentially catastrophic outcomes. . . . [Barn 8] is the deepest subversion of the heist genre to date."—Colorado Review

"It's a tale that's expansive and passionate and absurd and tender."—Austin Chronicle

"[Unferth is] a wildly creative, sharply insightful, and deeply compassionate writer. . . . Throughout, Unferth's characterizations of humans and chickens alike are warm, funny, and provide deep insight into questions around what it means to be a compassionate human in a world terribly out of ethical and environmental balance."—The Brooklyn Rail

"[Barn 8 is] a powerful book and a dazzling feat of imagination from one of the country's most exciting authors."—Texas Observer

"An adventurous, quirky, yet slyly political novel, Barn 8 defies all expectations. Deb Olin Unferth has been published by the Paris Review and McSweeney's, but this new novel, just released this month, may be her most triumphant work to date."—Austin Monthly

"Funny, sassy, smart, and timely, this novel is a sheer joy to read."—Napa Valley Register

"[In Barn 8,] Unferth is tackling, with great wit and technical skill, topics as pressing as Big Agriculture, the humane treatment of animals, and the impossibility of maintaining ideological purity in any social movement. . . . Barn 8 strikes a similar balance between the comic and tragic, the political and the personal as the best of Vonnegut. Readers should find in its zaniness and heart something of a balm during these trying times."—Zyzzyva

"The payout is a stunning, stark, and twisted tale that defies the borders of what a heist book or a farm book or even a novel can be."—Cleveland Review of Books

"It's rare to find a novel whose plot centers around animal rescue, and rarer still to encounter one that is deftly written. . . . Barn 8 is both a terrific and important book."—EcoLit Books

"Ignited by her fiery wit and distinctive voice, Unferth's novel uses one of America's most valuable and overlooked institutions as fertile ground to raise questions around the truths people are fed and the ones they turn a blind eye to. . . . Unferth's writing never feels patronizing—more than anything, it's galvanizing. . . . If this novel isn't a movement, it has enough heart to start one."—Kirkus Reviews, starred review

"In this outrageous piece of rural noir and pitch-perfect characterization, Unferth recalls Edward Abbey's The Monkey Wrench Gang with a dose of vegan-minded quirk. This entertaining, satisfying genre turn shows off Unferth's range, and readers will be delighted by the characters' earnest crusade."—Publishers Weekly, starred review

"A daring writer of wit, imagination, and conscience, Unferth has transformed her foray into hen hell into an adroitly narrated, fast-paced, yet complexly dimensional novel about emotional and environmental devastation. . . . Unferth sharply illuminates the contrariness of human nature, celebrates the evolutionary marvels of chickens, and exposes the horrors of the egg industry. . . . [A] vividly provoking and revelatory work of ecofiction spiked with mordant humor and powered by love."—Booklist, starred review

"While Unferth places the ethical and political implications of industrial agriculture front and center—"these days animal activism was less revolution, more capitalism with a conscience"—the novel is never strident, often hilariously funny, and sympathetic to the earnest loners who would be mocked by a less assured writer."—Shelf Awareness, starred review

"Full of grit, humour and tenderness."—Financial Times (UK)

"Aesthetically perfect and philosophically profound. . . . The chicken-related writing is a force unto itself."—The Guardian (UK)

"Written with vim and wit, Barn 8 is a highly enjoyable treatment of a worthwhile social issue."—The Observer (UK)

"[Unferth's] prose is intricate and vibrant. . . . Characters are brightly drawn, dialogue is snappy. [Barn 8] reads like a comi-tragic manifesto of our age."—Irish Times

"Barn 8 is a novel like no other: An urgent moral fantasia, a post-human parable, a tender portrait of animal dignity and genius."—Dana Spiotta

"Deb Unferth's hilarious, off-kilter genius is on dazzling display in this novel. Come for the brilliant insights about our faltering civilization. Stay for the revolutionaries and the chickens. You are really really going to love these chickens . . ."—Jenny Offill

"Like Flannery O'Connor, Deb Olin Unferth does things entirely her own way, and that way is impossible to describe. . . . This very funny and absurd novel is also as serious as the world."—Zachary Lazar

"I leap to read anything Deb Olin Unferth writes, and her latest book, Barn 8, is further proof of her singular talent, her gigantic heart. While Unferth's characters try to save hens, her miracle of a novel might, in turn, save you."—R.O. Kwon