Vicious is My Middle Name (Paperback)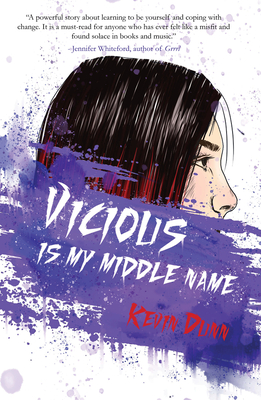 Description
---
"...a must-read for anyone who has ever felt like a misfit and found solace in books and music." —Jennifer Whiteford, author of Grrrl
With a partially-shaved head, purple Doc Marten boots, and the sinking realization that no one in a fifty-mile radius has ever heard of her favorite all-female punk band Lite Brite, 13-year-old Sydney Vicious Talcott wants to be anywhere but her new home of Beaver Dam, NC, especially when mean girl Brittany Winters treats her like the punch-line to every joke. But just as life begins to seem more tolerable with her two new book-nerd friends and a growing appreciation for the beauty of the Appalachian mountains, Sydney discovers that a shady corporation is planning to build an environmentally-damaging asphalt plant right next to the school. Her attempts to work through the system to stop the plant's construction fail, so it's up to Sydney to fight the corporation and their political lackeys the only way she can, using the do-it-yourself tools she has learned from punk rock. But before she can triumph, Sydney, her family, and friends must endure bullying, harassment, immigration raids, and more.
About the Author
---
Kevin Dunn plays in several bands, runs a small record label, publishes zines, and writes for Razorcake magazine. He also works at a small liberal arts college, where he teaches and publishes on a range of topics from African politics to international relations to global punk. He and his family split their time between Western New York state and Western North Carolina. Vicious is My Middle Name is his first novel.
Praise For…
---
"Sydney is only a middle school student but she teaches her whole town a valuable lesson in the power of friendship, DIY, and tenacity. This book reminds us that punk is more than just good music and that one great show can change everything." —Alice Bag, lead singer of The Bags and author of Violence Girl
"Vicious is My Middle Name is a compulsively readable novel with vivid storytelling and so much heart. It is impossible not to root for Sydney, even as she reveals her flaws and struggles to grow and become a better person. This is a powerful story about learning to be yourself and coping with change. It is a must-read for anyone who has ever felt like a misfit and found solace in books and music." —Jennifer Whiteford, author of Grrrl
"Sydney is funny, fierce, and fearless. She channels a punk rock attitude and do-it-yourself work ethic not only to cope with the daily horrors of middle school, but also to fight to save her community from the dangers of an asphalt plant. Sydney is a hero and a role model for all young people today, taking a stand and hoping to change the world. She definitely would not be holding anyone's coat." —Nancy Barile, author of I'm Not Holding Your Coat
"When a punk grrrl relocates from New York to rural North Carolina, she misses her friends, her music, and more. And then there are the mean girls [kids] to survive. The school power structure is also reflected in the town, however, and battle lines drawn on the first page will widen to put others at risk. But Sydney Vicious Talcott will find allies in unexpected places, a mission bigger than her problems, and will come to see that mountain folk have a punk attitude all their own! An energetic and absorbing read." —Valerie Nieman, author of To the Bones
"In Vicious is My Middle Name, Sydney 'Vicious' Talcott is a girl to be reckoned with. When she moves from Rochester, NY to Beaver Dam, NC, she realizes the full meaning of Grrl Power as she takes on the company H.D. Dunkirk and the powers that be when they attempt to construct an asphalt plant close to her school. In her punk rock way, Sydney proves her fierce individual freedom in keeping true to herself and the 'big picture of life.' Kevin Dunn writes in beautiful, hard, measured prose that stays with us long after the last page." —Mary Sullivan, author of High and Dear Blue Sky
"Sydney Vicious Talcott's life is disrupted when her mom moves them from Rochester, New York to the small town of Beaver Dam, North Carolina. Readers will root for her as she encounters a bully, an unsympathetic teacher and an environmentally hazardous project backed by powerful and threatening community leaders. Her love of music and determination to take a stand and make a difference propels the reader through this timely story. Vicious is My Middle Name is written with skill and a perfect sense of timing, placement and character." —Roxanne Doty, author of Out Stealing Water
"Kevin Dunn is a firm believer in the power of youth, and individuals banding together to improve their community.
Vicious Is My Middle Name
combines these two tenets in an accessible yet fierce paean to punk rock and the way that seemingly small actions can resonate far beyond intention." —
Michael T. Fournier, author of Swing State
"...Sydney's distinct, often humorous first-person voice (interspersed with inspirational art and letters from Lite Brite's lead singer) and her celebration of inclusive resistance make this a socially conscious read from Dunn." —
Publishers Weekly
"Sydney makes for a terrific and inspiring protagonist, confident in many aspects but also open to expanding her worldview along the way, and music fans and budding activists will find much to learn and love here. A rousing affirmation of both personal and community power." —
Booklist