Bedtime for Duckling: A peek-through storybook (Board book)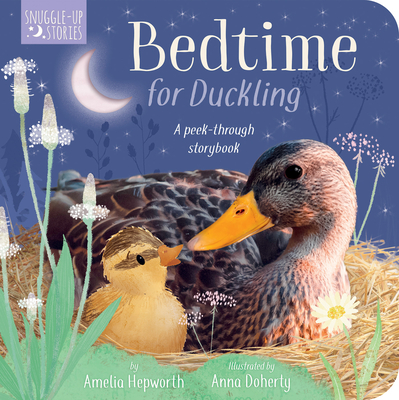 Description
---
In this sweet story with both illustrated and photographic elements, as well as peek-through pages throughout, Duckling is looking for a new place to sleep—but will she find anywhere that's as comfortable as her own nest?

It's bedtime, but Duckling doesn't want to sleep in her usual bed; she wants to find a new place to sleep! She sees Fox in a den, but it's too dark and muddy in there. She wants to sleep in the log next to Frog, but the log is too cold and wet. Next, Duckling scrambles up the tree to see if she might like to stay with Owl, but she's too high up, and she feels dizzy. Soon, she hears quacking and finds Mommy Duck and the rest of the ducklings behind the reeds, and she realizes that her cozy nest is the best place to sleep.
About the Author
---
Amelia Hepworth lives in London with her family and her elderly sausage dog, Katie. When she is not writing stories, she enjoys spending time with her little boy and daydreaming outside. Usually not at the same time. Amelia is the author of the best-selling I Love You to the Moon and Back.

Anna Doherty illustrates books from her home studio, looking out at the treetops. When she's not working on children's books, Anna also illustrates cards and freelances as a science illustrator - in particular she loves drawing portraits of inspiring women in science!