Star Pig (Paperback)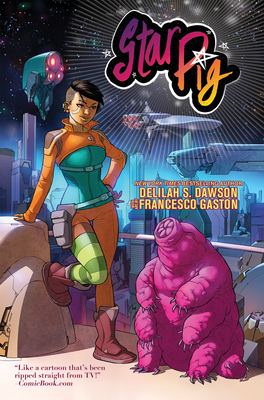 Description
---
Two Castaways. One Goal. Zero in common. Get lost in this inventive sci-fi graphic novel about an extraordinary friendship and an incredible journey home.

Like many late-21st-century teens, geeky 16-year-old Vess gets packed off to spend her summer at Space Camp--which is literally in space. Tragically, a shuttle accident sends her and the rest of the passengers careening toward a cold, frosty death among the stars. But when a gigantic, space-faring water bear miraculously rescues Vess and her beloved retro Discman, it's the beginning of an extraordinary friendship, all set to the nostalgic tunes of Vess's 1990s-heavy playlist.

Delilah S. Dawson is the New York Times bestselling writer of Star Wars: Phasma, plus the The Secrets of Long Snoot, The Perfect Weapon, and Scorched; the Blud series, Servants of the Storm, the HIT series, Wake of Vultures and the Shadow series (as Lila Bowen). Her previous comics work includes Ladycastle, The X-Files: Case Files - Florida Man, Adventure Time, Rick and Morty: Pickle Rick, Star Wars Adventures, and Sparrowhawk.
About the Author
---
Delilah S. Dawson is the author of: Star Wars: PHASMA, The Perfect Weapon, and Scorched; The Hit series; The Blud series; Servants of the Storm; Shadowman: Follow Me Boy; Short stories in: Hellboy, An Assortment of Horror; Carniepunk; Unbound; Last Night a Superhero Saved My Life, Three Slices, and more. Delilah is the winner of the 2015 Fantasy Book of the Year from RT Book Reviews for WAKE OF VULTURES and the 2013 Steampunk Book of the Year and May Seal of Excellence for WICKED AS SHE WANTS. Her work has earned multiple stars from Kirkus, Publishers Weekly, Booklist, and Library Journal.
Praise For…
---
"Star Pig is an absolute delight. Funny, charming, heartwarming and still pretty exciting. The words and images combine in the best way possible, assured to put a smile on just about anyone's face." —The Brazen Bull

"Dawson and Gaston have created a seamless piece of storytelling and I can't wait for more." —The British Fantasy Society

"In parts surreal, in other parts a little scary, Star Pig feels firmly aimed at both the young and young at heart… it's still a blast from beginning to end" —Starburst Magazine

Upcoming Events
No upcoming events available