Maw SC (Paperback)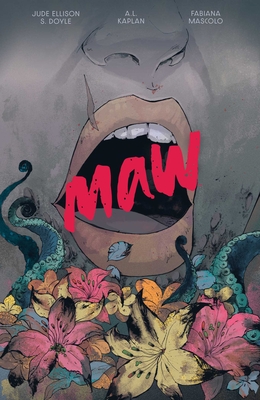 Description
---
When patriarchy makes monsters, sometimes the monsters bite back in the bold debut graphic novel by Jude Ellison S. Doyle with artist A.L. Kaplan!

Dragged by her sister Wendy to a feminist retreat on a remote island of Antgitia, Marion Angela Weber is seeking perspective and empowerment, but a disastrous first night leaves her frightfully changed. In the aftermath of an assault, Marion begins to transform as an unspeakable hunger crawls through her body. When the townsfolk recognize there's something different about Marion, they react with suspicion, then violence, while ignoring the monsters already among them. Critically acclaimed journalist/opinion writer Jude Ellison S. Doyle (Dead Blondes and Bad Mothers) with artist A.L. Kaplan (Full Spectrum Therapy, Heart of Gold), and colorist Fabian Mascolo (Firefly: Brand New 'Verse) unleash Maw, a status-quo-shattering tale examining the consequences of sexist violence and the subjugation of marginalized genders, and what happens when the wounded are backed into a corner. Collects the complete Maw #1-5.
About the Author
---
Jude Ellison Sady Doyle (formerly Sady Doyle; born June 11, 1982[1][2]) is an American feminist author.

n 2005, Doyle graduated from Eugene Lang College.[5]

Doyle founded the blog Tiger Beatdown (a punning reference to Tiger Beat) in 2008. It concluded in 2013.[6][7][8] Doyle's 2010 critique of Liz Lemon on Tiger Beatdown was oft-cited.[9] Alyssa Rosenberg, writing for ThinkProgress in 2011, criticized Doyle's critique in Tiger Beatdown that year of the sexual violence in Game of Thrones.