Anodyne (Paperback)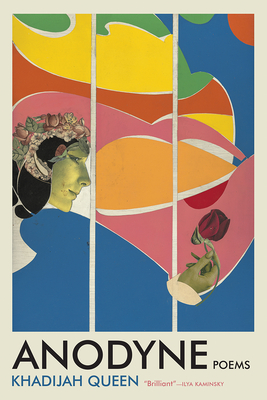 $15.95

NOT CURRENTLY IN THE STORE - Available to Order - Usually Arrives in Store in 1-5 Business Days!
November 2020 Indie Next List
---
"This is an absolutely striking collection that brims with life. Many of the poems inspired visceral reactions from me, and the poems themselves are often concerned with viscera and the body as a physical site. Queen reckons with her family's history and her own place in it in a manner reminiscent to the work done by Beyoncé in Lemonade. Her work deals with the past, present, and future in equal measure simultaneously. She 'resurrect[s] the excised archive of [her] relatives' and uses it as the skeleton of her writing, writing that will linger in the reader's thoughts for months."
— Meghana Kandlur, Seminary Co-Op Bookstore, Chicago, IL
Description
---
Colorado Book Awards Finalist for Poetry
Shortlisted for the Reading the West Poetry Book Award
The poems that make up
Anodyne
consider the small moments that enrapture us alongside the daily threats of cataclysm. Formally dynamic and searingly personal,
Anodyne
asks us to recognize the echoes of history that litter the landscape of our bodies as we navigate a complex terrain of survival and longing. With an intimate and multivocal dexterity, these poems acknowledge the simultaneous existence of joy and devastation, knowledge and ignorance, grief and love, endurance and failure—all of the contrast and serendipity that comes with the experience of being human. If the body is a world, or a metaphor for the world, for what disappears and what remains, for what we feel and what we cover up, then how do we balance fate and choice, pleasure and pain? Through a combination of formal lyrics, delicate experiments, sharp rants, musical litany, and moments of wit that uplift and unsettle, Queen's poems show us the terrible consequences and stunning miracles of how we choose to live.
About the Author
---
Khadijah Queen is the author of Conduit, Black Peculiar, Fearful Beloved, Non-Sequitur, and I'm So Fine: A List of Famous Men & What I Had On. A finalist for the National Poetry Series, the Balcones Poetry Prize, and the CLMP Firecracker award in Fiction, she is an assistant professor of creative writing at University of Colorado at Boulder, and serves as core faculty for the low-residency Mile-High MFA program at Regis University.
Praise For…
---
Khadijah Queen outdoes herself with captivating poems examining the dualities of joy and pain, love and loss, knowing and ignorance.
— Ms. Magazine

Her lines dance, yes, but they also stumble, pick themselves back up, stop and start in ways that call to mind an inventive M.C. riding a dozen different beats in succession.
— T: The New York Times Style Magazine

Insightful on every level, Anodyne will stay with you long after you turn its final page.

— Bustle

These poems are a reminder of all that is still possible in this world, no matter how much tragedy surrounds us.
— Refinery29

Every poem in Anodyne reminds me what a poem can do, what a poem should do, in how it gets to the details of personhood by attending so gorgeously to the details of the world.

— The Paris Review Daily

Formally dynamic and searingly personal.
— Entropy Magazine

Exploring themes of body as metaphor and as physical being, joy, grief, love, ignorance, endurance, and choice, Queen once again shows herself to be a master of zooming in on small moments and panning out to big questions.
— Shondaland

Groundbreaking.
— Harvard Review

Khadijah Queen is a brilliant poet. I recommend this book to anyone who ever had a child or a parent, who ever had a body or loved, to anyone who was ever sick or tried to sleep a good night's sleep, and failed, and tried again. . . . This is a powerful and dazzling collection, filled with wisdom and experience. Anyone who reads Anodyne will remember it for a long time.

— Ilya Kaminsky, author of Deaf Republic

Khadijah Queen's poems are fire and sacred song. From heart-stopping familial narratives—a son awash in sadness, an aging mother's boulder-smiting love, a brother turned to dust by a bullet—to formal inventiveness and experimentation, this is writing that makes the hardship of being alive transcendent. . . . Anodyne is urgent and fragile, manifesting the beautiful danger in being alive.

— Alex Lemon, author of Another Last Day

Anodyne captivates with poignant, resilient poems; ones that face toughness with lucidity: of losing family and facing landscapes full of 'untended loveliness of the forsaken.' All of which builds an affective and luminous sense of record, of observing and perceiving. . . . Queen's commanding style: building the poetic edges that are laced with endeavors, hurdles, grace, and truth into an eye-wide and powerfully deep poetry collection.

— Prageeta Sharma, author of Grief Sequence

Anodyne is a study of form & cavedwell, feminism as foresight, and archives the articulation of black excellence & resilience. . . . Many (re)discoveries are assured with the preciseness of Queen's poetic legend.

— Mahogany L. Browne, author of Black Girl Magic

Accomplished. . . . Queen's collection reads as a testament to the power of poetry to raise awareness and shape the world.
— Publishers Weekly
Upcoming Events
No upcoming events available