Hazy Dell Flap Book 4-Book Set (Boxed Set)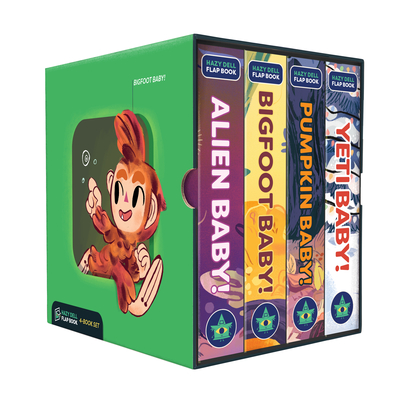 $29.95
NOT CURRENTLY IN THE STORE - Hard to Find - We Will Research Availability and Get Back to You
Description
---
At a great value, this beautiful, slipcase gift set collects all 4 Hazy Dell Flap Books (Alien Baby , Bigfoot Baby , Pumpkin Baby and Yeti Baby ) for hours of reading fun. Each title follows an adorable monster on a day-long adventure of unfettered childhood play and exploration. The buoyant stories and interactive flaps model the excitement and joy of a young person starting to gain agency in a world full of wonder while they develop the social confidence to interact with others outside of their family, and grasp the hidden secrets and idiosyncrasies of their neighborhoods. The child reader or pre-reader will delight in the rich details of each book, as every spread features a flap concealing a fun, unexpected and friendly character or hidden aspect of the scene for them to uncover at their own pace.
The durable, interactive flaps make these books an ideal multisensory experience for hours of fun at schools, libraries, homeschool or stay-at-home activities.
About the Author
---
Author Elias Barks lives with his cats, Agnes and Magnus, beneath the gray skies of Astoria, Oregon. He is the author of all 4 Hazy Dell Flap Books. Illustrator Meg Hunt is a celebrated and award-winning illustrator living in Portland, Oregon. In addition to illustrating all 4 Hazy Dell Flap Books, her past works include Interstellar Cinderella and Reading Beauty from Chronicle Books. Meg has won a Gold Medal from the Society of Illustrators and has had her illustrations featured in works published by Fantagraphic Books, Image Comics, Quarry Books and HOW Magazine.
Upcoming Events
No upcoming events available