Animal: A Novel (Hardcover)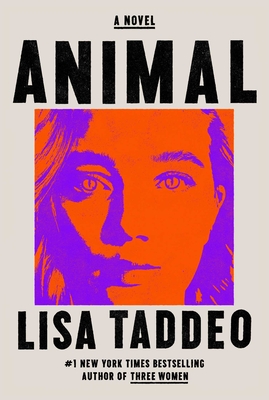 $27.99

NOT CURRENTLY IN THE STORE - Available to Order - Usually Arrives in Store in 1-5 Business Days!
June 2021 Indie Next List
---
"Much like Taddeo's Three Women, this novel is not for the prudish or for people who like their women to be silent or demure. If you are looking for originality, sexiness, or fearlessness in your next read, this is the book for you. Grab the reins and be prepared for a ride!"
— Shane Mullen, Left Bank Books, St. Louis, MO
Description
---
From Lisa Taddeo, author of the #1 New York Times bestseller and global phenomenon Three Women, comes an "intoxicating" (Entertainment Weekly), "fearless" (Los Angeles Times), and "explosive" (People) novel about "what happens when women are pushed beyond the brink, and what comes after the reckoning" (Esquire).

Joan has spent a lifetime enduring the cruelties of men. But when one of them commits a shocking act of violence in front of her, she flees New York City in search of Alice, the only person alive who can help her make sense of her past. In the sweltering hills above Los Angeles, Joan unravels the horrific event she witnessed as a child—that has haunted her every waking moment—while forging the power to finally strike back.

Animal is a depiction of female rage at its rawest, and a visceral exploration of the fallout from a male-dominated society.
About the Author
---
Lisa Taddeo is the #1 New York Times bestselling author of Three Women and Animal. She has contributed to The New York Times, New York magazine, Esquire, Elle, Glamour, and many other publications. Her nonfiction has been included in the anthologies Best American Political Writing and Best American Sports Writing, and her short stories have won two Pushcart Prizes. She lives with her husband and daughter in New England.
Praise For…
---
"A provocative exploration of what happens when women are pushed beyond the brink, and what comes after the reckoning."
—Adrienne Westenfeld, Esquire

"A propulsive literary thriller . . . Taddeo's debut novel is fearless."
—Los Angeles Times

"Animal will confirm Taddeo's status as a pre-eminent channeller of women's interior lives. . . . This book is a raging, funny and fierce thriller with a protagonist whose life force, against extraordinary odds—always in the gaze and sometimes the grasp of predatory, abusive men—is a thing of wonder."
—Isabel Berwick, Financial Times

"With skill and insight, Taddeo examines how the savagery of men fuels female rage. The result is as intimate as it is explosive."
—People (Book of the Week)

"Like if Joan Didion got into hard drugs and carried a switchblade everywhere."
—Keely Weiss, Harper's Bazaar

"[A] propulsive, fiercely confident debut novel . . . Joan's voice is so sharp and magnetic that the reader will follow her anywhere. . . . Taddeo's prose glitters. She has a gift for aphorism, the observation that astonishes."
—Jennifer Haigh, The New York Times Book Review

"Intoxicating . . . It's impossible to talk about Animal without talking about 2019's Three Women. That book, which follows the sexual and emotional lives of women, became the kind of cultural phenomenon that will forever follow Lisa Taddeo. Animal flows out of its predecessor, but where Women deals with the perils of heteronormative gender politics, Animal deals in the ways the system pushes women to the brink; and where Women is in conversation with #MeToo, Animal is in conversation with the anger that follows the reckoning."
—Entertainment Weekly

"Animal is a viscerally satisfying depiction of female rage and a gripping exploration of what it's like to endure male violence that is both mundane and life-altering."
—New York magazine

"Astonishing . . .The writing is so engaging on the sentence level that when you sink into the larger argument the Taddeo is making you can't help but feel something akin to awe. Read this one."
—Lisa Levy, CrimeReads

"Animal growls a feral truth, a promise of revenge, and an untold story of rage, and a reckoning."
—Julia Hass, Lithub

"Riveting . . . Propulsive, erotic, emotional . . . Joan is almost impossible to look away from on every page."
—Kirkus Reviews

"Taddeo creates impressive suspense. . . . A provocative novel of sex, love, and rage for readers drawn to psychologically rich, feminist literary fiction."
—Booklist

"A brilliant if uncomfortable provocation, sometimes messily intense but willing to take risks; likely to stir talk—and argument. . . . For readers, the result is relentless but never wearing, not preachment but real lived pain, and akin to standing in a hurricane with razor blades flying. There's blood at the end—and a glimmer of self-affirmation."
—Library Journal

"Fearless, sexy, brutal, and just forensically observed."
—Jojo Moyes, author of The Giver of Stars

"Animal is sprawling id, a carnal and frank account of the uneasy marriage of memory and violence."
—Raven Leilani, author of Luster

PRAISE FOR LISA TADDEO AND THREE WOMEN:

"A breathtaking and important book . . . What a fine thing it is to be enthralled by another writer's sentences. To be stunned by her intellect and heart."
—Cheryl Strayed

"I can't remember the last time a book affected me as profoundly as Three Women. Lisa Taddeo is a tireless reporter, a brilliant writer, and a storyteller possessed of almost supernatural humanity. As far as I'm concerned, this is a nonfiction literary masterpiece at the same level as In Cold Blood—and just as suspenseful, bone-chilling, and harrowing, in its own way. I know already that I will never stop thinking about the women profiled in this story—about their sexual desire, their emotional pain, their strength, their losses. I saw myself in all of them. Truly, Three Women is an extraordinary offering."
—Elizabeth Gilbert

"An astonishing work of literary reportage . . . As Lisa Taddeo writes about her subjects, the women she uses to map out an anthropological, humane, passionate study of female desire, she seems almost to inhabit them. . . . A fascinating appraisal of a subject few writers have approached so intently."
—Sophie Gilbert, The Atlantic

"The hottest book of the summer . . . Taddeo spent eight years reporting this groundbreaking book, moving across the country and back again in her staggeringly intimate foray into the sexual lives and desires of three 'ordinary' women. Tragedy and despair lurk in each of their stories, but Taddeo's dynamic writing brings them all to breathtaking life."
—Entertainment Weekly

"Taddeo spent a decade immersed in the sex lives of three ordinary American woman. . . . The result is the most in-depth look at the female sex drive and all its accompanying social, emotional, reproductive, and anthropological implications that's been published in decades. But it's also fully immersive: gonzo journalism without the machismo."
—New York

"A dazzling achievement . . . Three Women burns a flare-bright path through the dark woods of women's sexuality. In sentences that are as sharp—and bludgeoning, at times—as an ax, she retains the accuracy and integrity of nonfiction but risks the lyrical depths of prose and poetry."
—Margaret Wappler, Los Angeles Times

"A revolutionary look at women's desire, this feat of journalism reveals three women who are carnal, brave, and beautifully flawed."
—People (Book of the Week)

"An extraordinary study of female desire . . . To write this kind of nonfiction—it's true, but reads like a novel—Taddeo smartly employs not only interviews but also diary entries, legal documents, letters, emails and text messages. The result is a book as exhaustively reported and as elegantly written as Katherine Boo's Behind the Beautiful Forevers or Adrian Nicole LeBlanc's Random Family. . . . Taddeo's language is at its best—sublime, even—when she describes the pain of desire left unfulfilled."
—Elizabeth Flock, The Washington Post

"Three Women reads like a nonfiction novel in the deeply embedded, richly detailed vein of Truman Capote's In Cold Blood or Jon Krakauer's Into Thin Air. . . . It's Taddeo's deep, almost feverish commitment to detail and context that elevates the stories, making them feel not just painfully real but revelatory. In her efforts to explore 'the nuances of desire that hold the truth of who we are at our rawest moments,' she actually does much more: By peeling back the layers with such clear-eyed compassion, Taddeo illuminates the essential, elemental mystery of what it is to be a woman in the world."
—Leah Greenblatt, Entertainment Weekly

"Three Women is a battle cry. . . . Taddeo never judges. She doesn't slip into pseudopsychological frameworks for sex. She inhabits her subjects. And if you think her topic sounds a little louche, or isn't quite your thing, the true magic of this book may lie less in the subject matter and more in the style. . . . It's the literary brilliance of the book that will knock you back–how she channels these women's voices through her own. . . . For anyone who thinks they know what women want, this book is an alarm, and its volume is turned all the way up."
—Lea Carpenter, Time

"Searing . . . The stories of Taddeo's subjects, Sloane, Lina and Maggie, all feature the illicit—threesomes, dominance and submission, underage sex—and each includes a hefty dose of good old-fashioned adultery. . . . The result is effective and affecting. . . . Taddeo reveals an avalanche of evidence, as if we needed more, that the cozy comforts of marriage and its defining, confining attribute, monogamy, provide the perfect petri dish for combustible sex—with someone other than your spouse."
—New York Times Book Review

"If it is not the best book about women and desire that has ever been written, then it is certainly the best book about the subject that I have ever come across. When I picked it up, I felt I'd been waiting half my life to read it; when I put it down, it was as though I had been disemboweled. . . . There isn't a woman alive who won't recognize—her stomach lurching, her heart beating wildly—something of what Maggie, Lina, and Sloane go through."
—Rachel Cooke, The Guardian

"A heartbreaking, gripping, astonishing masterpiece, Three Women is destined to join the canon both of journalistic excellence and feminist literature."
—Esquire
Upcoming Events
No upcoming events available