Bringing Down the Duke (A League of Extraordinary Women #1) (Paperback)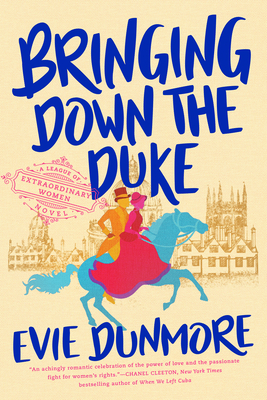 Other Books in Series
This is book number 1 in the A League of Extraordinary Women series.
Staff Reviews
---
Bringing Down the Duke is a steamy historical romance set in Oxford and London, England in the midst of the women's suffrage movement. Between the flirty repartees and all the castle corridor canoodling in this novel, you might not be able to stop reading long enough to make yourself a cup of Earl Grey.
Description
---
"Dunmore is my new find in historical romance. Her A League of Extraordinary Women series is extraordinary."—Julia Quinn, #1 New York Times bestselling author

"This series balances friendship, politics, history, and romance in just the right mix."—U.S. Representative Katie Porter

A stunning debut for author Evie Dunmore and her Oxford suffragists in which a fiercely independent vicar's daughter takes on a powerful duke in a fiery love story that threatens to upend the British social order.

England, 1879. Annabelle Archer, the brilliant but destitute daughter of a country vicar, has earned herself a place among the first cohort of female students at the renowned University of Oxford. In return for her scholarship, she must support the rising women's suffrage movement. Her charge: recruit men of influence to champion their cause. Her target: Sebastian Devereux, the cold and calculating Duke of Montgomery who steers Britain's politics at the Queen's command. Her challenge: not to give in to the powerful attraction she can't deny for the man who opposes everything she stands for.

Sebastian is appalled to find a suffragist squad has infiltrated his ducal home, but the real threat is his impossible feelings for green-eyed beauty Annabelle. He is looking for a wife of equal standing to secure the legacy he has worked so hard to rebuild, not an outspoken commoner who could never be his duchess. But he wouldn't be the greatest strategist of the Kingdom if he couldn't claim this alluring bluestocking without the promise of a ring...or could he?

Locked in a battle with rising passion and a will matching her own, Annabelle will learn just what it takes to topple a duke....

"With her sterling debut, Evie Dunmore dives into a fresh new space in historical romance that hits all the right notes."—Entertainment Weekly

"There is nothing quite so satisfying as seeing such a man brought to his knees by a beautiful woman with nothing to her name except an inviolable sense of her own self-worth."—NPR
About the Author
---
USA Today bestselling author Evie Dunmore wrote Bringing Down The Duke inspired by the magical scenery of Oxford and her passion for romance, women pioneers, and all things Victorian. In her civilian life, she is a consultant with a M.Sc. in Diplomacy from Oxford. She is a member of the British Romantic Novelists' Association (RNA). Evie lives in Berlin and pours her fascination with 19th century Britain into her writing.
Praise For…
---
One of Publishers Weekly's Best Romances of 2019

Praise for Evie Dunmore and Bringing Down the Duke

"With her smart, well-researched stories and wildly appealing characters, Evie Dunmore has a unique ability to write historical romance for the modern reader. Evie Dunmore is my favorite new historical romance author!"—Lisa Kleypas, New York Times bestselling author

"Evie Dunmore's debut is a marvel....A stunning blend of history and romance that will enchant readers."—Chanel Cleeton, New York Times bestselling author

"Evie Dunmore's Bringing Down the Duke dazzles and reminds us all why we fell in love with historical romance."—Julia London, New York Times bestselling author

"Brilliant and enchanting! Miss Dunmore is about to take the historical world by storm!"—Rachel Van Dyken, #1 New York Times bestselling author

"Simply superb! Evie Dunmore will wow you."—Gaelen Foley, New York Times bestselling author 

"One of my all-time favorite historicals."—Maisey Yates, New York Times bestselling author

"Bringing down the Duke was one of the best books I've ever read—absolutely adored it. Dunmore had me in tears, had me holding my breath...the emotion and passion made the book ache and sing."—Jane Porter, New York Times bestselling author

"Charming, sexy, and thoroughly transportive, this is historical romance done right."—Publishers Weekly (starred review)

"Funny, smart, and a fantastic read! Bringing Down the Duke was absolutely brilliant!"—Corinne Michaels, New York Times bestselling author

"Dunmore's beautifully written debut perfectly balances history, sexual tension, romantic yearning, and the constant struggle smart women have in finding and maintaining their places and voices in life and love."—Kirkus Reviews (starred review)

"Chock-full of verve, history, and passion."—Library Journal (starred review)

"Full of witty banter, rich historical detail, and a fantastic group of female friends, the first installment in Dunmore's League of Extraordinary Women series starts with fireworks."—Booklist (starred review)

"What an absolutely stunning, riveting, painfully gorgeous book!...It's not only the best historical romance I've read in a long, long time, it's one of the best books I've ever read! I adored it!"—Megan Crane, USA Today bestselling author

"Evie Dunmore is a marvelous, fresh new voice in romance who is sure to go far."—Anna Campbell, bestselling author of the Dashing Widows series

"With just the right blend of history and romance (and a healthy dash pride from the British suffragists that would make Jane Austen proud), I was hooked on Annabelle and Sebastian's story from the very first page."—Stephanie Thornton, USA Today bestselling author 

"Evie Dunmore's Bringing Down the Duke delivers the best of two worlds—a steamy romance coupled with the heft of a meticulously researched historical novel....Readers will be entranced watching Annabelle, a woman ahead of her time, bring the sexy Duke to his knees."—Renée Rosen, USA Today bestselling author

"I have read the future of historical romance, and it's Evie Dunmore."—Eva Leigh, author of Dare to Love a Duke

"The perfect blend of romance and history."—Diana Quincy, author of The Rebellious Brides Series

"Evie Dunmore has written a story we need right now—strong, smart, and passionate...With her debut novel, Dunmore has instantly become a must-read for me."—Lyssa Kay Adams, author of The Bromance Book Club
Upcoming Events
No upcoming events available