Perspectives on Marital Dissolution: Divorce Biographies in Singapore (Hardcover)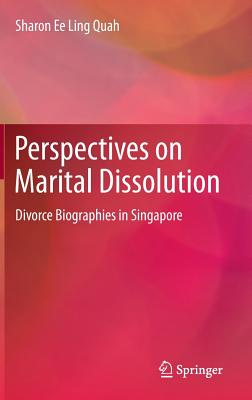 $115.49
NOT CURRENTLY IN THE STORE - Available to Order - Usually Arrives in Store in 1-5 Business Days!
Description
---
This book presents a sociological account on marital dissolution that engages and extends theorisations on individualisation and the contemporary organisation of personal relationships to discuss how the experience of divorce might not be all debilitating but on the contrary, could provide opportunities for productivity, self-responsibility and relationship formation. Using Singaporean divorcees' narrative accounts, the book explores how divorcees shape and construct what the author refers to as, a divorce biography, to end their unsatisfying marriages, cope with the crisis, negotiate the associated risks, organise post-divorce personal communities and make future plans. It uncovers how divorcees navigate their divorce biographies within the economic, policy and social context they are located in and examines the conditions that facilitate or hinder the pursuit of productivity in different facets of their post-divorce lives. Far from a standard story of divorce, this book presents the diversity and complexity of Singaporean divorce biographies. The research challenges negative discourses associated with divorce and offers a more nuanced perspective by discussing both the precarious and productive aspects of the experience. More importantly, it provides a critical discussion on the limited definition of family prevalent in Singaporean society, and shows how post-divorce family life and practices continue to thrive despite the rupture of marriage.
About the Author
---
Sharon Ee Ling QUAH (PhD) is a family sociologist whose research focuses on divorce, family, personal relationships, individualisation, gender and transnational and alternative intimacies. She is a Research Fellow with the Changing Family in Asia research cluster at National University of Singapore (NUS), Asia Research Institute (ARI). At NUS ARI, she is conducting a new research project on transnational divorce in Singapore as the Principal Investigator with a research grant awarded by the Ministry of Social and Family Development (Singapore Government). Prior to this appointment, she was a postdoctoral fellow with the same research cluster at NUS ARI. She was recently conferred the Doctor of Philosophy degree from The University of Sydney in April 2013.
Upcoming Events
No upcoming events available